Fondazione Morra
---
Fondazione Morra – Istituto di Scienze delle Comunicazioni Visive aims to promote and organize the research, implementation and dissemination of the culture of visual communications.
Fondazione Morra finds its origins with the "Studio Morra" which began its activity in 1974. Giuseppe Morra, who has always been fascinated by the subversive potential of the avant-garde, is among the first in Italy to propose the artists of Viennese Actionism and Body Art.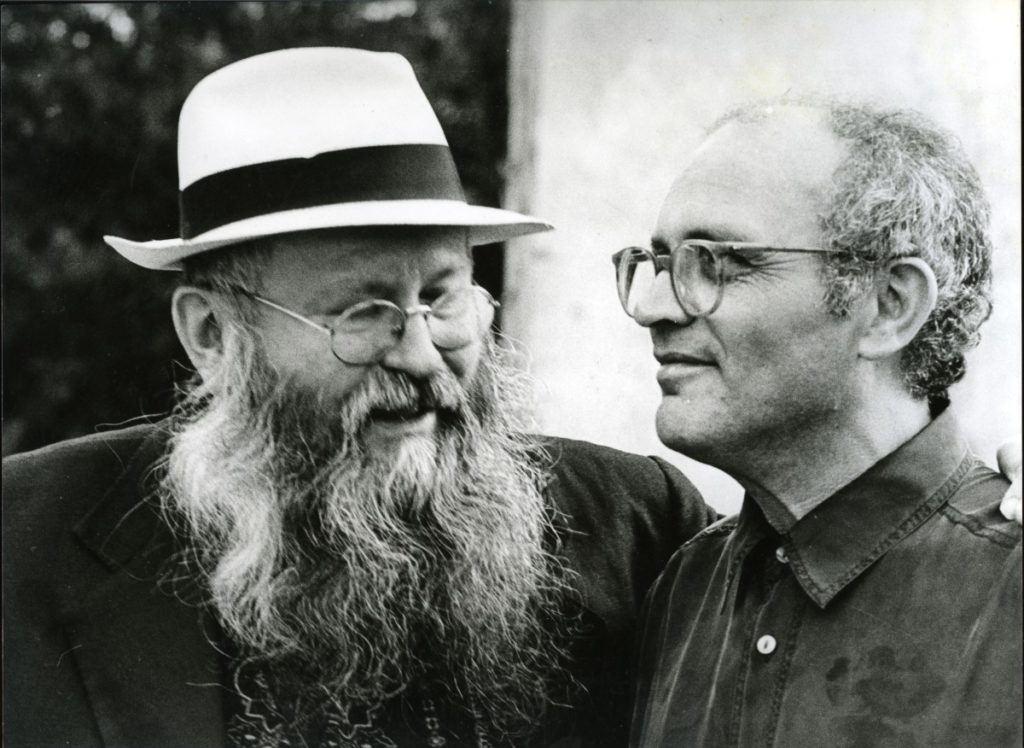 Giuseppe Morra ed Hermann Nitsch, Anni '80 © Fondazione Morra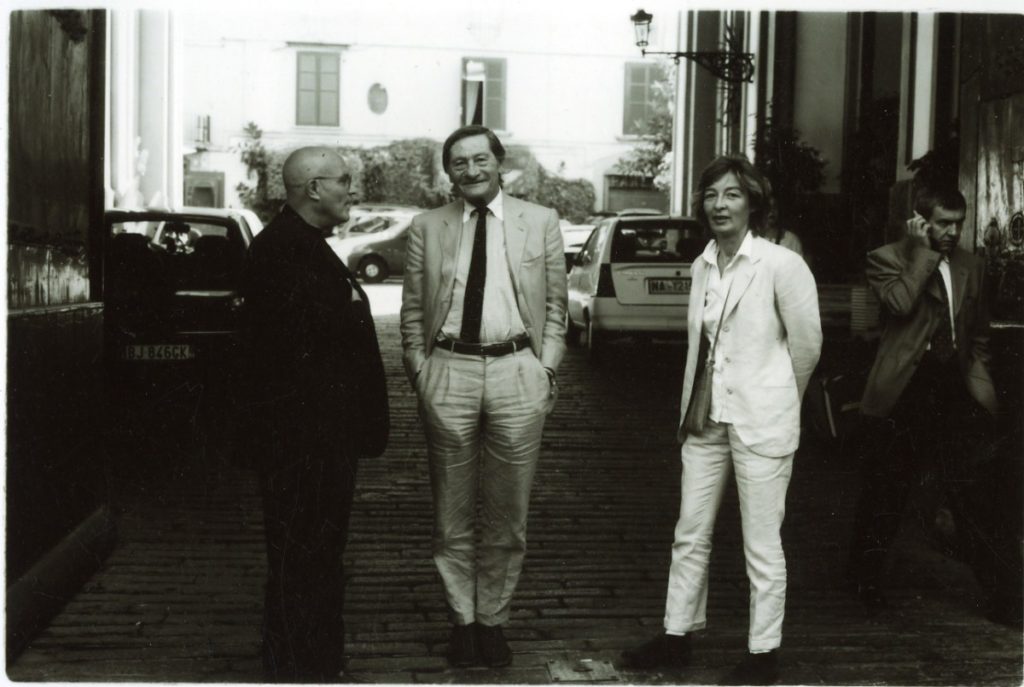 Giuseppe Morra ed Aldo Mondino, Palazzo Calabritto © Fondazione Morra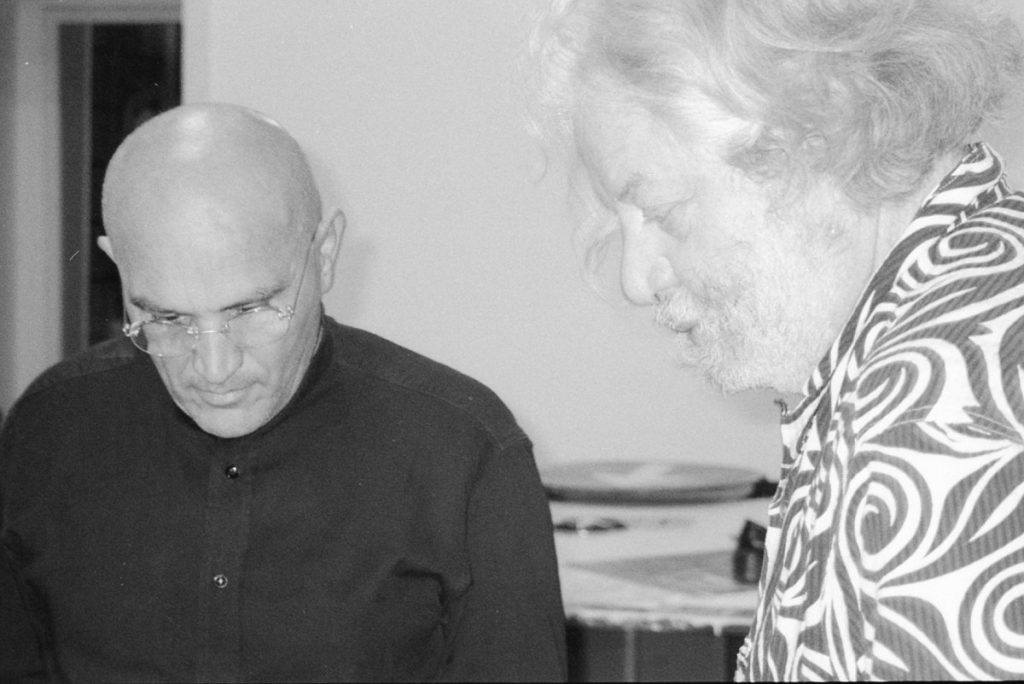 Giuseppe Morra e Jean Jacques Lebel, Opere dal 1954 al 1997, Studio Morra Napoli,1999 © Fondazione Morra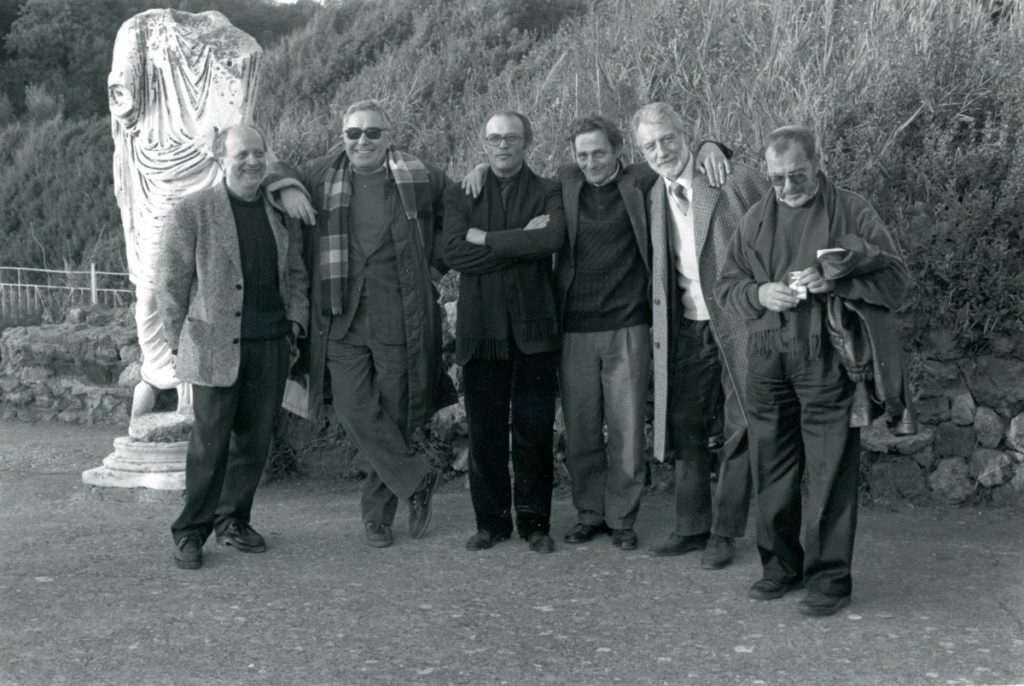 Corrado Costa, Lamberto Pignotti, Giuseppe Morra, Henri Chopin, Arrigo Lora Totino, Eugenio Miccini, Temperature Flegree, Cuma, 1985 © Fondazione Morra
In the 1970s artists such as Hermann Nitsch, Günter Brus, Urs Lüthi, Gina Pane, Joe Jones, Marina Abramovic, Bob Watts and Peter Kubelka passed through the Studio.
In the early eighties followed the exhibitions dedicated to the Fluxus group, which sees art outside structures as a work of intervention in the present, in real space. In Fluxus the artistic moment is an event that encompasses all disciplines and styles, so the time of art becomes that of life, in which every object, every gesture, coming from any area, can cross the threshold of art.
In the second half of the eighties the activity of the Studio is mainly dedicated to Visual Poetry, thanks to the numerous exhibitions and the presence of the most significant visual poets such as Carrega, Luca, Martini, Miccini, Pignotti, Chopin; positioning itself as one of the most important centers of visual poetry in Italy.
Visual poetry assumes mass communications as its own object of investigation and at the same time as its own instrument of expression.
In the Nineties there are also a series of exhibitions dedicated to artists and trends of strong current interest. We remember "Sculture in the city" by Bruno Munari in 1990, a selection of large metal sculptures exhibited on the seafront of Naples.
The sculptures become signals for the imagination, with the aim of intriguing the viewer by stimulating his imagination. In 1992 4 Environment by Allan Kaprow are reconstructed.
Father of the Environment, Kaprow thinks of art as a staging of feelings, desires, and emotions, where the spectator transforms from a passive contemplator of objects into an active protagonist of movements, crossing the threshold of art.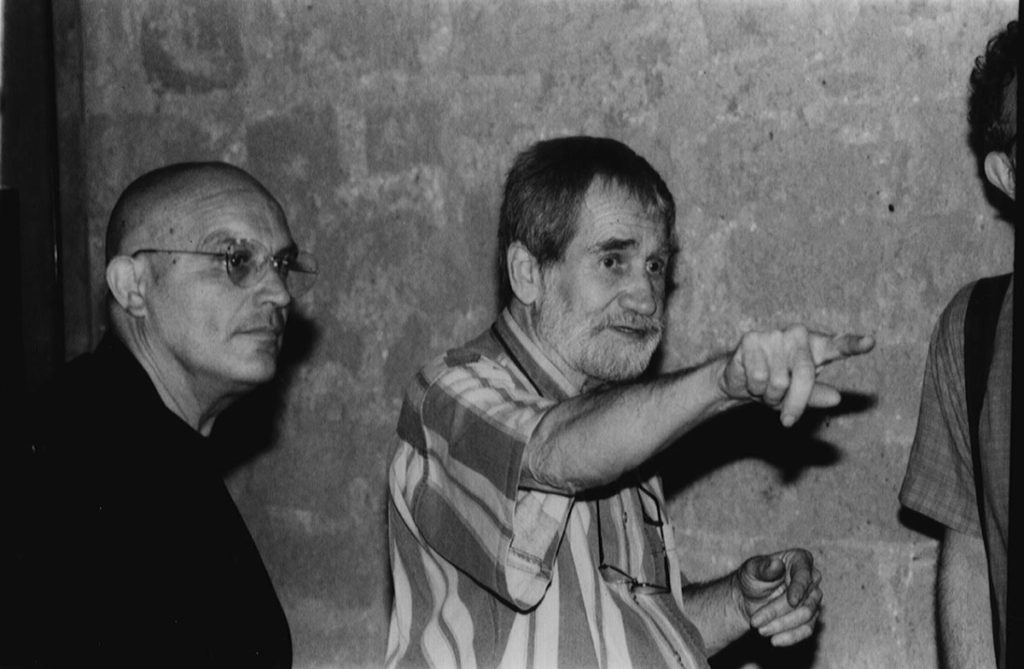 Allan Kaprow e Peppe Morra, Labirinti dell'Immaginario, Castel Sant' Elmo Napoli, 2003 © Fondazione Morra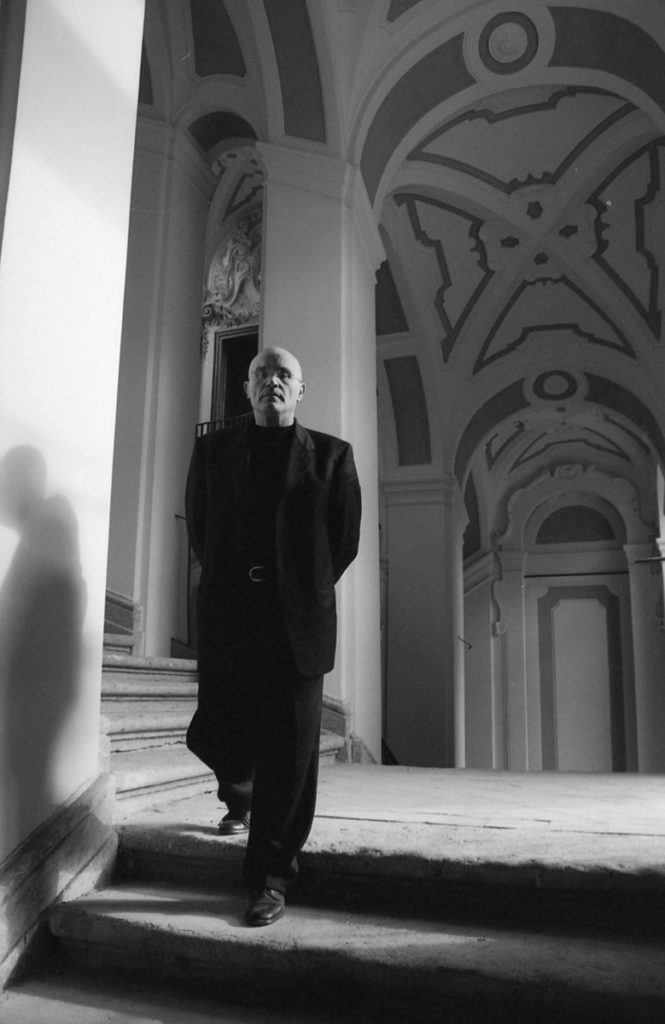 Peppe Morra nel Palazzo dello Spagnuolo © Fondazione Morra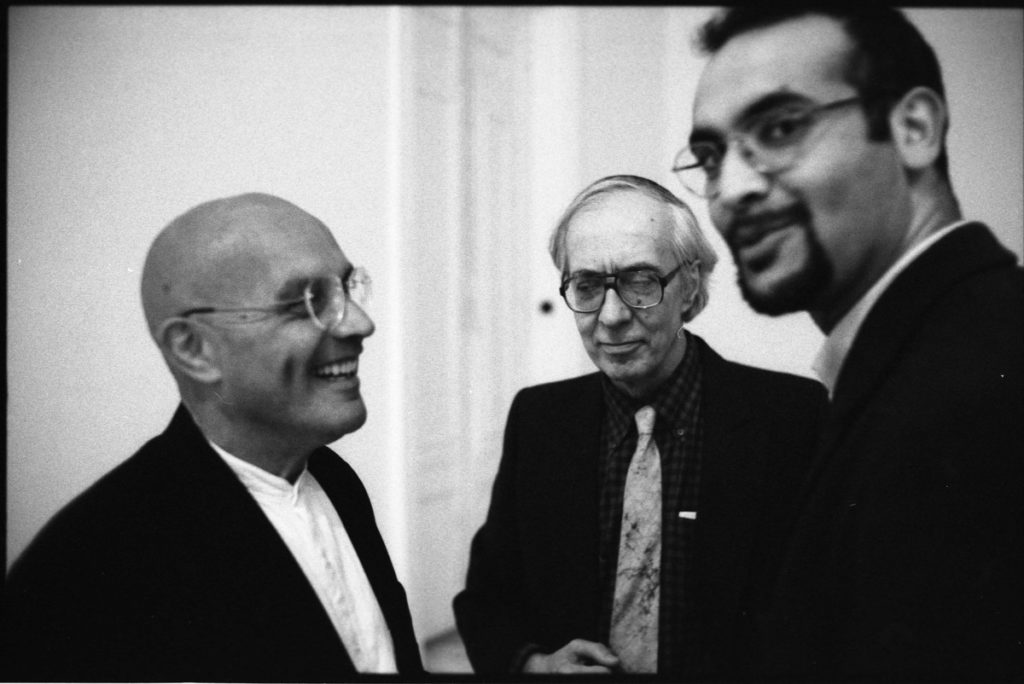 3.Luca Maria Patella, Giuseppe Morra e Angelo Capasso, Jam Dudum Palazzo dello Spagnuolo 1998, Foto di Clemente Florio ©Fondazione Morra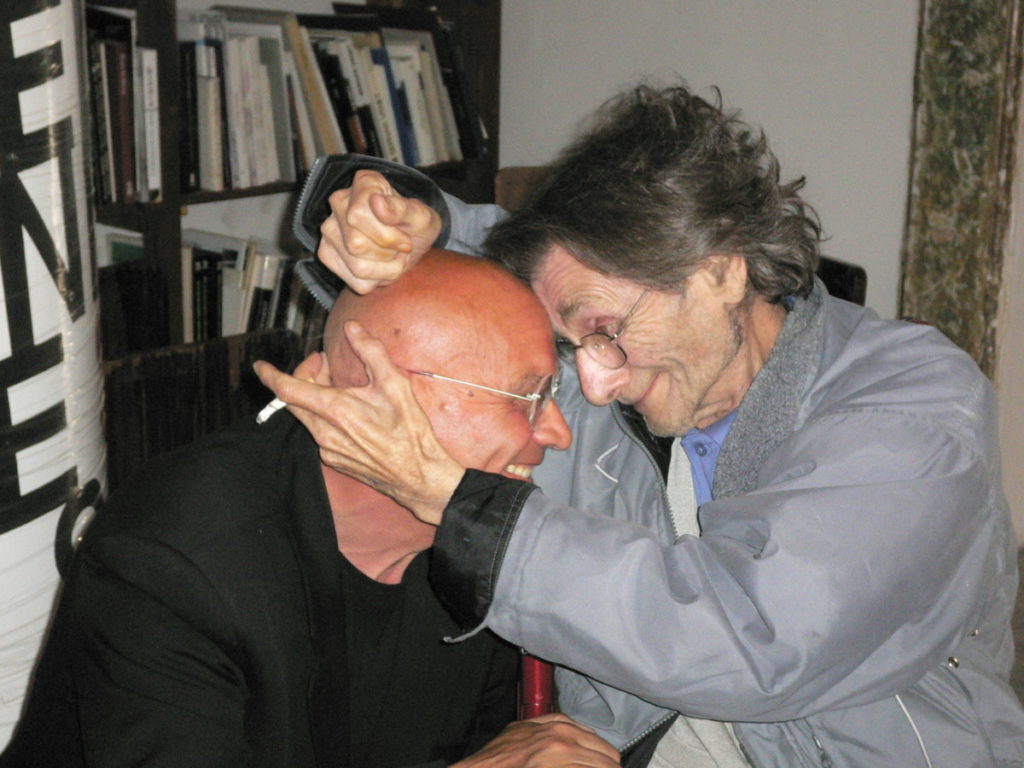 Peppe Morra ed Henri Chopin, presentazione libro LES FILTRES de l'ALPHABET ET DE L'€, Palazzo dello Spagnuolo, 2005 ©Fondazione Morra
In the same year, Studio Morra moved its activity from the Chiaia district to the Rione Sanità and established Fondazione Morra, which places at the base of its artistic and cultural activity "art for the sake of research and knowledge", strongly recalling the social aims that see in cultural promotion the horizon of meaning to be followed in order to re-evaluate areas of strong social degradation.
On September 13, 2008 was inaugurated the new headquarters and museum structure, located in Vico Lungo Pontecorvo 29d, consisting of the Museo Archivio/Laboratorio Hermann Nitsch , a place of collection and exhibition of Hermann Nitsch's work, but also an active cultural subject, engaged in critical and theoretical reflection around the great Austrian artist, which develops around a series of fundamental nuclei
the Center for Documentation, Research and Training, organized through the computer implementation of texts, images and events from the 20th century and the updating of a website;
the Department for Independent Experimental Cinema;
the Discoteca di musica contemporanea, from 1940 to the present day
the Center for Performative and Multimedia Arts, computerized, but linkable and unifyable to foreseeable future archivings
the Library of the Avant-garde and Neo-avant-garde, a new room cut from a building adjacent to the Nitsch Museum along an area of about 240sqm.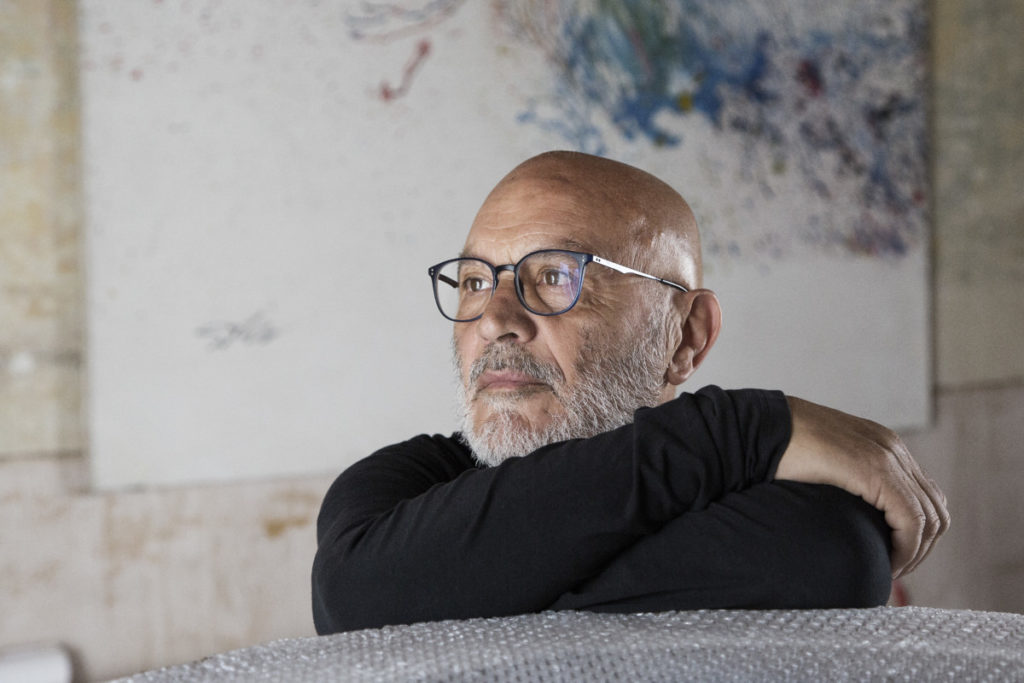 1. Giuseppe Morra, Casa Morra Napoli, 2016 Foto di Amedeo Benestante ©Fondazione Morra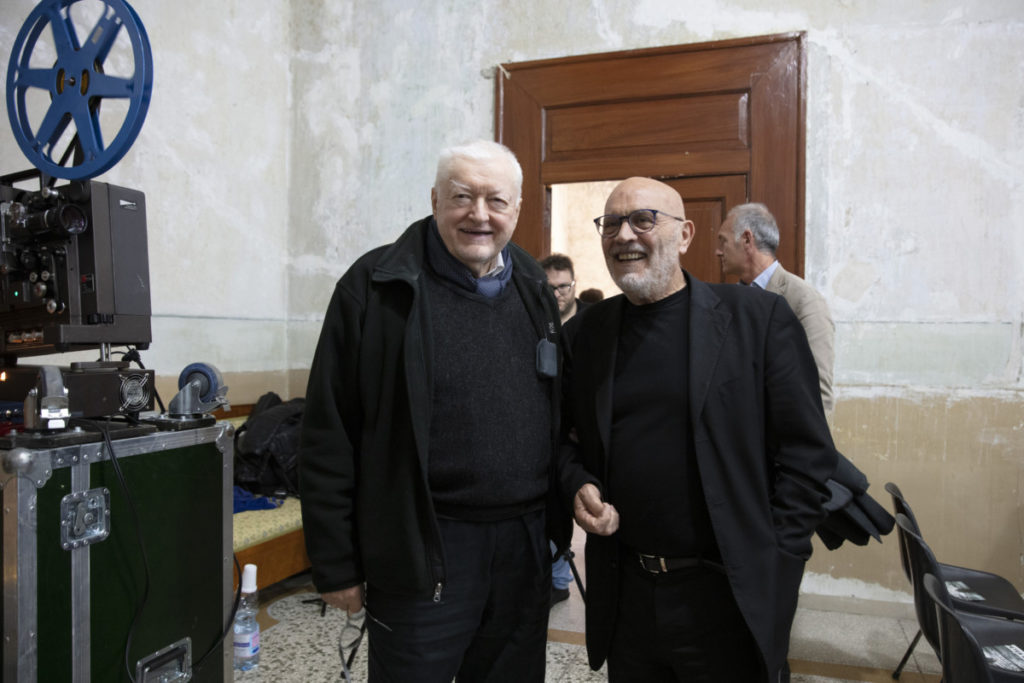 2. Giuseppe Morra e Peter Kubelka, Monument, Casa Morra, Napoli, 2019 Foto di Amedeo Benestante ©Fondazione Morra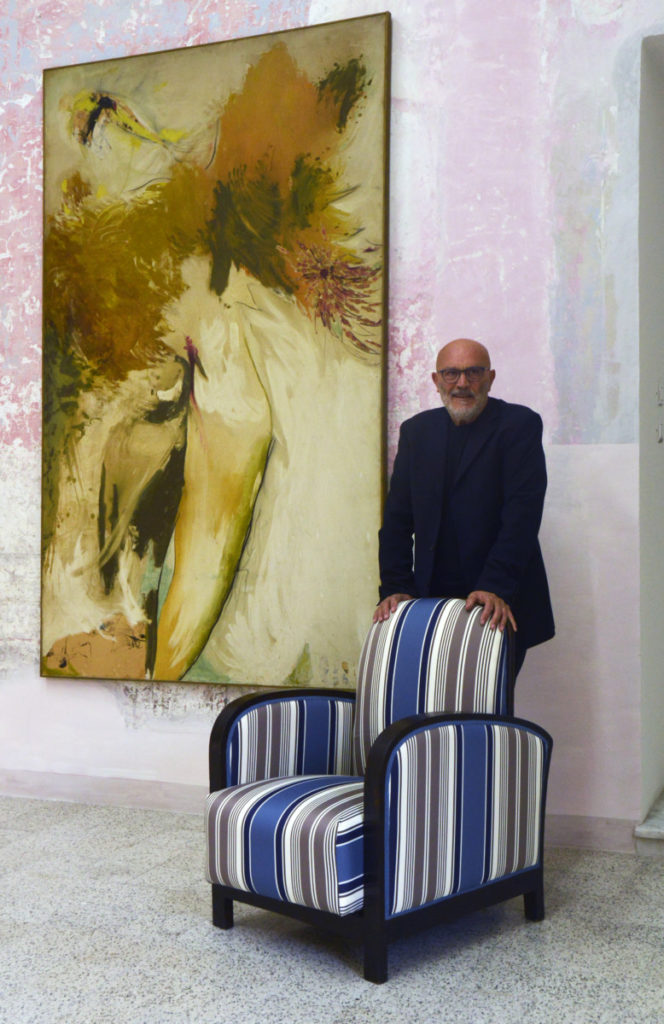 3. Giuseppe Morra, Sala Julian Beck Casa Morra, Napoli, 2017 Foto Fabio Donato ©Fondazione Morra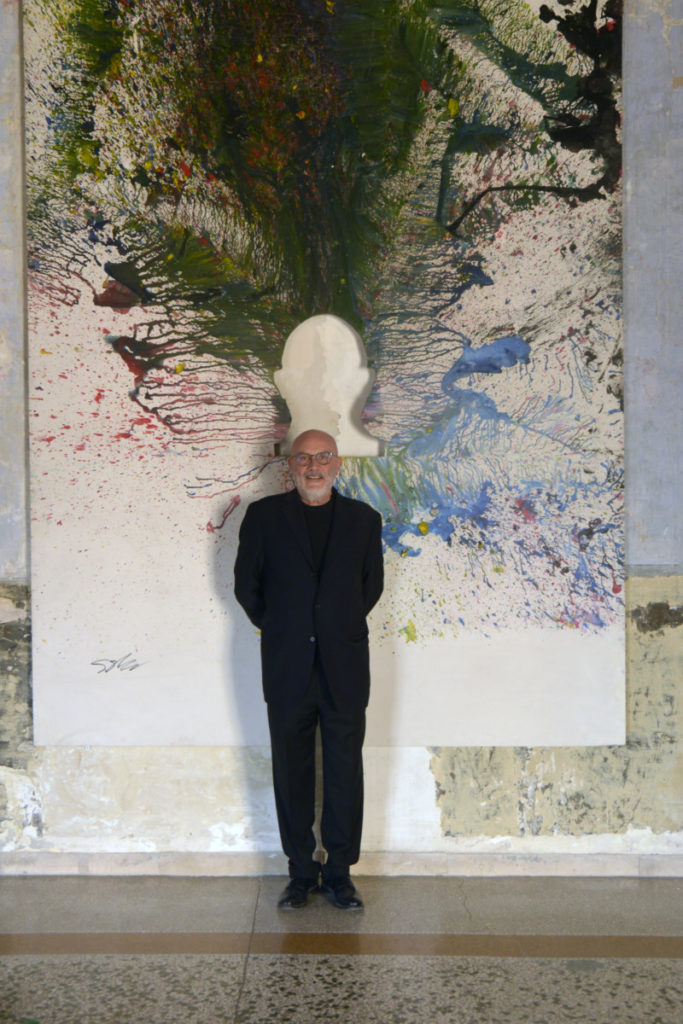 4. Giuseppe Morra, Sala Shozo Shimamoto Casa Morra, Napoli, 2017 Foto Fabio Donato ©Fondazione Morra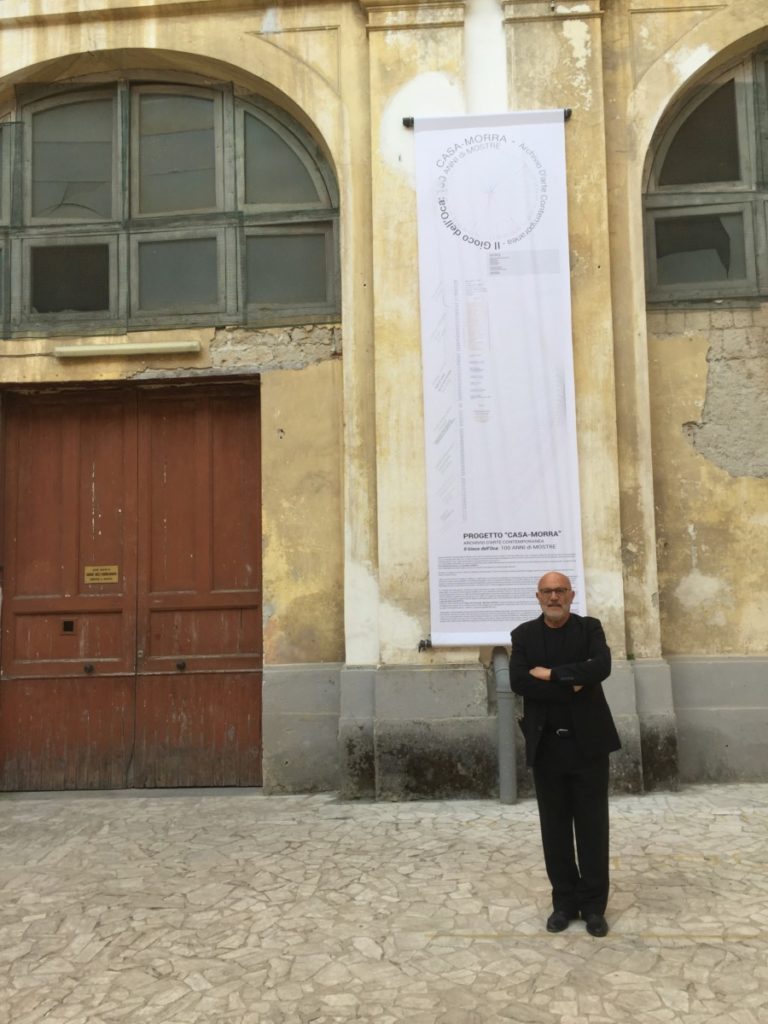 5. Giuseppe Morra, Casa Morra, 2016 ©Fondazione Morra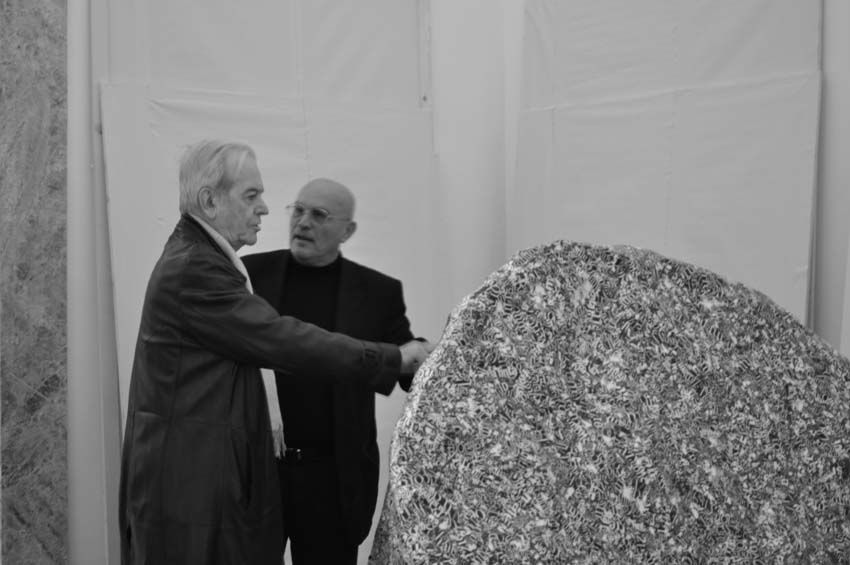 Nanni Balestrini e Giuseppe Morra, Cosa Guardi Cosa Vuoi Vedere, Palazzo Ruffo di Bagnara, Napoli, 2009 ©Fondazione Morra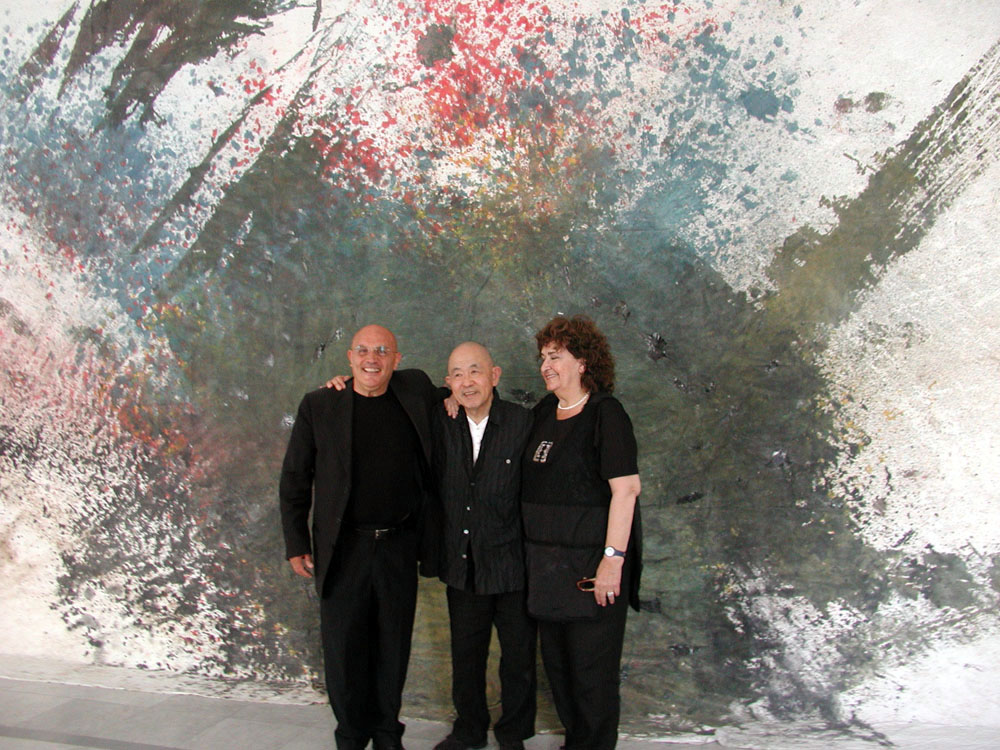 OLYMPUS DIGITAL CAMERA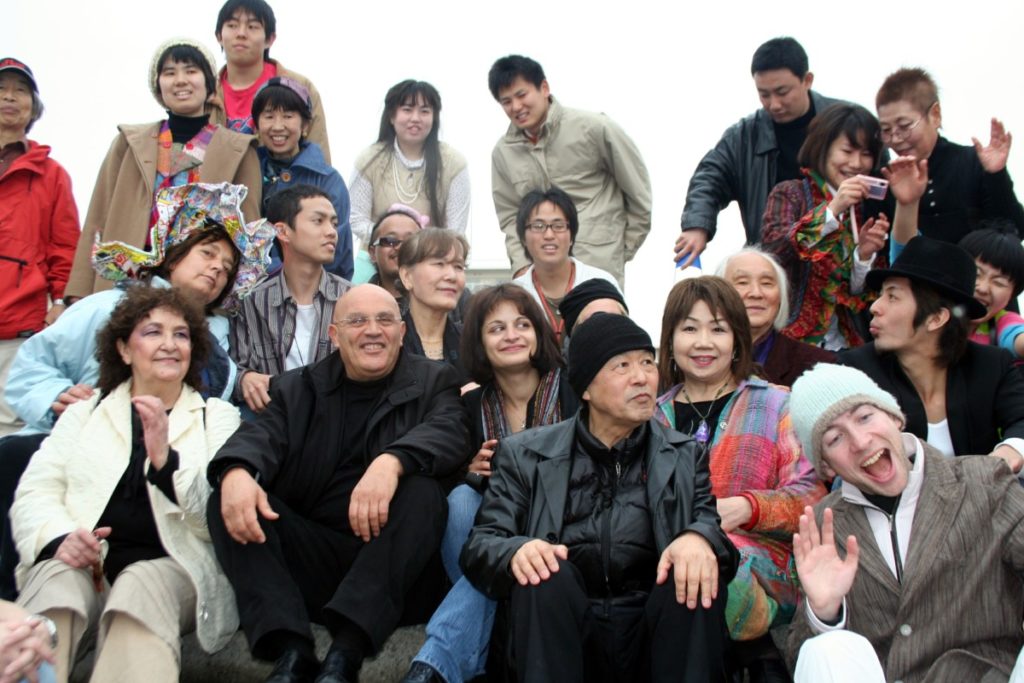 1. Rosanna Chiessi, Giuseppe Morra e Shozo Shimamoto, Performance di Shozo Shimamoto in Giappone, 2007 ©Fondazione Morra
Fondazione Morra in addition to promoting and organizing research, implementation and dissemination of the culture of visual communications, is intended for the production and intergenerational transmission of contemporary culture, carrying out its activities with the preparation, based on the elaborations made by the departments in which it is articulated and referring to concrete socio-cultural situations, interventions oriented to read the complex dynamics that occur in micro and macro-social systems of productivity and economies of "communication culture", in order to promote work in spontaneous groups or institutionalized contexts that can increase the involvement and recruitment of those who want to promote communities capable of developing and using the resources of the territories of current culture.
It has been registered in the Regional Register "High Culture" section and also recognized as a Museum of Local Interest in 2007, after its inclusion in the register of legal entities in 2005.
It collaborates with national and international realities, including Kaprow Estate, Los Angeles ; MAXXI Museo nazionale delle arti del XXI secolo – Roma; Galleria Nazionale d'Arte Moderna, Roma; MACRO – Museo d'Arte Contemporanea di Roma; Torino, GAM – Galleria Civica d'arte moderna e contemporanea; University of Texas – Dallas; Facoltà di Architettura Università degli studi di Napoli "Federico II"; Università di Salerno – Dipartimento di Filosofia – Dipartimento di Matematica e Informatica; Fondazione Donnaregina per le arti contemporanee – museo MADRE, Napoli; PAN – Palazzo delle Arti di Napoli; Centro per l'arte Contemporanea Luigi Pecci – Prato; Accademia delle Belle Arti – Napoli; Accademia delle Belle Arti – Brera; l'Istituto Superiore d'Arte di Cuba; Mart – Il museo di arte moderna e contemporanea di Trento e Rovereto; Fondazione Mudima – Milano; Museum Moderner Kunst Stiftung Ludwig – Vienna; Anthology Film Archives – New York; Al Hansen Archive – California.