Archivi Mario Franco – Adelaide Di Nunzio "La Pelle"
15 March 2019-18:00/6 April 2019-18:00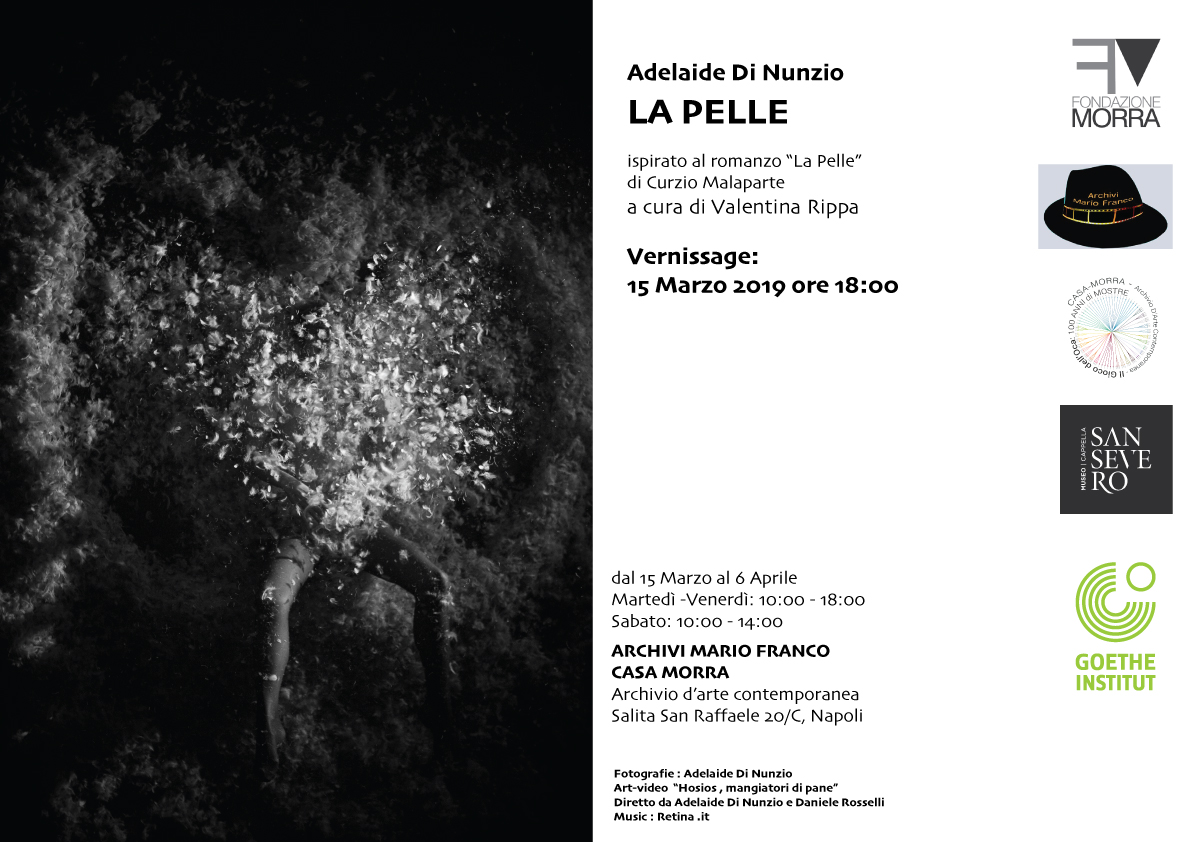 March 15th – April 6th 2019
OPENING at 6:00 p.m.
Archivi Mario Franco c/o Casa Morra Archivio d'Arte Contemporanea
Salita San Raffaele 20/C, Napoli
Curated by Valentina Rippa
Inspired by Curzio Malaparte's novel "La pelle"
Archivi Mario Franco at Casa Morra in Salita SanRaffaele 20/C, Napoli will host "The skin" an exhibition by Adelaide Di Nunzio curated by Valentina Rippa; Opening friday the 15th of March at 6.00pm. The event, what has the patronage of Goethe Institut Neapel and Museo Cappella Sansevero, will be open to the public until the 6th of April 2019. This project was inspired by Curzio Malaparte's eponymous novel "The Skin". The exhibition is a fictionalization of war-time Naples. Black and white photos visualize the sense of melancholia, fear and insecurity that the inhabitants of the Southern Italy city experienced in 1943.
Photos are accompanied by the video "Hosios. Bread eaters" realized in collaboration with Daniele Rosselli and the duo of electronic music retina.it. The photos and video feature protagonists internationally renowned actors and artists  such as Alessandra Asuni, Giovanni del Monte, Federica Di Lorenzo, Duccio Giordano Effimerus, Eddy Fiorillo, Rosalyn Hart, Marialuna Papa, Stefano Fico, Cristina Messere, Peppe Papa, Marco Palumbo, Massimo Pastore, Riccardo Pisani, Daniele Rosselli, Fabio Rossi, Ramona Tripodi, Imma Villa, Riccardo Greco, Marcello de Bossa, Roberto Tranchese, Luca Capasso, Filippo Pernice, Claudio Cesarano.
"The tragic events of the Second World war are the background of the exhibition, but with her acute eye the artist does not focus on the ruins and rubbles. She discovers unexpected details of intimacy and subjectivity, she portrays surreal elements, awaking different emotions so that the spectator averts his or her gaze from the atrocities of the war. The light that spreads and illuminates, opening white bursts in the darkness and in the silent scene holds an echo of hope and life. An ancestral force prevails on despair, frost and starvation. The artist knows how to reconcile misery and decorum, the tragic and surreal, offering a range of images pervaded by a visual delirium , theatricality and grace. The evocative complexity of her research widens reaching out to cinema and literary fascinations."
Valentina Rippa
Adelaide Di Nunzio lives between Cologne (Germany) and Naples (Italy). The first exhibition of this project was realized in Cologne in October with a great media and public success. She was born in Naples in 1978. She graduated at Academy of Arts in Naples and she moved to Milan to attend the photography and contemporary photographic design at Photography School "Richard Bauer". She has devoted herself to different genres of photography, from stage photos (music and theatre), to journalistic news and reportages. She is also a teacher of graphics and art of photography. Currently, she is working on projects both in the field of art photography and reportage. Her approach to images is always socio-anthropological in search of symbols and evocations in order to realize an emotional communication through which viewers are stimulated to reflect on the subject.