Libero De Cunzo. Dea Adventus
11 December 2021-17:00/15 January 2022-17:00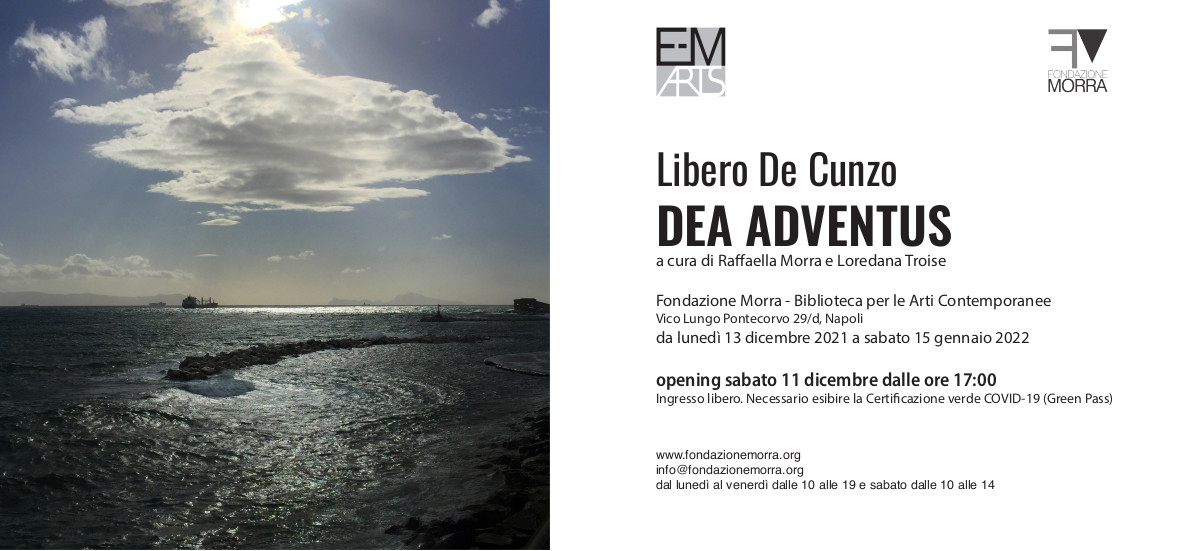 13th december 2021 – 31st january 2022
OPENING 11th december 5.00 p.m.
Fondazione Morra Biblioteca per le Arti Contemporanee
Vico Lungo Pontecorvo 29/d, Naples

Curated by Loredana Troise and Raffaella Morra
Bright, sharp and soft; these words aptly describe Libero De Cunzo's new solo exhibition, DEA ADVENTUS, curated by Raffaella Morra and Loredana Troise at the Fondazione Morra Biblioteca per le Arti Contemporanee (the Hermann Nitsch Museum Library) from 13th December 2021 to 31st January 2022. It denotes an interval amid the earthquake that is the world. Armed with his iPhone, Libero De Cunzo directs his gaze towards, and distils the syllables of a dialectic that spans the themes of recovery, division, and rediscovery – penetrating the geological folds of places and capturing their textual noema as a meditative act and cognitive phenomenon in his most personal mode of perceiving.
Starting from cuts, fractions and sections, De Cunzo looks at the world through a recherche in which the underlying question regards the status of the things that have been recovered and then revealed in the memory: dreamlike rhythms, wonder, nostalgia, and pain are vestiges of experience that are not lost but remain engraved on the heart. Narrated through a dense geology of reflections that have constantly driven the artist to ask questions, illuminated by his conscience, these unseen photographs, divided across three partiture – DEVOTIONS-EMOTIONS-ADMIRATIONS – qualify as a neuralgic/humoral spot on the margin of the retina, which thus becomes an observatory and a window through which knowledge and the ability to decant "in full Gratitude of the Wonder that is always ready to appear" can enter. An attribute that is both formal and ideological, grounded in a vision oriented towards dialogue as a rhetorical device.
The logical-expressive structure of the narrative, proceeding in an increasingly vertiginous and only apparently rarefied investigation of reality, demands a particularly discerning viewer, ready to take up the challenge of interpretation through a laborious but rewarding hermeneutic circle. In his hallmark style, in the three visual chapters of DEA ADVENTUS, Libero De Cunzo expresses himself through writing with light, projecting his poetic message, an expression of, and emotional contact with, signs and motifs: a remarkable and serendipitous sunset, the glowing sun, footprints in the sand, a hand brushing against fabric, votive candles – all these are striking encounters alternating between amazement and a rush of gratification, solutions offered to our distracted memories, illuminating with their immediacy, a fleeting spark of reality. Libero De Cunzo's photographs are explanatory visual items – reflections and vibrations guiding us on an enthralling journey where we are all called upon to ponder with a gaze that can slow down, accelerate, pause, and begin again…
"As it proceeds, the gaze becomes an image and expresses the desire to identify with places. A search for an inner vision that seeks to go beyond the meanings of reality, space, and time, recognizing within a time that moves from the subjective to the absolute in the instant in which the photo is taken, holding the breath. A way of seeing in order to raise our ability to feel".
Libero De Cunzo, A passo di Vigna, 1998 
Libero De Cunzo teaches Photographic Art at the Liceo Artistico Boccioni-Palizzi and Environmental and Landscape Photography at the Accademia di Belle Arti in Naples. An integral part of his research project is based on his teaching work, which has always focused on developing a greater awareness of modes of seeing and knowledge of the language of photography. He has organized numerous initiatives on architecture, the environment, and landscape and worked with bodies and institutions such as the Ministry of Culture, MAXXI, the Faculty of Architecture in Naples, the Institut François Grenoble, and Suor Orsola Benincasa University. He has exhibited in several venues in Italy and abroad, starting with the Trismegisto exhibition featuring leading contemporary artists curated and staged by Lucio Amelio in 1993. For De Cunzo, the central role of photography in art as an ethical journey is clearly manifest. He has exhibited monographic works in the following exhibitions. L'Italia nel paesaggio (1999); Le stanze dell'Arte (2002); Living Theatre, labirinti dell'immaginario (2003); Città architettura edilizia pubblica, Napoli e il Piano Ina-Casa (2006); il Paesaggio degli Dei e il lavoro degli Uomini (2012), La rosa dei 20 (2017), RE/GARDER Vibrazioni e corrispondenze (2018), Procida/Giardino Segreto (2021). Tra i titoli pubblicati: I Casali (1981); Spaccanapoli (1993); Infiniti possibili: Ravello (1994); Grotta del Sole (1994); Lontano dall'Isola Azzurra (1994); Zone – Napoli/Parigi (1994); Tra luce e luce (1995); La trama vivente della storia (1996); A passo di Vigna (1998); I valori del paesaggio e la fotografia sensibile (1998); L'Italia nel Paesaggio (1999); Imago vocis, vocis imago (2003); Croniconiche. Luci e ombre, parole e memorie dalle metropoli (2006); Zenit. Sguardo meridiano. Viaggio nel cratere dell'Alta Irpinia (2009); Procida, il giardino segreto (2009); Salerno. Glocal City (2010); Il Paesaggio degli Dei e il lavoro degli Uomini (2012).
Free admission – COVID-19 Green Pass required
Fondazione Morra Biblioteca per le Arti Contemporanee
Vico Lungo Pontecorvo 29/d 80135 Napoli
Tel.: +39 0815641655
www.fondazionemorra.org www.em-arts.org www.museonitsch.org
Monday to Friday 10 am –7 pm Saturday 10 am – 2 pm