Terry Riley & Gyan Riley
27 July 2018-21:00/23:00
€18,00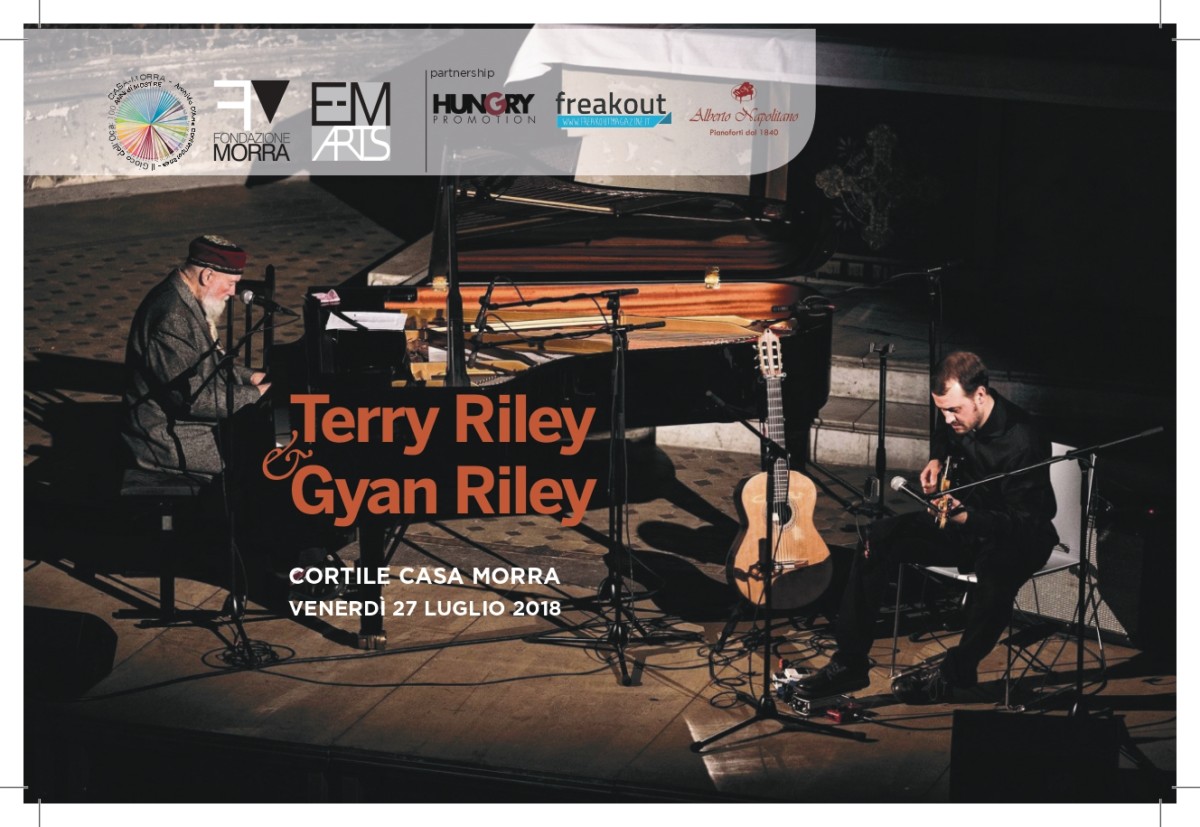 July 27th 2018
START: 9:00 p.m.
Casa Morra – Archivio d'Arte Contemporanea
Salita San Raffaele 20/c
Coming soon on a three-stage tour of Europe: Barcelona (at the Sónar festival), then for the first time in Naples, closing in London (at the Oval Space).
For his Italian exclusive, Terry Riley will perform at the piano and synth with his son Gyan on guitar in the eighteenth-century courtyard of Casa Morra. This event has, of course, been organised in conjunction with E-M ARTS by the Morra Foundation, always keen to propose contemporary neo-avant-garde events in the city. Naples welcomes this great contemporary musician, inventor of 'repetitive' minimalist music, followed by many other minimalist musicians and popular music ensembles for this unique event.
He has spent the last few years on tour with his son Gyan alternating between the typical folk and jazz repertoire and, of course, moments of minimal avant-garde.
The fascinating Casa Morra – Archivio d'Arte Contemporanea di Napoli offers an exceptional opportunity to listen to and understand the intricate sound structures of the Terry Riley and Gyan Riley duo who, unleashing intense and vibrant energy, reach out with their particular artistic communication in a 'neurotic' and stimulating way.
Terry expands the boundaries of a chosen structure and, with Gyan's 'incitements', they embark together in unusual directions towards spontaneous and hypnotic creative marathons. This sonic force interacts with the spatial environment and the vigour of the audience, providing an impactful experience that touches the depths of the soul.
For Terry Riley, music is a way to make a connection with a strong and still indistinct power. Gyan is a virtuoso classical guitarist whose music is influenced by the rhythmic structures of North Africa and Spain. He is an expert in the art of improvisation.
Father and son create a performance of intuitive matching in which they influence each other in an intense and intimate emotional flow. The harmonic structures generated by the piano and guitar, guided by the human spirit, create deep sound textures that intertwine through their reciprocal ability to improvise.
For Terry and Gyan, sound matter is an incessant process coming from the unknown, made up of modular movement and simple rhythms to be understood as a constant and universal pulse.
The founder of minimalism, Terry Riley spans six decades of avant-garde music, always faithful to himself, inventing such flexible processes and structures that, like his popular Indian ragas, endure through time and have influenced a wide range of seemingly distant and irreconcilable styles, from Miles Davis and John Coltrane's modal jazz to the Canterbury sound of Soft Machine, to the psychedelia of Pink Floyd, and the modules of Philip Glass and Steve Reich, taking on board the rock of The Who and the kosmische music of Tangerine Dream.
Famous for introducing the 'repetition of Western musical motifs', he devised the first experiments with tape loops and delay systems, leaving an indelible mark on experimental music.
He started performing as a solo pianist in the 1950s, when, a classmate of La Monte Young, he was studying composition in San Francisco and Berkeley. In the '60s he organised sound performances that lasted until dawn, well before underground raves.
In 1963, after graduating from Berkeley, he published Music for the Gift for the show written by Ken Dewey, using two tape recorders to create tracks with a tape delay-feedback system called Time Lag Accumulator, playing Chet Baker's version of Miles Davis' So What in loop. This loop effect triggered his interest in repetition as a means of musical expression, and in 1964 he completed his most famous work, In C, an acknowledged milestone in electronic music.
In 1968/69 with A Rainbow in Curved Air he foreshadowed ambient music, and in 1970, during his first trip to India to study with vocal master Pandit Pran Nath, he began research on trance sounds.
During the same period, he made friends with David Harrington of the Kronos Quartet and was involved in numerous concerts for string quartet and orchestra; their Salome Dances for Peace (1989) earned Riley and Kronos a Grammy nomination.
In 2005 he worked with poet Michael McClure in I Like Your Eyes Liberty, and in 2008 he published two works: Cusp of Magic and Banana Humberto (with the Sri Moonshine label).
With his son Gyan he released an album of live concerts (Sri Moonshine) in 2011 and, later on, Aleph, for the Korg Triton 88 synthesizer originally created for the Aleph-Bet Sound Project at the Jewish Museum of San Francisco, released by Tzadik in 2012.
2015 saw the founding of the The Rileys duo: Terry & Gyan began a world series of concerts for piano, synth and guitars. These concerts were a celebration of complex improvised structures containing elements of minimalism, jazz, ragtime, and North Indian raga, musical combinations that became the Rileys' hallmark.
"Nothing I have done in this life has given me more satisfaction than improvising on these songs with Gyan. Nothing I have done can match the intuitive synchronicity we have shared many times on the stage. Gyan supplies a brilliant counterpoint to the strands and moods of these pieces always surprising me with a virtuosity that serves and energizes his musical invention. I could not have dreamed up a better marriage of mind and spirit than this collaboration."  Terry Riley
http://terryriley.net
Growing up in a highly stimulating and experimental environment thanks to his father, renowned composer Terry Riley, Gyan chose the guitar as his instrument for life after winning his first one in a lottery at the age of 12. Once he had learned all the songs in his audio cassette collection by ear, becoming a skilled performer, he developed a passion for learning techniques and decided to enrol at the San Francisco Conservatory of Music.
In this context he had the opportunity to study with David Tanenbaum and Dusan Bogdanovic, with whom he played on tour. Upon graduation in 2002, Gyan made his debut with the album Food for the Bearded.
Gyan's varied work focuses on complex compositions, improvisation, and both the classical and contemporary repertoire. He has worked with the Kronos Quartet, New Music USA, the Carnegie Hall Corporation, the American Composers Forum, and the New York Guitar Festival.
Over the years, he has travelled Europe, Canada, Latin America, and the United States on numerous tours, both as a soloist and in various ensembles with talented musicians. He has performed with Zakir Hussain, Lou Reed, John Zorn, the Kronos Quartet, Iva Bittova, Bang On A Can All Stars, the San Francisco Symphony, the Philadelphia Chamber Orchestra, and with his father, composer/pianist/singer Terry Riley, as on the 45th Anniversary of In C at the Carnegie Hall Performances in New York in 2009.
In New York, Gyan performed with the Probosc duo, the Eviyan trio and the Dither electric guitar quartet. He has composed and released four solo CDs and many ensemble/collaborative recordings with the New York Tzadik Records label.
"… the improvisational nature of what we do demands that we're always in that sort of listening mindset… We can't ever really go out of it! A big part of that is also based on whatever energy we're getting from the audience, the space, the acoustics, and the overall experience. That can all have a big impact, and it affects how we respond." Gyan Riley
http://gyanriley.com