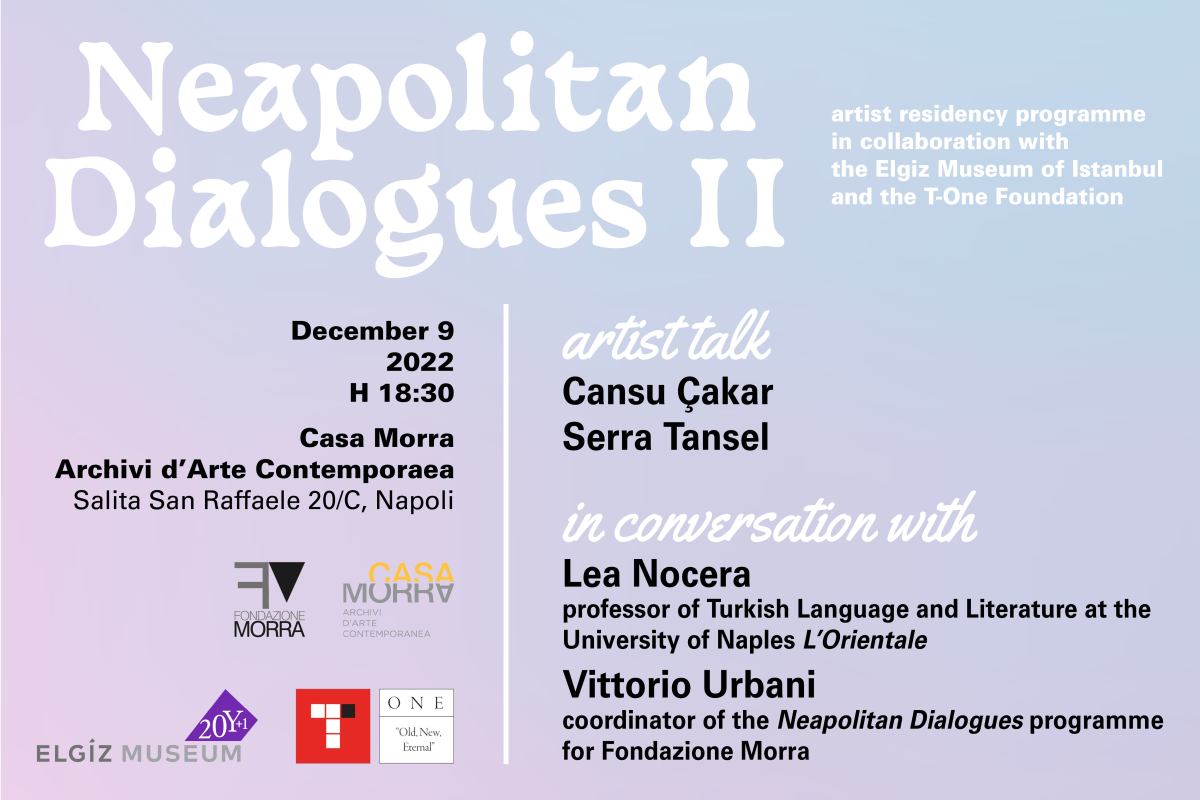 On Friday December 9 at 6:30pm, the artists Cansu Çakar and Serra Tansel will give a talk at Casa Morra. Archivi d'Arte Contemporanea. The meeting is moderated by Vittorio Urbani and the artists will be in conversation with Lea Nocera, Professor of Turkish Language and Literature at The University L'Orientale (Naples).
Neapolitan Dialogues II is the closing moment of the second edition of "Neapolitan Dialogues", an artist residency programme that takes place in Naples, hosting artists from the cities of Istanbul and Lisbon. With the aim to let the artists absorb and internalize the social, visual and cultural imaginary of the hosting city, the residency is free of any obligation and it doesn't require an immediate outcome to the artists. During its first edition in 2021, "Neapolitan Dialogues" hosted the artists Çağrı Taskin and Huo Rf.
By presenting their artistic paths, Cansu Çakar and Serra Tansel will establishes a fluid and active dialogue, allowing the public to be part of their process of knowledge.
"Neapolitan Dialogues" is supported by Elgiz Museum (Istanbul) and T-One Foundation (Istanbul).
Cansu Çakar "The core of my practice is to research the fractures of the aesthetics reflected by the modern and western influences in eastern painting, together with social and cultural environments, and to associate the meanings of traditional motifs with the subjects in my paintings. I believe that what defines modernity are not 'imported' ideas and concepts but rather, the aesthetic values lost in the darkness between different layers of society. Using traditional art techniques as a mediator, and utilizing contemporary issues, I underline the absurdity of the conflict between traditional and modern. Believing powerfully that a language never dies, it just changes forms and survives, I try to recreate an old visual language.
Although still a controversial topic, many academicians today believe that scientific knowledge of the one-point perspective did not exist in antiquity. I want to leave the question open for discussion due to my observations on Pompei's frescos. The fact that the composition technique known as lack of perspective or two-dimensionality, which we encounter in the miniature painting that I studied, is a piece of false and superficial information is an issue that I often underline. In miniature painting, a production technique based on the understanding of multiple perspectives is adopted. Plural perspective is the use of changing perspectives in the same composition while describing a space. Perspective, on the other hand, is the way of including the subject and the viewer in the painting, and it can be said that it is a "symbolic form" that expresses a kind of new-age culture. I think that I will undoubtedly be able to open the layers of the structural materials, history, and social structure that make up Naples, and I will be able to make visual form studies that will look for ways to visually describe these layers. As the storytellings that start from the underground come to the surface, the class phenomena that color the streets on the ground floors and the empty terraces facing the sea will be allusive elements of depicting Naples with multiple ways of seeing."
Serra Tansel "Our engagement with Napoli have shifted between being an outsider, a stranger, a tourist, a collaborator and a local in each different activity we engaged in. The multiplicity of this positions allowed the feelings of awe and familiarity to co-exist. We have a saying in Turkish "Did you come from a village without a door?" if you don't shut the door behind you as you leave someone's office. This understanding of privacy is associated with modernisation and civilisation which leads us to estrangement and sharp borders. Napoli has many open doors. It doesn't mean it lacks privacy or secrets but one can hide something by making it too visible or vocal also and this city seems to have more elaborate ways than shutting its doors. This intimacy shared in the public space, the personal ownership of the streets, the make-shift structures that utilises obstructions is what I want to take with me from Napoli and add to my vocabulary of resistance and progress."
The event will be held in English with simultaneous translation into Italian.
Cansu Çakar (b.1988, İstanbul) lives in İzmir. She investigates traditional art forms such as decorative drawing and illumination and integrates these traditions with contemporary art practices and topics. Thus she articulates her wish to free traditional forms of expression from their stereotypical classification. Her drawings and paintings, together with the concepts she explores in her workshops, critically question the typical male-dominated subjects of traditional miniature painting. Additionally, they call into question the traditional classification of this art form and its conservatism. Çakar draws a line between what it means to be a woman or a prisoner in an oppressive society and the aesthetics of traditional arts in our contemporary art world. Both share the struggle against conservatism and the ensuing fight for emancipation.
Among her projects and exhibitions are NATURE AND STATE, Staatliche Kunsthalle Baden-Baden (Baden-Baden, 2022), Fore-Edge Painting, MACRO Museo d'Arte Contemporanea di Roma and Bibliotheca Hertziana, (Rome, 2021) The 6th Ural Industrial Biennial of Contemporary Art, The Optical and Mechanical Plant, (Yekaterinburg, 2021) BB11- 11th Berlin Biennale for Contemporary Art, The Crack Begins Within, KW, (Berlin, 2020) Miniature 2.0, Pera Museum, (İstanbul, 2020) The Crime of Mr. Adolf Loos, Axel Vervoordt Gallery, (Antwerp, 2019) Cappadox Contemporary Art Program, (Cappadocia, 2018) Linear Transcendency" at the Lab- Darat al Funun, (Amman, 2016) SALTWATER: A Theory of Thought Forms. 14th Istanbul Biennial- 100°- FLO, (İstanbul, 2015).
Serra Tansel (b.1989, İstanbul) currently lives in London.
Serra Tansel's practice engages with the ways in which we settle into our world and draw the boundaries of our cities, houses, bodies and the structures, the relationships we establish within them. She works context specific and utilises a wide range of media to infiltrate mainstream cultures in order to create twists. She is a member of the music collective Makkam and one of the faces of Hayırlı Evlat.
Recent exhibitions include SH/FT, No Show Space, London (2021); A Question of Taste, Pera Museum, Istanbul (2021); "Passion can create drama out of inert stone"?!, Peak, Elephant & Castle Shopping Mall, London (2020); Higher, Pilot Gallery, Istanbul (2020).