Archivi Mario Franco – Cinema Assoluto o Astratto 10° INCONTRO
15 May 2019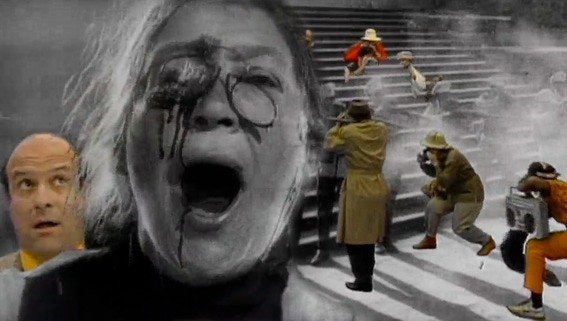 May 15th 2019
STARTING PROJECTIONS at 6:00 p.m.
Mario Franco Archives c/o Casa Morra Archives of Contemporary Art
Salita San Raffaele 20/C, Naples
10° MEETING Living the cinema between dream and technology
Buster Keaton
The Ball No. 13 (Sherlock Jr.)
1924
black and white
Keaton is a young projectionist in a cinema, but dreams of becoming a detective. In the projection booth he falls asleep. He dreams of entering the screen becoming the protagonist of the film that projects. Judged among the best films of world cinema, Sherlock Jr (The Ball No. 13) has exceptional gags that have influenced artists and authors in subsequent years (Allen is the most famous example with The Purple Rose of Cairo). Full of daring gags at a furious pace, the film is brilliant and amazing even today. Keaton addresses the nature of cinema, reflecting on the ownership of the film machine with a cohesive plot and stunning athleticism (Keaton did not use stunt doubles), great artistic virtuosity and avant-garde exploration of the eternal dichotomy between reality and illusion.
Zbigniew Rybczynski
STEPS – The Stairs
1987
color
with Daniel Chapman, Chase Coleman, Reed Coleman, H. Roger Daisley, Drew Dix, John Figley, Peggy Freidman, Nicholas Muglia, Catherine Ryan, Lev Shekhtman
One of the most representative artists in the history of video and experimental cinema in recent decades, Polish artist Zbigniew Rybczynski has based his experience with cinema in a perennial confrontation with the constant technological changes in the means of reproduction. In STEPS (1987), Rybczynski places a group of tourists directly "inside" the mythical staircase sequence of Sergei Ejzeštejncon's The Battleship Potëmkin, one of the most well-known and analyzed sequences in the history of cinema. The interaction between the film and its "visitors" (in advance of many digital experiments) has a visionary flavor and echoes of surrealist, irreverent and ironic, especially when the old black and white film begins to interact with the unhinged visitors.