Beuys e Napoli
11 May 2021-10:00/13 November 2021-17:00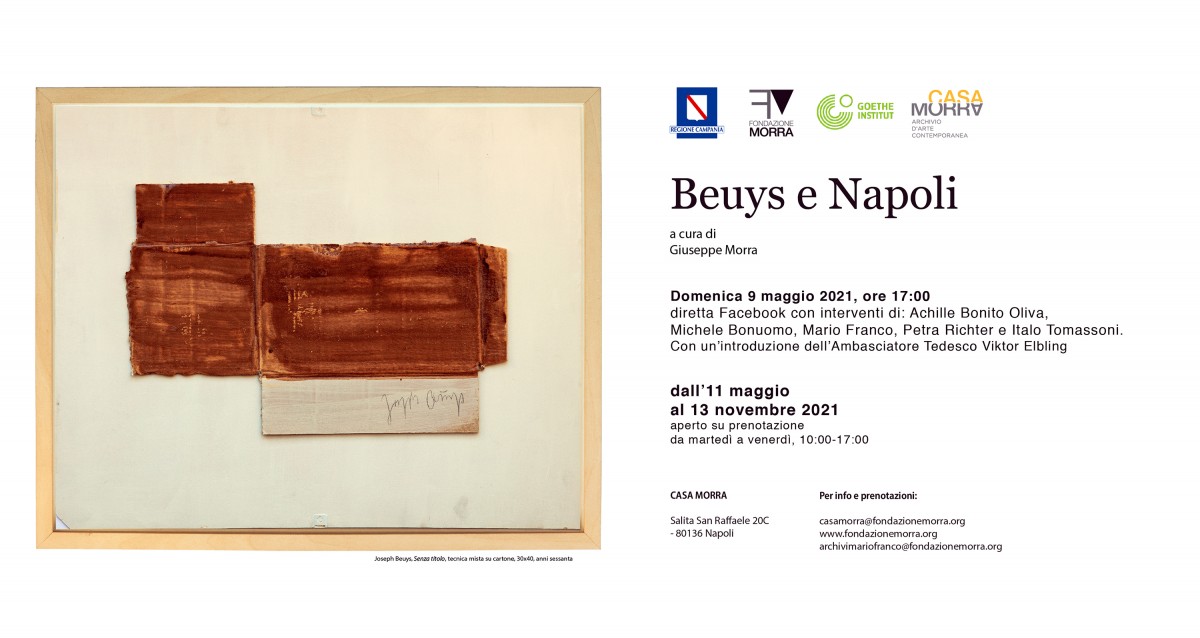 9th may 2021
FACEBOOK LIVE 5.00 p.m.
With contributions by: Achille Bonito Oliva, Michele Bonuomo, Mario Franco, Petra Richter and Italo Tomassoni
With an introduction of the German Ambassador Viktor Elbling
11th may 2021- 13th february 2021
START 10.00 a.m.
Casa Morra – Archive of Contemporary Art
Salita San Raffaele 20/c, Napoli
Curated by Giuseppe Morra
From 11 May to 13 February Casa Morra in agreement with Goethe-Institut Neapel, pays tribute to Joseph Beuys, commemorating the centenary of his birth with the exhibition Beuys e Napoli curated by Giuseppe Morra, reflecting on the cultural heritage of the German artist's visits to Naples and his travels around Italy between 1971 and 1985.
The Mario Franco Archives will host a showing of five films in succession. Neapolitan film director Mario Franco has assembled the most comprehensive documentary footage of Lucio Amelio and Beuys's work together, starting with their first exhibition, La rivoluzione siamo noi (1971), at the Modern Art Agency. To celebrate its 50th anniversary, the programme opens with a showing of the film of the same name, which will be screened together with Der Tisch, a film Beuys donated to the Neapolitan director in its original 16mm format, documenting one of his first actions at the Düsseldorf Academy (1971). Franco documents other actions resulting from the collaboration between the Neapolitan gallery owner and the German artist, such as 'Vitex agnus castus', for Arena: dove sarebbe arrivato se fosse stato intelligente! (1972), and 'Diagramma Terremoto', produced at the same time as Terremoto in palazzo (1981). Petra Richter conjures up an evocative image of Beuys in this second action, describing him as a "human seismograph […] absorbed in tracing the vibrations of an imaginary earthquake, just like an ECG machine records the electrical activity of the human heart". For the last great exhibition at the Capodimonte Museum, Palazzo Regale (1985) – described by Michele Bonuomo as "a definitive architecture of his entire production, almost […] a testament" – Franco made a film from his last interview with Beuys, discussing his work and his ties with Naples and Italy.
Confirming Casa Morra's aptitude for embarking on unexpected lines of research inspired by findings among archive material, a series of photographs by Gerardo Di Fiore bears witness to Beuys' incursion into the context of the action 'Hic Sunt Leones' (1972) from the collective exhibition Galleria Inesistente, at the same time offering a broader view of the many layers of Neapolitan artistic and cultural life in the nineteen-sixties and seventies.
The exhibition also includes a selection of multiples, part of Beuys' broader "social sculpture" project: for him, the problem of "giving form" is not a question of stylistic research within the autonomous space of art; rather it is resolved in the anthropological possibilities of forming/organizing every social field, starting from individual creativity. On closer inspection, this is what Achille Bonito Oliva defined as a "Socratic space" during his first key interview with Beuys in 1971. This critical insight is confirmed by the artist himself: "art interests me only insofar as it allows me to dialogue with humanity". And Beuys ably investigates the constituent possibilities of art in the inclusive and democratic sense in his historic contribution to Documenta 5 (1972), where he set up an office for the "Organisation for Direct Democracy by Referendum", running for a hundred days. Vettor Pisani presented a previously unseen photo documentary of this experience in Kassel.
The exhibition closes with an addition to the room permanently dedicated to the German artist, set up in 2017 with materials donated by Lucrezia De Domizio Durini: an in-depth look at Difesa della natura in Bolognano, where, on 13 May 1984, Beuys set up a space for public talks on the defence of nature and individual creativity. On the occasion of Beuys e Napoli Italo Tomassoni revisits this shared experience through an intimate letter to the artist.
For info and bookings:     
Open by appointment from Tuesday to Friday, 10am-5pm.
The films will be screened every Wednesday at 18:00 by reservation (except for the months July and August) in the space of the Mario Franco Archives
casamorra@fondazionemorra.org
archivimariofranco@fondazionemorra.org