Maurizio Elettrico – An Ephemeral Banquet for the Invisible Guest: Waiting for the Bio-aristocrat
20 November 2020-14:00/31 January 2021-18:00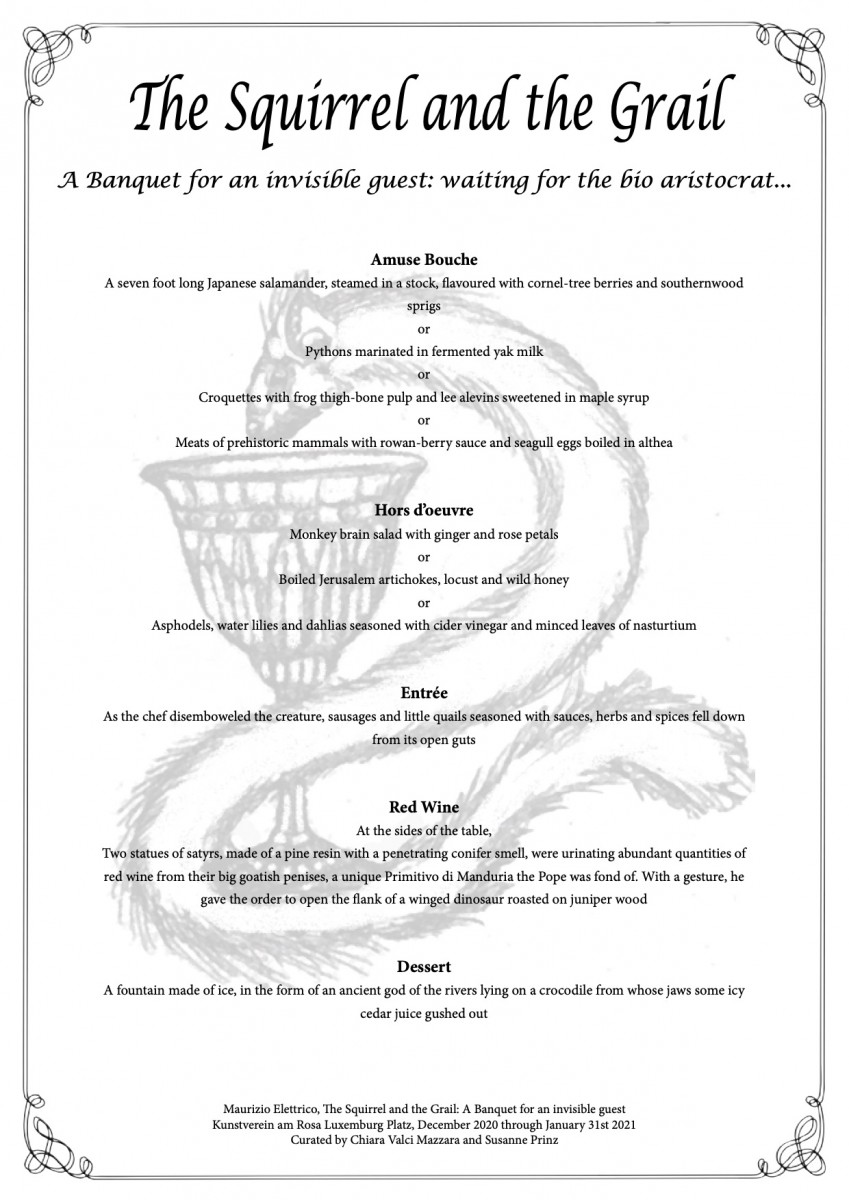 November 20th 2020 – January 31st 2021
OPENING – by invitation only – NOVEMBER 19th, 6:00 p.m.
Förderung von Kunst und Kultur am Rosa-Luxemburg-Platz
Linienstraße 40, 10119 Berlin
Curated by: Chiara Valci Mazzara, Resident curator Fondazione Morra and Susanne Prinz, Head curator Rosa Luxemburg Kunstverein.
In collaboration with Fondazione Morra, Naples
Maurizio Elettrico is a complex and erudite artist and writer. His saga in seven volumes – The Squirrel and the Grail- functions, on the occasion of his solo show conceived as a site specific installation for the Kunstverein am Rosa-Luxemburg Platz, as the vessel through which his magical, irreverent, profane, philosophical, mythological referred and fantastic world is introduced to the public by displaying his visionary aesthetics and immersive landscapes.
The banquet for the invisible guest is an exhibition consisting of a series of sculptural pieces installed on a banquet table, two installations set up as islands on the floors and a series of works on the walls conceived and produced on the occasion of his solo show.
The public will be invited to experience an immersive installation in which the world of Maurizio Elettrico's saga will come true accompanied by the opera sound piece envisioned for the exhibition.
Opening hours: Wed. – Fri. 14-18 – only by appointment according to the covid-19 current regulations