ECONOMIES OF LIVING Video art from Croatia
30 January 2020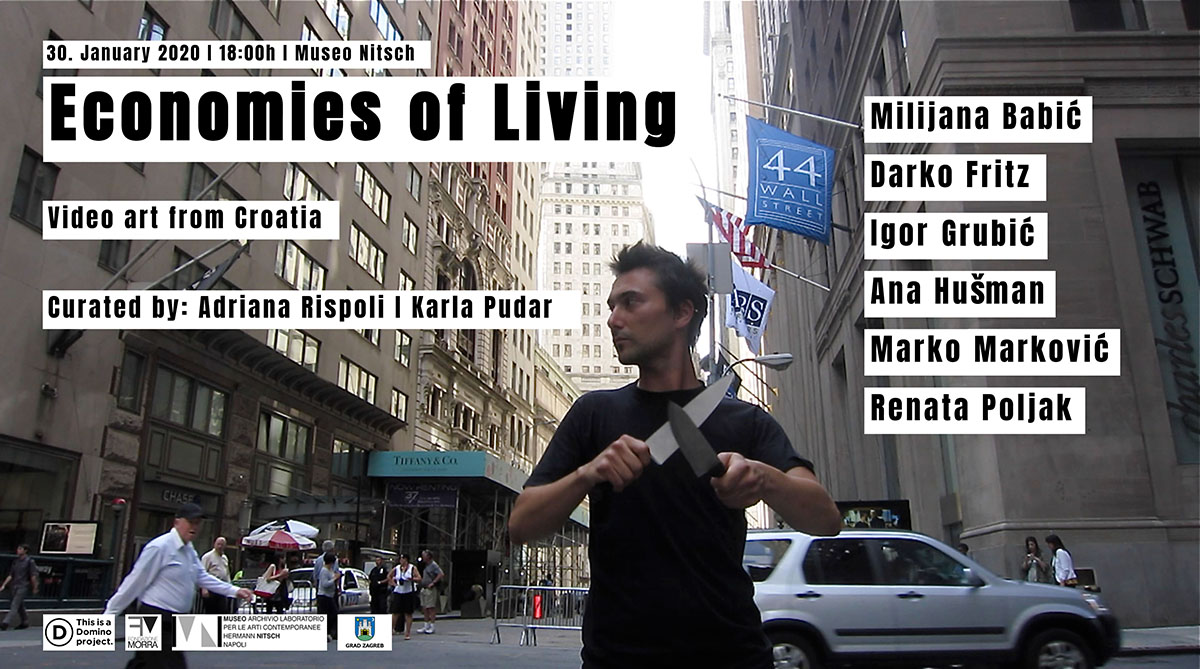 January 30th 2020
STARTING PROJECTIONS at 6:00 p.m.
Museo Hermann Nitsch
Vico Lungo Pontecorvo 29/d, Naples
Curated by Adriana Rispoli and Karla Pudar
There will be present the artists Marko Markovic and Igor Grubic
Through the work of 6 artists, the screening Economies of Living presents an insight into the production of video art Made in Croatia around the theme of the economy and intrinsically to the medium itself of moving images. The word ecomony – from the Greek oikos / home and nomos / law – is addressed in the six works exhibited in different meanings relating to both the more intimate and collective spheres, in a micro dimension of the everyday and macro in an urban public scenario.
From a cinematographic approach to graphic animation passing through performative documentation to animation, Ecomonies of Living returns the energy of visual experiments of an extremely prolific artistic area of ​​Eastern Europe.
Economies of Living, curated by Adriana Rispoli and Karla Pudar, is the second collaboration of the Morra Foundation of Naples with the Domino Project in Zagreb after Smashing the Myth in 2018 and is supported by the City of Zagreb.
PROGRAM
Milijana Babić
Working day
Video documentation of perfromance, 2011
The action Working Day problematises the situation in which most freelance artist in Croatia find themselves in when it comes to bare existence, and questions the status of freelance artists in our society.The project title ironically highlights insufficiency of our profession, within which survival is not possible, due to the fact that our work is hardly paid for and contemporary art market does not exist. In other words, work and payment do not come in the same package.With a symbolical act of digging through garbage containers, in search for refundable litter, wearing a shirt with the logo of the Croatian Freelance Artists Association, this work aims to add freelance artists onto the growing list of the socially endangered – next to homeless, pensioners, unemployed…
Milijana Babić  is an artist from Rijeka, Croatia, working with installations, performances and artistic actions. She holds a BA in fine arts from the Durban Institute of Technology, Republic of South Africa, and an MA from the Academy of Fine Arts and Design, Ljubljana, Slovenia. She is a long-term collaborator of the City of Women festival in Ljubljana. Between 2007-2014 she worked as an associate at the Academy of Applied Arts in Rijeka. She is a member of the artists association Delta 5 in Rijeka. Her work has been exhibited internationally.
Drako Fritz
Zagreb Confidential – Imaginary Futures
Experimental film, 13′ 30", 2015
The video explores visions of the future depicted through urban development. In its essence, it can be regarded as a form of a time structure and as such it questions not only the vision of future on a realistic example of New Zagreb but it also questions the structure of film as such.
Darko Fritz is an artist, independent curator, researcher and graphic designer. He was born in 1966, in Croatia, and currently he lives and works in Amsterdam, Zagreb and Korčula. His work fills the gap between contemporary art practices and media art culture. He is founder and programmer of the Grey Area – space of contemporary and media art since 2006.
Igor Grubić
How Steel Was Tempered
2D animation, 12'40", DCP, 2018
A father takes his son to an abandoned factory where he once worked. The building has long been reduced to a crumbling symbol of the new system. Nonetheless, the space will briefly be brought to life by recorded scenes of workers solidarity, inspiring a small gesture of defiance. That symbolic act will turn into a moment of catharsis and re-establish the relationship between the father and son. The film was presented in the Croatian Pavillion at Venice Biennale 2018.
Igor Grubić has been active as an multimedia artist in Zagreb since the early '90s, making photography, video, and site-specific actions. His interventions into public space, along with video works explore past and present political situations while cutting through the fabric of reality. Grubić has participated in numerous major international exhibitions including, Manifesta 4 (Frankfurt, 2002); Manifesta 9 (Genk, 2012); MuMOK (Vienna, 2009); 11. Istanbul Biennial (2009); 4. Fotofestival Mannheim Ludwigshafen, Heidelberg (2011); East Side Stories, Palais de Tokyo (Paris, 2012); Gwangju Biennale (2014); Zero Tolerance, MOMA PS1 (New York 2014); Degrees of Freedom, MAMbo (Bologna, 2015); Heavenly creatures, MG+MSUM (Ljubljana, 2018); The Value of Freedom, Belvedere 21 (Vienna, 2018). He represented Croatia at the 58th Venice Biennale.
Ana Hušman
Lunch
Video kolor PAL, 4:3, 16mm transferred to BETA, 16'40'', 2008
The rules of correct behaviour found in books of etiquette present themselves as aiding communiction and helping people understand each other. They also claim to help us engage socially with greater ease and self confidence. These rules are learnt from birth which is the only way for us to completely internalise them. Their model is found in western civilisations, and compliance with them makes it easy to discern who is civilised and who is not. the film deals with customs of eating and drinking – specifically with the lunch situation, as communal eating is the central site of showing others our breading and finesse.
Ana Hušman's practice disassembles the structures and textures of cinematic elements through film, installation, books, sound, image and text. Hušman experiments with the possibilities of animation, documentary and fictional cinematic methods, and the possibilities of the recorded voice and its articulation. Her working process questions and plays with the positions of the amateur and the professional subject of performativity, the medium itself, and the structures that dictate and produce patterns of behavior. She is a lecturer at the Department of Animation and New Media at the Academy of Fine Art in Zagreb, cofounder of the documentary film organization RESTART where she has been holding film education programs for children and young people for many years.
Marko Marković
Sharpening
Video documentation of perfromance, 12′ 04", 2012
Sharpening performance took place on 44 Wall Street on the first police block barricade of Security zone at Financial district, NYC. In performance artist is sharpening two knifes one against the other giving the clear massage. In this performance artist has brought the weapons in security zone at the Wall street. The act of creating such a performance counter defensive field confronting to "their" defensive field (barricades), mounted to protect the security zone. This type of protection from a higher ones creates a general threat and restricts freedom of speech, movement and action. Two months after the performance in August of the same year at Time Square in New York City police shoot and kill a man with 12 bullets. A man was killed because he possessed a weapon, a knife.
Marko Markovic was born in 1983 in Osijek, Croatia, lives in Vienna. He graduated painting at Art Academy in Split in 2007 in the class of prof. Gorki Žuvela. He also does researches in different media: video, installation, ambient, performance and happening. In these works he often animates and includes audience and/or other participants as the expression medium. He is the founder and member of a flexible formation Adistia, a group of people that operates in performance activities, as an art group, art community, or organization. He participated in numerous exhibitions, workshops and festivals in Croatia and abroad.
Renata Poljak
Porvenir
One channel video installation, 12′, 16:9, 2019
Dreaming of better lands, from generation to generation, because of poverty, hunger and wars, we voyage across the seas. Geography is destiny. Do our bodies retain the memories of our grandfathers; are memories of running away in search of better lands imprinted on our bodies? Porvenir means Future in Spanish. Porvenir is the only town in Tierra del Fuego, at the bottom of the world, founded by Croatian immigrants at the beginning of the 20th century.
Renata Poljak is a visual artist coming from Split, Croatia, currently living in Paris. Her body of work is composed of different medias: photos, neon, installation, videos and film. Her practice explores the politic upheaval and violence that the Balkan region has undergone since the early 1990s, and the ramifications of those changes in the lives of émigrés throughout Western Europe. In 2002 she was on ArtsLink award as visiting artist in San Francisco Art Institute, in Museum Quartier, Vienna in 2004 and in 2008 she has been selected for Art In General residency program in New York and in ArtOmi for 2010. Renata's work has been exhibited wildly, on solo or group shows, biennales and film festivals. She received several awards among witch the Golden Black Box Award for Best Short Film at the Black Box Festival in Berlin 2006 and in the spring of 2010 a selection of her videos and film work were exhibited in Centre Georges Pompidou, Paris.