Hamza Halloubi – How Far is Far?
5 July 2017-19:00/22 July 2017-19:00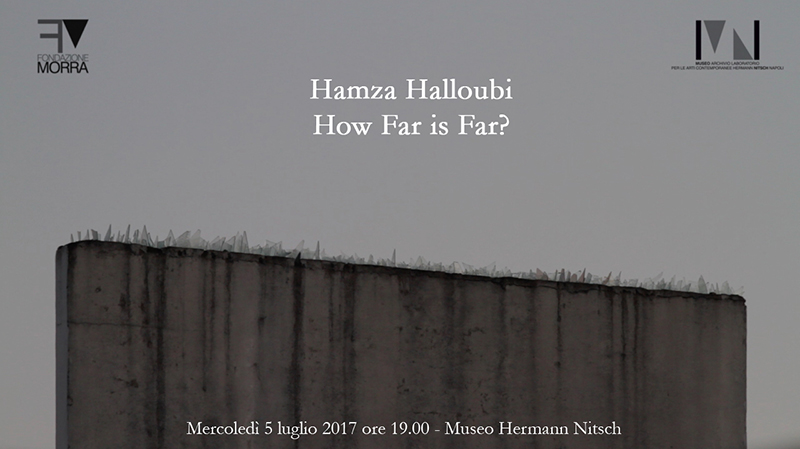 July 5th  –  July 22nd 2017
OPENING JULY 5th h. 7:00 p.m.
Sala Conferenze del Museo Hermann Nitsch 
Vico Lungo Pontecorvo 29/d, Napoli
Curated by Alessandra Troncone
The opening of the solo exhibition How Far is Far? by Hamza Halloubi, curated by Alessandra Troncone, will take place at the Hermann Nitsch Museum in Naples at 7.00 pm on Wednesday, 5th July 2017. The exhibition has been organized in conjunction with a residency by the artist at Casa Morra in Naples and will present a selection of videos for the first time in Italy.
The work of Hamza Halloubi (born in Tangier, 1982, currently living in Brussels) encompasses both personal and historical narration using video as a fluid medium, able to condense reality into images and stories that fluctuate between the factual and the poetic. In his works, highly complex topics such as exile, the silences of history, and the relationship between art and politics are addressed from a personal point of view. Their concreteness can be felt, but never occupies the foreground.  A constant in his work is the feeling that something is missing, producing an atmosphere of suspension as the artist's voice guides us through stories where private memories, historical events, and existential questions flow together into one narrative.
The exhibition has been conceived specifically for the spaces within the Museo Hermann Nitsch and will contain older as well as more recent videos. The entire project is built up around the polarity between static elements and movement, between horizontality and verticality, to create one whole and new narrative. The videos will include To Leave (2011), a powerful image of a departure filmed in Tangier, the artist's hometown, and Letter to Aura (2012), also shot in Morocco; here, a wall seen from a window is the starting point for a reflection on emigration and limitations placed on free movement.
Hamza Halloubi (Tangier, 1982) studied at La Cambre in Brussels, where he currently lives. He took part in a residency programme at the Rijksakademie van beeldendekunsten in Amsterdam (2015-2017). He has also held solo exhibitions at the Museum De Pont in Tilburg, the c-o-m-p-o-s-i-t-e in Brussels, KIOSK in Ghent, and the BOZAR- Palais des Beaux-Arts in Brussels, among other venues. He has participated in many group exhibitions, such as the Marrakech Biennale 5 (2014), the Thessaloniki Biennial (2015), the Close-Up exhibition at the EYE Filmmuseum in Amsterdam (2016), and the exhibition In the Belly of the Whale at the Witte de With in Rotterdam (2016), among others.