INDEPENDENT FILM SHOW 17th Edition
22 June 2017-20:00/24 June 2017-20:00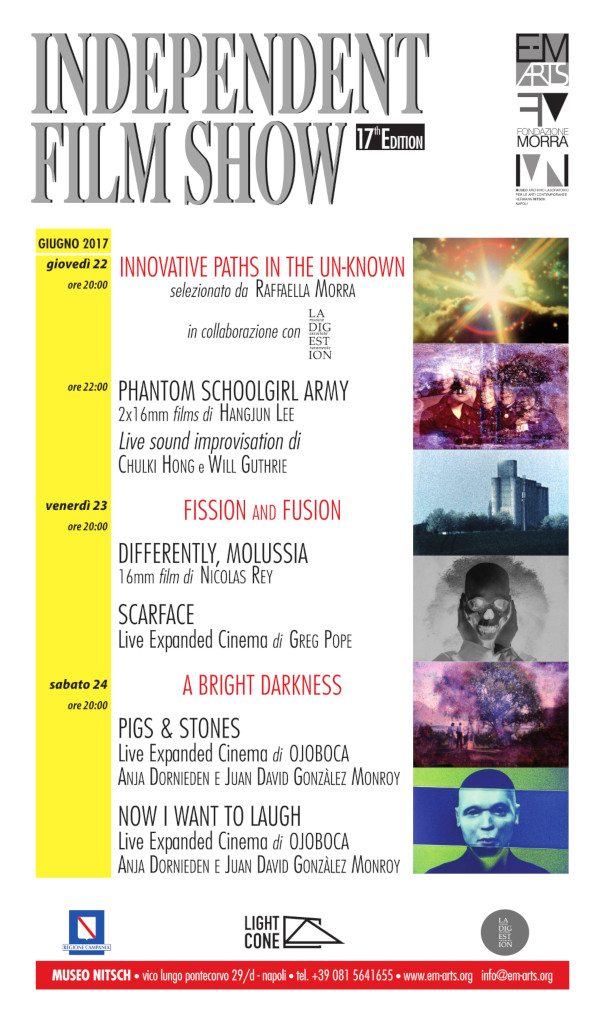 June 22nd  – June 24th, 2017
STARTING PROJECTIONS AT 8:00 p.m.
Museo Hermann Nitsch 
Vico Lungo Pontecorvo 29/d, Napoli
INDEPENDENT FILM SHOW 17th edition, an international show dedicated to independent experimental cinema, coordinated by Raffaella Morra, organised by E-M ARTS associazione culturale, takes place on June Thursday 22nd, Friday 23rd and Saturday 24th 2017 at the Museo Nitsch programming the screening of three 16mm films programs and three expanded cinema performances. Since 2001, the Independent Film Show projects the most progressive film experiences, acting as a cultural propeller for the development of mentalities sensitive to complex perceptual phenomena, beyond the rigid visual and auditory rules.
INDEPENDENT FILM SHOW 17th edition's characteristics are the inventive technique of photographic impression and shooting, the handcrafted film manuality amplified by Do It Yourself, the experimentation of new natural organic development agents, the frames' rhythm and, if essential, the inclusion of audio tracks. The collision between image and perceptual sensation may appear accidental, but the film-makers invited at IFS apply a resistance to linear perception, each orienting their own visual understanding in different directions.
In the program Innovative paths in the un-known, Raffaella Morra has selected seven films combined by a strong attraction for the film emulsion and for the alchemic transformations, in particular unusual chemical processes that inscribe images on film emulsion. Two films made by pioneers of experimental cinema: Two Pictures is a tactile and textured work of cinematic abstraction by Rose Lowder and Carl E. Brown; In the Shadow of Marcus Mountain by Robert Schaller is shot entirely with a homemade pinhole camera and edited largely in-camera through the use of a rhythmic score.
Among the recent film investigations, that attempt to penetrate the enigmatic film materiality and the different emotional states: Dan Browne's Waterfilm is a complex relation between sound, image, and editing processes connected to issues of memory's legitimacy; Julie Murray's ELEMENTs is an exploration of a location visited by incidental shadowy figures, related one to another through the rhythm of their gestures; in Rhus Typhina by Alexandra Moralesová & Georgy Bagdasarov a plant is the main protagonist and acts as film development agent; Sandy Ding's River in Castle offers repeated references to magic, often comparing his films to initiation rituals; Josh Lewis's Doubt # 2 explores boundaries of manual knowledge, bodily struggle and persistent enigma of material.
In cooperation with La Digestion – rarely heard music festival, Hangjun Lee's 16mm films are accompanied by Chulki Hong and Will Guthrie's four-tone sound improvisation. In The Cracked Share, audience is overwhelmed by a strange array of chemical distorted images coupled with assaultive flicker lights, a wave of explosive colours and unknown shapes intersected by Hong and Guthrie's improvisation noise. Phantom Schoolgirl Army investigates the material conditions of photography (photographic plate, magnesium) and its "conventions" (visuality of portraits, functions of flash), aesthetically reconstructing the dialectic of stillness and motion embedded in the cinema.
On Friday, June 23rd will be screen Nicolas Rey's Differently, Molussia, adapted from the book Die molussische Katakombe by German philosopher Günther Anders, written between 1932 and 1936, a book which the filmmaker never read. Hand processed, out-of-date film stock in nine chapter-titled segments is separated into reels and randomized during projection. The film recounts stories and allegorical thoughts by political prisoners in an imaginary fascist state called Molussia. The film's nine sections ruminate on capitalism, imperialism, and resistance.
In the expanded cinema performance Scarface by Greg Pope the manipulation of 16mm projection, slide projection, contact microphones and guitar pick-ups are combined in the architectural space. Improvisation and randomness are also factors in a dynamic process where we witness the destructive treatment of analogue film with a death cult magic lantern show.
On Saturday, June 24th A Bright Darkness includes three films and the expanded cinema performance by Anja Dornieden and Juan David González Monroy, who go by the moniker Ojoboca. They use film manipulation processes and suggestive techniques to create Horrorism a simulated method of inner and outer transformation. In an interview, Juan David González Monroy explains: "…Basically, cinema is a machine that talks to you, tells you a story. Given the dynamics of the cinema, the machine is programmed by the filmmakers to personally talk to each individual member of the audience. We started thinking about cinema this way by accident, but since this is what cinema in essence does, we thought we would focus on that aspect of it. Of course, the machine might be insane, it might be lying, it might be trying to convince you of different ways to view the world, or it might just be trying to entertain you by telling you a good story".