Jeanne Liotta – Break the sky
22 June 2018-14:00/6 July 2018-19:00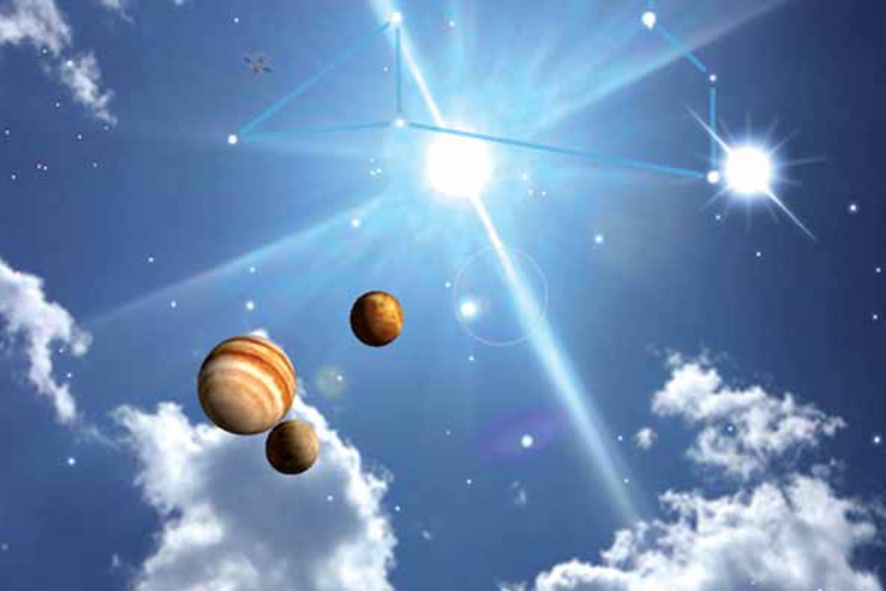 June 22nd – July 6th, 2018
OPENING JUNE 22nd h. 2:00 p.m.
Capriata del Museo Hermann Nitsch
Vico Lungo Pontecorvo 29/d, Napoli
Jeanne Liotta's video-installation In This Immense Space Hidden Things Appear Before Us and works on paper are showed at Museo Nitsch's roof room (in collaboration with Microscope Gallery New York).
In This Immense Space Hidden Things Appear Before Us, 2018, live feed augmented reality video installation that like Yoko Ono's 1966 Sky TV – to which the work pays homage – brings a live feed of the sky outside into the roof room. Liotta's appropriation and use of new technologies allow for her piece to extend beyond the limits of the visible sky. Video imagery shot in real time by smartphones installed onto the building's roof are superimposed with computer generated renditions of the actual planets, stars, constellations and other celestial bodies as well as space stations, "junk", and other known objects in Earth's orbit.
The live video feeds on view during the Museo afternoon hours – from early afternoon daylight to evening darkness – facilitate the experience of our movement on Earth, especially as shown in relation to other planets and star systems: our location in Napoli rotating at approximately 750 mph on a planet orbiting the sun at 67,000 mph in a solar system circling the galaxy at 483,000 mph, etc.
Also on view are selections from two related watercolor and ink on paper series and a series of photograms by the artist.
The Bruno Studies watercolors are based on the silhouette of the statue of Giordano Bruno that stands in Rome's Piazza Campo de' Fiori, where in 1600 he was burned at the stake for refusing to revoke what were considered heretical views such as insisting that our sun is just one of many and the universe is infinite, and often incorporate text of his writings in De l'Infinito, Universo e Mondi (1584).
The Nightly Studies – a watercolor, gansai and sumi ink on paper series – find Liotta making her own chartings of the observable sky at night from various locations around the globe during her research. The artist's detailed, multi-layered use of shades of blue along with her minimal and gestural application of black ink on the page draw visual connections between the human and the cosmic scales: splatters of ink form the Milky Way, a tiny dot of paint a distant galaxy.
The series of photograms Articuli made by hand in the artist's darkroom are inspired by the imagery and texture of the Copernican diagrams (woodcuts) of the Italian philosopher and former Dominican friar Giordano Bruno. Among his ideas were that the sun is a star, that other stars have similar solar systems to ours, and that the universe is infinite. Additional info about Bruno's articuli: 42 iconographic woodcuts accompanied Giordano Bruno's 1588 printed monograph Articuli centum et sexaginta Adversus Matematicos (One hundred and sixty articles against mathematicians). The diagrams are not strict representations of celestial mechanics but descriptive and imagistic tools for a heliocentric world picture, which Bruno imagined not as singular but as a multi-dimensional space of infinite possibilities.
Jeanne Liotta makes films, videos, including video-projections, works on paper, and photographic works with thematics often located at the intersection of art, science, natural philosophy, and ephemerality. Her most known 16mm film of the night skies, Observando El Cielo, received numerous awards including the Tiger Award at the Rotterdam International Film Festival, and was voted among the top films of the decade by The Film Society of Lincoln Center. In 2013 Anthology Film Archives presented The Real World at Last Becomes a Myth, a complete retrospective of her works in film and video, and in 2014 she received a commission to work with NOAA climate scientists in Boulder, CO to create 360-degree media work for Science on a Sphere. Her "one-cut" collages The Tiffany One-Cuts culled from pages of the New York Times were incorporated into installations by artist Nancy Shavers at Derek Eller Gallery (2016) and Padiglione USA/La Biennale di Venezia (2017).
Installation view, Break the sky, Museo Hermann Nitsch, Napoli 2018 Jeanne Liotta Courtesy Fondazione Morra