Internation Masterclass Oedipus. Body of Blood – Closing event
21 May 2022-21:00/22 May 2022-21:00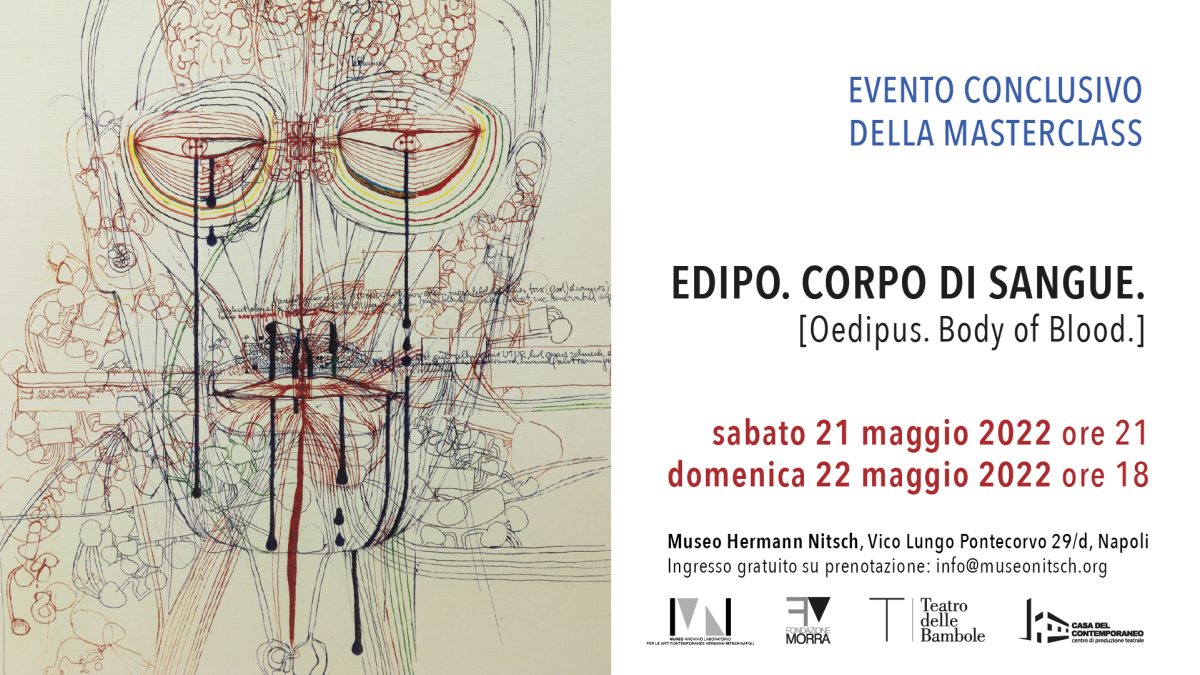 21st may 2022, 9.00 p.m.
22nd may 2022, 6.00 p.m.
Museo Hermann Nitsch
Vico Lungo Pontecorvo 29/d, 80135 Naples
Closing event of Masterclass on the relationship between sound and body "OEDIPUS. BODY OF BLOOD"
held by Andrea Cramarossa
from the "EDIPO RE. Una teoria di rappresentazione del dramma 1964"
(Edizioni Morra, Naples, 2001) by Hermann Nitsch
The return to the public of the Masterclass OEDIPUS. BLOOD BODY., focused on the relationship between sound and body, held by Andrea Cramarossa, includes a double opening that will take place at the Hermann Nitsch Museum in Naples on Saturday 21 May (at 9 p.m.) and Sunday 22 May (at 6 p.m.). The work is developed from "EDIPO RE. Una teoria di rappresentazione del dramma 1964" by Hermann Nitsch (Edizioni Morra, Naples, 2001).
"The torment that Oedipus carries from his birth, not knowing anything about himself, will lead him towards horror, towards the inaudible. With a very strong light, in Nitsch's Oedipus, the sense of the sacred is achieved through the sacrifice of all the elements that led the hero into the ecstasy of knowledge, a disturbing, troublesome, lacerating ecstasy."
Andrea Cramarossa
Andrea Cramarossa is a poet, director and actor who, after years of intense personal studies in the field of vocal research, sound and voice applied to singing and speaking, theorize, on an experimental basis, an approach to dramatic art through the use and knowledge of sound. He is the first to take advantage of listening to the sound of the human voice in order to arrive at dramatic art by structuring a real acting model that is inspired by the work on sound by Gisela Rhomert and by Hermann Nitsch's Theater of Orgies and Mysteries. Cramarossa regularly holds workshops on voice and acting in Italy and abroad. He receives numerous awards in the artistic field including: "Young Oscar – European Personality" and the "Aligi D'Oro" Prize for Dramatic Art. With his artistic work "L'URLO" (The Scream) he received the first prize in 2013 at the FAP – Festival of Performing Arts. In 2003 he founded the theater research group Teatro delle Bambole.
Masterclass is organized by Fondazione Morra – Hermann Nitsch Museum and Teatro delle Bambole in collaboration with Casa del Contemporaneo.

Free entry sending an email to: info@museonitsch.org
Masterclass Oedipus. Body of Blood, Museo Hermann Nitsch, Naples, 2022 © photo Fabio Donato Courtesy Fondazione Morra
Masterclass Oedipus. Body of Blood, Museo Hermann Nitsch, Naples, 2022 © photo Fabio Donato Courtesy Fondazione Morra
Masterclass Oedipus. Body of Blood, Museo Hermann Nitsch, Naples, 2022 © photo Fabio Donato Courtesy Fondazione Morra