Mille Nanni – 3rd July
3 July 2022-19:00/23:00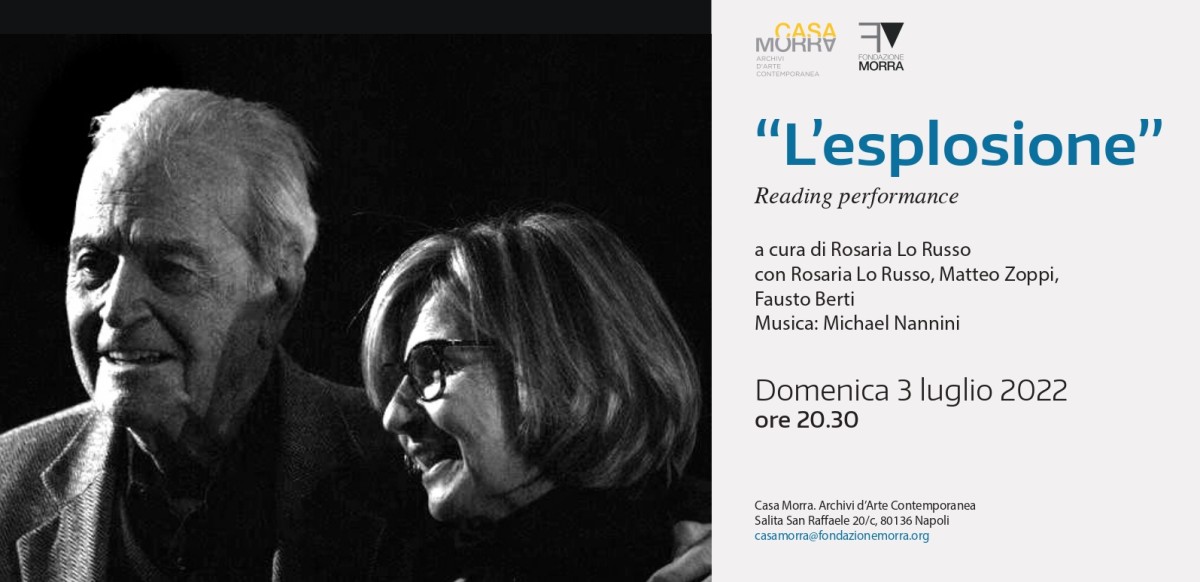 1-3 july 2022 – Tribute to Nanni Balestrini
OPENING 1st JULY 6.30 p.m.
1st july – 30th october 2022
Casa Morra. Archivi d'Arte Contemporanea
Salita San Raffaele 20/c, Naples
A project by Andrea Cortellessa and Giuseppe Morra
Curated by Maria Teresa Carbone, Andrea Cortellessa and Ada Tosatti
7.00 p.m.
Discussion starting from Nanni Balestrini millepiani led by Ada Tosatti with the participation of Cecilia Bello Minciacchi, Tommaso Ottonieri, Emanuela Patti, Chiara Portesine, and Gian Paolo Renello.
8.30 p.m.
Readings by Mariano Bàino, Biagio Cepollaro, Laura Cingolani and Fabio Lapiana, Gabriele Frasca, Tommaso Ottonieri, Lello Voce; reading performance L'esplosione on Balestrini's texts by Fumofonico (Rosaria Lo Russo with Fausto Berti, Matteo Zoppi, music by Michael Nannini).
Greetings and thanks by Rossana Campo.
L'esplosione
Reading performance
Curated by Rosaria Lo Russo
With Rosaria Lo Russo, Matteo Zoppi, and Fausto Berti
Music Michael Nannini
This reading performance from L'esplosione (2019) is a tribute to Nanni Balestrini's testamentary work, his last book of visual poetry. The voices of three reader-performers on stage give body in sound to three of the six movements, or cantos, of a work centred on multiples of three. There is a solemn Dantean motion to this short poem that recomposes the human story from the alpha of the first human traces of Neolithic art to the apocalyptic omega of the terminal phases of the Anthropocene. A Dantesque palingenetic motion, albeit with the usual suspension of judgement, which here, however, becomes a magnificent tension (and internal skirmish between the three voices), gives structure to each page with three outward triplets and three return triplets in the movement of the layout from left to right, forming a cusp. It is the sign of a verticality that is not metaphysical but immanent in the human condition. It is the geometry of astonishment and disaster of experience, both individual and historical/collective, from the initial explosion of hominization to the explosion of the end, of an exemplary poet's life like that of our animal species. In this work, the geometry of montage typical of Balestrini's poetry, underpinned here by a powerful emotional vein, attains a moving clarity, almost as if L'esplosione were actually a first work rather than a farewell.