UNDERNEATH THE ARCHES – Jumana Manna, Depositions
3 March 2022-18:00/30 April 2022-18:00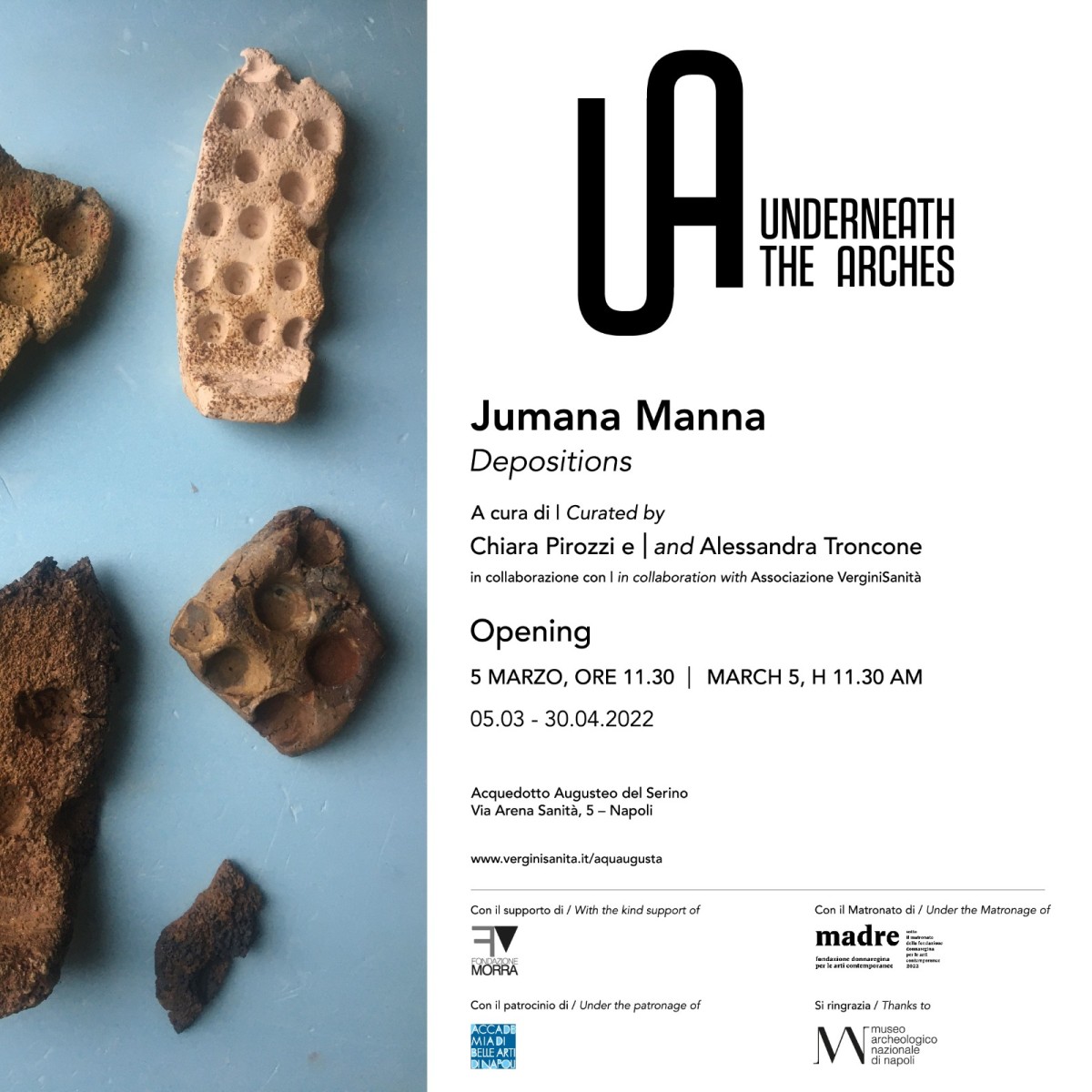 03rd march2022
START 6.00 p.m.
Video screening
Museo Hermann Nitsch
Vico Lungo Pontecorvo 29/D, Naples
05th march – 15th may 2022
OPENING 05th MARCH 11:30 a.m.
Acquedotto Augusteo del Serino
Via Arena Sanità 5, Naples
Curated by Chiara Pirozzi e Alessandra Troncone
Underneath the Arches, a contemporary art programme that takes place at the archaeological site holding the remains of the Acquedotto Augusteo del Serino in the area Borgo Vergini – Rione Sanità in Naples, is pleased to announce its fourth exhibition. Under the artistic direction of Chiara Pirozzi and Alessandra Troncone, and in collaboration with Associazione VerginiSanità, Underneath the Arches is presenting a site-specific work by Jumana Manna, titled Depositions.
In her work, Jumana Manna explores how power is articulated, focusing on the body, land and materiality in relation to colonial legacies and histories of place. Through sculpture, filmmaking, and occasional writing, Manna questions the paradoxes of preservation practices, particularly within the fields of archaeology, science and law. Her practice considers the tension between the modernist traditions of categorization and conservation and the unruly potential of ruination as an integral part of life and its regeneration.
For the exhibition at the Augusteo del Serino Aqueduct, Jumana Manna has made a series of small ceramic sculptures to respond to the tradition, familiar in the Middle East and beyond, of leaving uneaten / old bread out in public spaces. These sculptures mimic the practice of offering to an unknown receiver, an act that rids the giver of the sin of uneaten food; or wasted life. This meaning of "offering" is intertwined with the ritual that ancient Mediterranean civilizations had of making votive gifts to the gods – especially to female deities – in the form of clay loaves and buns, later found as grave goods. Some of these examples are on display at the National Archaeological Museum of Naples and other museums in the Campania region, such as the Archaeological Park of Paestum and the Archaeological Museum of Eboli. The sculptures created by the artist are part of an installation conceived especially for the site, which mixes references to archaeology and inspiration coming from the street.
Depositions will be preceded by the screening of Jumana Manna's film A Magical Substance Flows Into Me (2016) in the frame of a public event organized in collaboration with Fondazione Morra and hosted by Hermann Nitsch Museum in Naples on Thursday the 3rd of March, at 6  pm.
Underneath the Arches aims to activate a dialogue between archaeology and contemporary art, and to establish a relationship between local material and immaterial culture and the artistic research of international artists. Its main objective is to promote both existing cultural heritage and new production in contemporary art. In the fascinating space of the ancient Roman aqueduct, discovered in 2011 and located underneath a historical building called Palazzo Peschici Maresca, international artists are invited to create temporary and site-specific installations in dialogue with the space itself and the surrounding area. Previous exhibitions include works by Arturo Hernández Alcázar (Mexico City, 1978), Hera Büyüktaşçıyan (Istanbul, 1984) and Adrian Melis (Havana, 1985).
This project is kindly supported by Fondazione Morra, and carried out under the Matronage of Madre Museum / Fondazione Donnaregina per le arti contemporanee of Naples, and under the patronage of the Academy of Fine Arts in Naples. Thanks to MANN – Museo Archeologico Nazionale di Napoli.
ARTIST BIOGRAPHY
Jumana Manna (Princeton, 1987) is a Palestinian visual artist and filmmaker based in Berlin. Recent solo exhibitions include: Jumana Manna / MATRIX 278, Berkeley Museum of Art, San Francisco; Sketch and Bread, Balade Charlottenburg, Villa Oppenheim, Berlin; Thirty Plumbers in the Belly, M HKA – Museum of Contemporary Art, Antwerp (all 2021); Wild Relatives, Tensta Kunsthall, Stockholm (2020); Jumana Manna, Tabakalera, San Sebastian (2019); Wild Relatives, Douglas Hyde Gallery, Dublin (2018); A Magical Substance Flows Into Me in Mercer Union, Toronto (2017), Malmö Kunsthall, Malmö (2016), and Chisenhale Gallery, London (2015); Wild Relatives, Jeu de Paume's Satellite 10 program at MABA and CAPC musée d'art contemporain de Bordeaux (2017); and Menace of Origins, SculptureCenter, New York (2014). She has participated in numerous group exhibitions and festivals, including Toronto Biennial of Art (2019); 11th Taipei Biennial (2018); Nordic Pavilion, 57th Venice Biennale (2017); Liverpool Biennial (2016); Marrakech Biennale 6 (2016); 54th and 56th Vienna International Film Festivals (2016 and 2018); 66th and 68th Berlinale (2016 and 2018); and CPH:DOX, Copenhagen (2018), where Wild Relatives (2018) won the New:Visions award.
THE AUGUSTAN AQUEDUCT IN NAPLES
Discovered in 2011, the tract of a Roman aqueduct found underneath Palazzo Peschici Maresca in Naples, owned by the Arciconfraternita dei Pellegrini, is an archaeological find that is key to tracing the entire trajectory of the ancient construction. The aqueduct was built in 10 AC and was an extraordinary work of hydraulic engineering at the time. It was more than 100 km long and supplied water to the most important cities in Campania, such as Neapolis, Pompeii and Herculaneum. Over the centuries, its bridge-arches were buried due to the rise of the ground level. They were then used as foundations for new constructions, as the city expanded beyond the walls of ancient Neapolis, leading to the rise of the Vergini-Sanità area. The spaces outlined by the old arches, now underground, served as wine cellars, as a bomb shelter during the Second World War, and as a dump.
Opened in 2015, the archaeological site is currently managed by Associazione VerginiSanità. In collaboration with the Arciconfraternita and other cultural associations in the area, it is working on a whole project for its restoration, promotion and reception, titled AquaAugusta. In 2017, the site was included in EXTRAMANN, a collaborative project between the MANN Museo Archeologico Nazionale di Napoli and other institutions devoted to promoting cultural heritage.
INFO
aquaugusta.contemporaryart@gmail.com