Gli Unici. Al Hansen, Dieter Roth, Jean Toche & Roberto Paci Dalò
4 March 2022-17:00/31 July 2022-17:00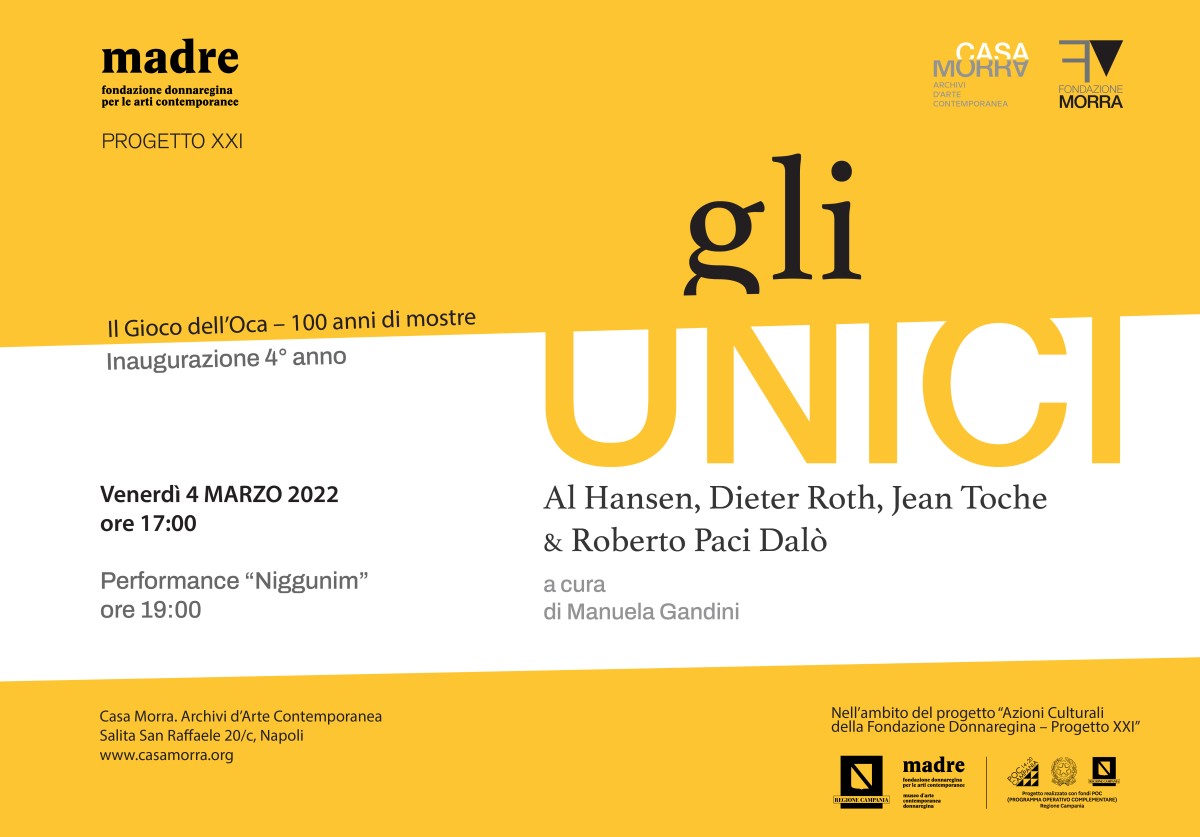 04 march – 31st july 2022
OPENING 04 march 5.00 p.m.
Casa Morra. Archivi d'Arte Contemporanea
Salita San Raffaele 20 C, Naples

Curated by Manuela Gandini
During the 2021-2022 edition of Progetto XXI, Fondazione Donnaregina per le arti contemporanee and Fondazione Morra present Gli Unici. Al Hansen, Dieter Roth, Jean Toche and Roberto Paci Dalò, curated by Manuela Gandini. The exhibition, whose title can be loosely translated as "The Only Ones", opens at Casa Morra. Archivi d'Arte Contemporanea (Salita San Raffaele 20/C, Naples) on 4 March 2022 at 5 pm, with speeches by Patrizia Boldoni, President De Luca's Councillor for Culture and Cultural Heritage; Rosanna Romano, Director General for Cultural Policies and Tourism of the Campania Region; Angela Tecce, President of the Fondazione Donnaregina per le arti contemporanee; Giuseppe Morra, Director of the Fondazione Morra, and Manuela Gandini, Curator of the exhibition. This will be followed, at 7 pm, by a sound performance by Roberto Paci Dalò entitled Niggunim. A film show by Mario Franco will be running at the same time.
Fondazione Donnaregina per le arti contemporanee has been using the Progetto XXI platform since 2012 to explore emerging artists, the theory and practice of their output, and the legacy of the innovative art of the last few decades through their exemplary methodology. The project intends to contribute to creating and disseminating alternative narratives and historiographies of the contemporary and defining a regional system of contemporary arts based on collaboration and interchange between public and private institutions in the Campania Region.
Giuseppe Morra takes up where he left off in 2018 with his 3P+B exhibition showcasing works by Luca Maria Patella, Vettor Pisani, Cesare Pietroiusti, and Nanni Balestrini. He continues his game-based programme where the recurring numerology of 3 and 7 sets the rules.
This year, in fact, Casa Morra presents its 3+1 for what should officially be the seventh year of exhibitions. But the chosen competitors, around whom the aura of a Stirnerian uniqueness revolves, are unpredictable and elusive figures, nomads who land on their "square", freeing themselves from the restrictions inherent to the game. The Ones.
This is how the curator describes them: "Like forests or wasteland between buildings, they were in constant evolution: not rational, controllable, profitable, or safe – they cannot be classified or claimed. No framework can hold them in: they contaminate other terrains of awareness".
Roberto Paci Dalò will do a sound performance entitled Niggunim on the day of the opening.
"Niggun (plural niggunim) means 'sung tune' or 'melody' in Hebrew and is a form of Jewish religious chant or melody sung in groups. It is a singing technique using abstract repetitive sounds rather than formal lyrics. Verses from the Torah or quotations from other traditional Jewish texts are sometimes sung repetitively to create a niggun. Some niggunim are sung as prayers of lamentation, while others may be joyful or victorious."
Running parallel to the exhibition is a film review by director Mario Franco, whose archives are housed at Casa Morra. It is dedicated to "that Stirnerian unicum which, in individual, anarchic and self-sufficient experience opposed official morals and customs by pursuing a mode of expression that strenuously safeguarded its individuality without pre-established rules". His show proposes a programme on historical avant-garde cinema and the experiments of the 1960s and 1970s.
"Filmmaker-artists such as Man Ray, Hans Richter, Jonas Mekas, Maya Deren and others were beyond economic or technical conditioning. We must continue watching these productions because they are a form of defence against the dematerialisation and standardisation present-day filmmakers and artists seem to be embracing".
The exhibition is funded by the Campania Region's POC (PROGRAMMA OPERATIVO COMPLEMENTARE) project in "Azioni Culturali della Fondazione Donnaregina – Progetto XXI".