Fondazione Morra on Google Arts & Culture
30 March 2022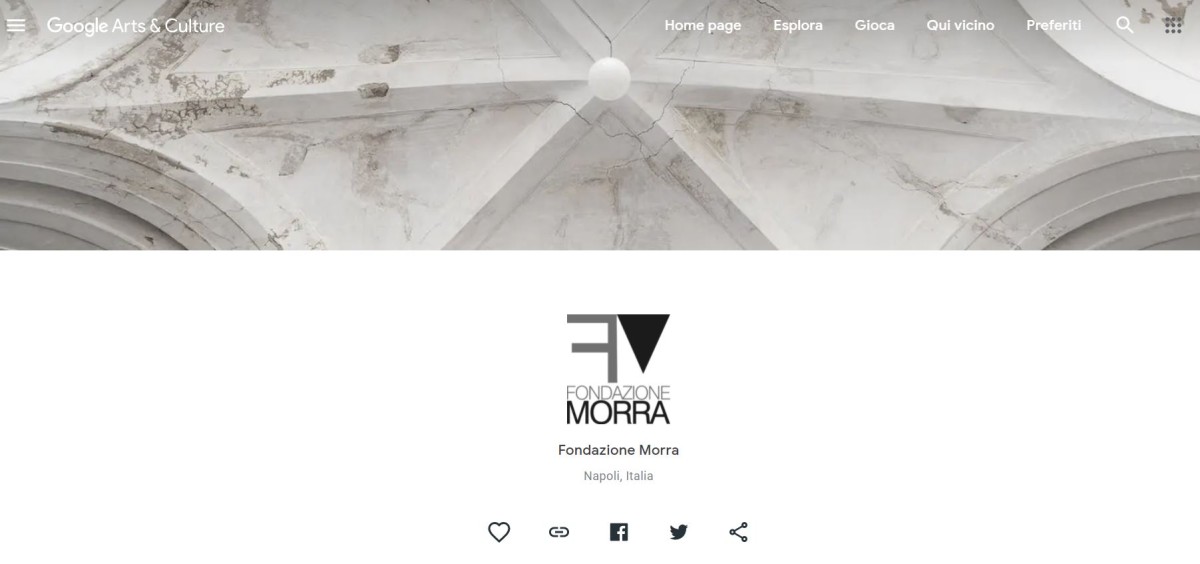 Fondazione Morra brings its Collection and Archive of Events online with Google Arts & Culture
Works from the Morra Collection and events organized by the Fondazione Morra in Naples can be viewed on Google Arts & Culture
Fondazione Morra has joined Google Arts & Culture, Google's technological platform promoting and preserving culture online. It hosts a digital archive of events organized by Fondazione Morra at Casa Morra, the Museo Hermann Nitsch, the Associazione Shozo Shimamoto, and Vigna San Martino.
THE PROJECT
Fondazione Morra was set up to promote and organize research, production, and the dissemination of a culture of visual communication, laying strong emphasis on the social aspect of promoting culture as a means of helping to bring new life to deprived areas.
Established in 1992 as Fondazione Morra – Istituto di Scienze delle Comunicazioni Visive, the foundation is now a lively cultural centre housed at Casa Morra. Archivi d'Arte Contemporanea in Palazzo Cassano Ayerbo D'Aragona. Here, part of the extensive collection is put on show each year in new forms and combinations. The works are presented in new ways and follow dialogues in line with the aims of the Il Gioco dell'Oca. 100 anni di mostre project, planned by Giuseppe Morra from 2016, the year the new space was inaugurated.
The results of Fondazione Morra's daily work are reflected in its collected materials. In 2019, the Archives Department of the Ministry of Heritage and Culture recognized the particular historical importance of the Foundation's Archives, which contain contemporary artistic and cultural output dating back to 1969. They are now subject to the provisions of Legislative Decree no. 42 of 22 January 2004 and its subsequent amendments.
With the same goals in mind, Casa Morra has also become home to the Mario Franco Archives, which include the Neapolitan film director's Library-Mediatheque, containing books, catalogues and films collected in the space of around 50 years. The collection houses books on film history and criticism, as well as essays on media and sociological communication, philosophy, psychoanalysis, theatre, and photography, in addition to classics of Italian and international literature. There is a large section dedicated to documentaries and experimental cinema ranging from the German, French, and Russian avant-garde movements of the 1920s to the experimental work of the American underground and contemporary digital productions.
In accordance with the wish to become a locus for collecting and exhibiting works – in addition to becoming a Centre for Documentation, Research, and Education – 2008 saw the opening of the Museo Archivio Laboratorio per le Arti Contemporanee Hermann Nitsch, a museum dedicated to the great Austrian artist with whom Giuseppe Morra began a close working relationship in the 1970s.
Casa Morra, Museo Hermann Nitsch – with its Contemporary Arts Library – and the Shozo Shimamoto Association, founded in 2007 but only officially opened in 2017 at Palazzo Spinelli di Tarsia – are the principal elements of the Il Quartiere dell'arte project, which works towards the social renewal of an entire neighborhood close to Naples' historic city centre.
SOME INFORMATION ABOUT THE DIGITAL COLLECTION:
Fondazione Morra's profile on Google Arts & Culture allows its visitors to view many of the works from the collection, taking the viewer on a tour through the history of contemporary art and key movements such as Gutai, Happening, Fluxus, Viennese Actionism, Living Theatre, and Visual Poetry up to the most advanced Italian and international research. It includes works by: Marina Abramović, Nanni Balestrini, Julian Beck, George Brecht, John Cage, Ugo Carrega, LUCA/Luigi Castellano, Henri Chopin, Giuseppe Desiato, Marcel Duchamp, Maurizio Elettrico, Heinz Gappmayr, Al Hansen, Geoffrey Hendricks, Dick Higgins, Allan Kaprow, Urs Lüthi, Stelio Maria Martini, Charlotte Moorman, Eugenio Miccini, Hermann Nitsch, Nam June Paik, Giulio Paolini, Luca Maria Patella, Lamberto Pignotti, Vettor Pisani, Paul Renner, Gerhard Rühm, Shozo Shimamoto, Rudolf Schwarzkogler, Daniel Spoerri, Arrigo Lora Totino, Bob Watts, Jean-Jacques Lebel, Dieter Roth, Oswald Wiener, and Giuseppe Zevola.
The material on the platform is grouped into stories that retrace Fondazione Morra's journey, starting from the first events at Studio Morra and moving on to explore the contents of Museo Hermann Nitsch – di Casa Morra. Archivi d'Arte Contemporanea, the Associazione Shozo Shimamoto, and the Vigna San Martino.
Google Arts & Culture
Google Arts & Culture puts the collections of more than 2,000 museums at your fingertips. It's an immersive way to explore art, history and the wonders of the world, from Van Gogh's bedroom paintings to the women's rights movement and the Taj Mahal. The Google Arts & Culture app is free and available online for iOS and Android. The team has been an innovation partner for cultural institutions since 2011. Google Arts & Culture develops technologies that help preserve and share culture and allow curators to create engaging exhibitions online and offline.