Ada Lombardi – "Contemporary Art. Eastern and Western: 1945 to Present"
4 May 2019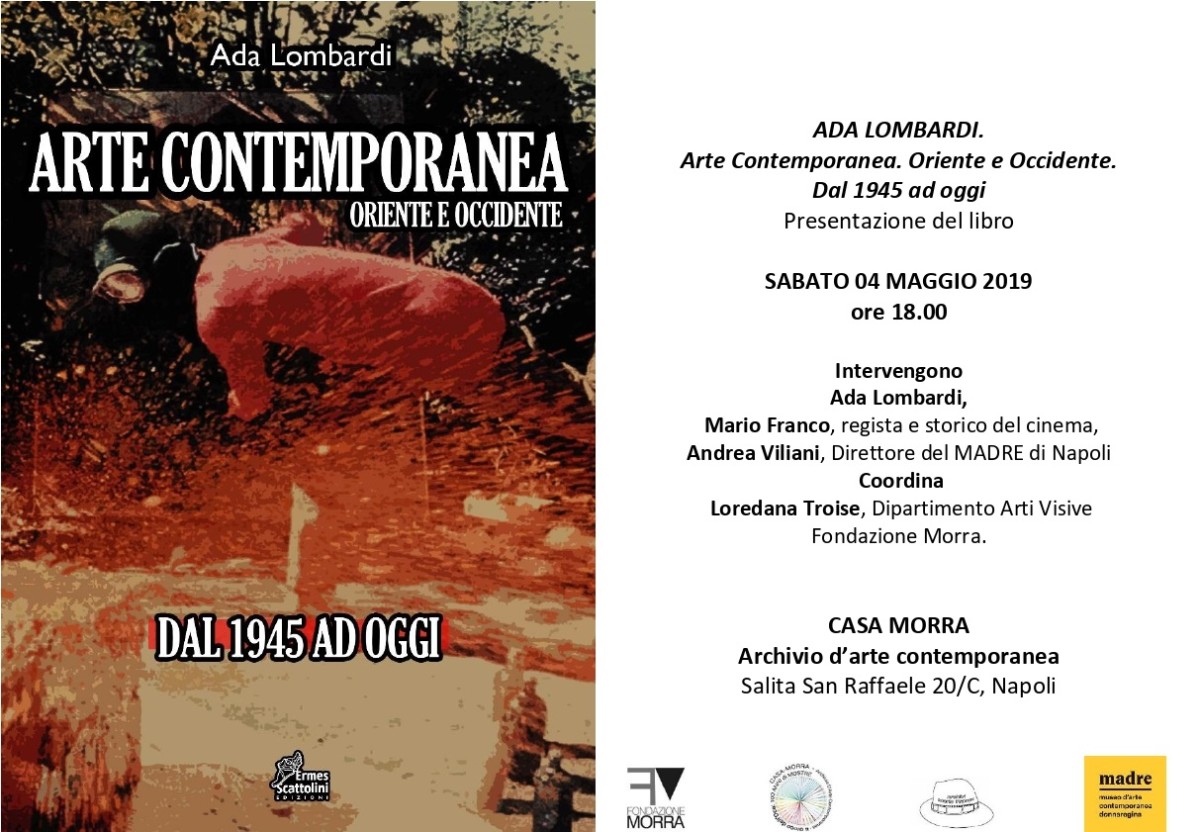 May 4th 2019
START: 6:00 p.m.
Casa Morra – Archivio d'Arte Contemporanea
Salita San Raffaele 20/c, Napoli
Attend book launch Ada Lombardi, Mario Franco, director and cinema historian, Andrea Viliani, Director of MADRE-Museo d'Arte Contemporanea Donnaregina in Naples, Loredana Troise, from Dipartimento Arti Visive – Fondazione Morra, coordinates the presentation.
The book, published in 2018 by StreetLib, traces a summary of Contemporary Art from the second Post-war period to the present day in the confrontation between East and West.
Specifically, the study of Ada Lombardi was inspired by Virginia Woolf's essay, "A Room of One's Own", in which the author retraces women's literary history and claims, for women in 19th-century in England, the possibility to participate to cultural field, till that moment exclusive male prerogative.
From Virginia Woolf's thesis for which, where there aren't tools and possibility (economic self-sufficiency, same human rights as men, etc), it's impossible develop creativity, especially in those roles or social classes block by lack of freedom, Ada Lombardi bases her study on Contemporary Art, like it has developed mainly in some specific Countries, and how the evolution of art is linked not only to historical events, but to an ongoing dialogue between East and West. This dialogue has intensified since the Second World War, reflecting the end of European colonialism, and the growing economic power of the global East.
Ada Lombardi has chosen to take an unusual approach to speak about Contemporary Art: using historical and sociological analysis as a starting point, and examining the cultural similarities, rather than the cultural barriers. Thanks to this approach, the book maps out a world where artistic influence is not confined by mere borders, or worse, from approaches based on cultural prejudice.
During the book launch, some films by Jonas Mekas, from the Mario Franco Archives, will be project on screen in loop.
Ada Lombardi is a professor of the History of Contemporary Art at the Academy of Fine Arts in Rome. Born in Rome and educated at the University La Sapienza of Rome, Lombardi has written books, essays and catalogues. She has curated exhibitions, including the visual arts sections of the Venice Biennale in collaboration with the Japan Foundation. She has been a professor of Art History since 1991.