Archivi Mario Franco – Cinema Assoluto o Astratto 4° INCONTRO
27 March 2019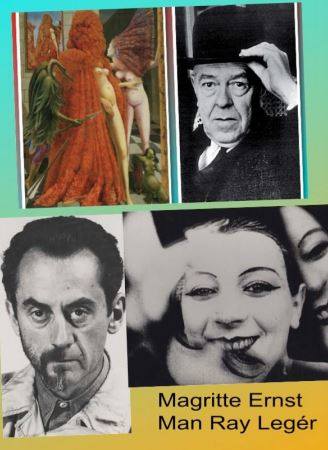 March 27th 2019
STARTING PROJECTIONS at 6:00 p.m.
Mario Franco Archives c/o Casa Morra Archives of Contemporary Art
Salita San Raffaele 20/C, Naples
4° MEETING – Surrealism in Cinema (René Magritte, Max Ernst, Man Ray, Fernand Léger)
Homage to René Magritte: a rare interview with the great artist and Les Amants, the only film he shot, in an amateur way, with his wife Georgette Berger (1952).
Desire by Max Ernst (1949) Classic example of "amour fou" with a pair of lovers undecided between dreams and frustrations. Ernst himself participates in the film. In color, as a censor authority with a red sash on a ceremonial dress.
Le mistyère de chateau de dès by Man Ray (1929) Inspired by a line from Mallarmé: "a throw of the dice will never abolish chance," the film is dedicated to the Viscountess of Noailles, Man Ray's patron, and her luxurious residence.
Fernand Léger's The Girl with the Prefabricated Heart (1949) Léger pokes fun at the American use of serial marriages, staging a pantomime of mannequins to the tune of a popular song sung by Libby Holman.
Among the avant-garde movements of the 1920s, the most "revolutionary" was the Surrealist movement. The territory that the artists of Surrealism set out to explore was that of the unconscious. It is the most popular artistic movement of the 1900s. The term has become so popular that today "surreal" is commonly used to designate that which is strange, supernatural or unexpected. One of the basic beliefs of surrealism, as stated in the 1924 "Manifesto" of André Breton, its creator, was the "amour fou": that is, obsessive love, the kind of love that overwhelms the senses and drags uncontrollably in the vortex of feelings. For Breton, the dream is the place where all the drives and desires repressed by the censorship represented by the bourgeois norm are manifested. The Surrealists want to bring out the unconscious side of each, a primitive and disruptive side of the established order. In its highest expressions, the surrealist cinema is really a subversive art that brings to the extreme consequences the dreamlike and paradoxical vision of the great similar painting of a Dali, a Magritte, a Max Ernst. We could also say that all cinema is a bit surrealist if it is true that the screen is like an open window on the dreams, nightmares, monsters, ghosts and forbidden passions of all of us.