Carlos Martiel – Punto di Fuga
22 March 2013-19:00/30 April 2013-19:00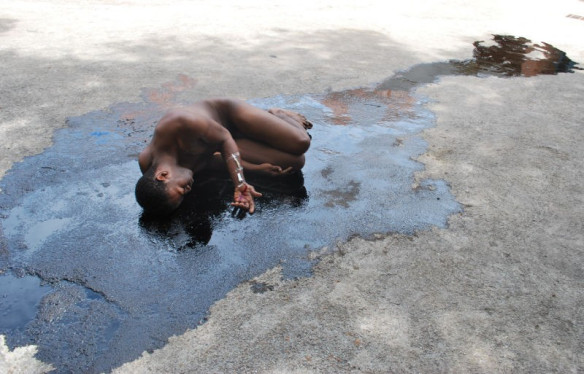 March 22nd – April 30th, 2013 
OPENING h. 7:00 p.m.
Museo Hermann Nitsch
Vico Lungo Pontecorvo 29/d, Napoli
The Nitsch Museum of Naples will inaugurate Vanishing Point, the performance and the first European solo show of the Cuban artist Carlos Martiel, curated by Eugenio Viola.
The "vanishing point" and the perspective elaboration thus implied are the expression of the will to give the world a geometrical order produced by a western episteme aiming to rationalize it through logic mathematics terms. They both belong to a doctrine based on the anthropocentric concept of man as measure of the world, thus represented by Leonardo da Vinci in the Homo Vitruvianus that becomes the extreme visualization of the Neoplatonic correspondence between macrocosm and microcosm.
Starting from these considerations and dealing with a topical theme of western culture and history of art, Carlos Martiel reverses the iconic outcome of the given image by using his body, he shows the deviation from the model, from the platonic essence aiming at the original pureness as well as the classic eidos in order to restore a version which is controversially multicultural and hybrid.
The artist's body turns into a landscape to be crossed and covered, his skin becomes a painting to be personalized and comprehended, his appendixes are branches with specific signs of belonging just hanging on them: the meeting place for several different codes. Action is an effort of junction which is translated into a geometrical-performative tension, into grief and nearly mantric ecstasy of a body declined into its unshakable alterity.
In Carlos Martiel's work, the context of belonging and the awareness of his own body are always shown as being the mutable outcome of complex processes of attribution. The street and the public place are his favourite field for acting and operating since they are granted by continuous ways of repossession.
The Cuban artist is focused on specific episodes aiming to intensify the perception of social inequalities by driving the public to adopt an ideological position which comprises signs of a determined situation and precise context.
As it often happens in the magmatic continent of South America, Martiel's actions are bound to a strong expressive vividness, they assume denouncing overtones and a taste of rebellion, they recall unpleasant situations which are worrying signs of the deep existential discomforts fought by contemporary society.
His harsh and dramatic works are characterized by a disturbing beauty and a nearly cathartic strength which drive them beyond the contextual or sociological remark. His works, originated from a specific geopolitical localization, proceed inductively from the particular to the general since they refer, against our will, to global problems.
Eugenio Viola
Thanks to Ana Pedroso, contemporaneacubaproject, Philipp Dür, SaBuLee
Carlos Martiel (La Habana, Cuba, 1989), lives and works between Buenos Aires and La Habana where he attended the academic chair of "Arte de Conducta" of Tania Bruguera (2008-09). He made several performances and took part in many exhibitions in Latin America like at Centro de Arte Contemporáneo Wifredo Lam (La Habana, Cuba, 2012); Haus Der Kunst (Vallarta, Mexico, 2012); Espacio Quina (Belo Horizonte, Brasil, 2012); Museo d'Arte Moderno dì Buenos Aires (MAMbA, Argentina, 2012); Centro de Arte Contemporáneo de Quito (CAC,Ecuador, 2012). He also attended the XI Bienal de la Habana (2012), the 135.aktion by Hermann Nitsch (I.S.A., La Habana, 2012), VI Liverpool Biennial (2010) and XXXI Biennial of Pontevedra (Galizia, 2010).