Gian Maria Tosatti – Sette Stagioni dello Spirito 2_Estate
6 June 2014-11:30/5 July 2014-17:00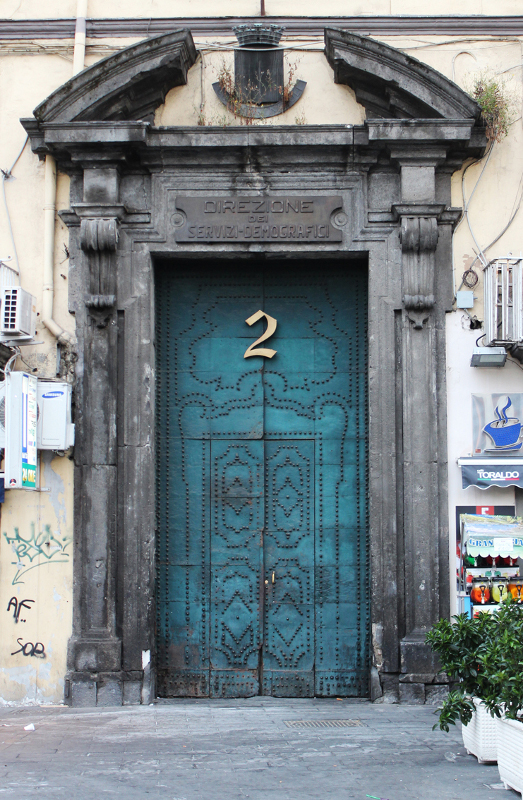 June 6th – July 5th, 2014
OPENING JUNE 6th h.11:30 a.m.
Ex Anagrafe Comunale
Piazza Dante, Napoli
Curated by Eugenio Viola
2_Estate (Summer), the second stage of the biennial project Sette Stagioni dello Spirito (Seven Seasons of the Spirit), is a site-specific intervention investigating the concept of inertia, a condition of soul Gian Maria Tosatti dealt with by short-circuiting heterogeneous references: Agamben's "archaeological" approach meets the last Pasolini's (Petrolio) disenchanted reflections, Dantesque upward structure, Teresa de Jesus's introspective one, references which are dear to the history of art lend themselves to the lacerations of the present. Elements which are different and far from each other become Tosatti's subtle expedients for carrying on a bitter reflection that uses republican Italy, its lack of identity and projectuality, as an analogy to investigate an "illness of spirit" common to every (wo)man who lets him/her slide down to shallowness, in an operation which is, ultimately, a work on the insane.
As in the previous stage, the location that has been chosen for this second intervention of the series constitutes another wound opened into the body of Naples. Tosatti focused on such a visible building that it has become invisible, standing out on Dante's Square. Born in the 17th century as a monastery, the building hosted the first Italian register office, instituted in Naples in 1809 and still now, despite being closed and in a dreadful state of decay, it preserves much of the documents that have been recording Neapolitans' identity for more than 200 years.
  As for Agamben also for Tosatti, the historical investigation is just the reflection of an absolute interrogation of the present, and it is exactly by trying to understand the present that the artist finds himself, almost forced, interrogating the past.
It is in this sense that Tosatti recovers, in a humanistic tone, the philosopher's thought as the only possibility of resolution of an identity depending on his/her own future, he interprets it like a postulate of the spirit, surprisingly bringing it closer to the "second mansions" described by St. Teresa D'Avila in her Interior Castle, starting point of the artist's surgical investigation into the womb of Naples.
Tosatti re-signifies an empty space, and by means of an action against nature he brings it back in time as if he would want to apparently take it back to its original function. Actually, he elects it to symbol of a curve traversing republican Italy and its paralysis in order to define the very nature of the evil inside every human being.
So, the visitor comes across a space of which he is himself the body, where everything is infinitely familiar, but where the order has been meticulously programmed, by means of successions of information of a process that returns a polysemously complex installation, where every single element contributes to the creation of a progressive unveiling of sense.
Gian Maria Tosatti (Rome, 16.04.1980 – lives in New York) completed his training in the field of performance at the Center for Theatre Experimentation and Research in Pontedera. In 2005 he returned to Rome to undertake an artistic journey in the area of connection between architecture and visual arts, mainly creating large site-specific installations.
His projects are usually long-term investigations on themes linked to the concept of identity, both on a political and spiritual level. The first cycles of works he developed were "Devotions" (2005-2011) – ten installations for ten buildings in Rome on the archetypes of the modern era – and "Landscapes" (2006-), a public art project in areas of conflict.
Currently, the artist's research is linked to two new projects, "Fondamenta" (2011-), based on the identification of the archetypes of the contemporary era, and the "Le considerazioni…", a cycle dedicated to the enigmas that reside in personal memory.
Between 2013 and 2016, his research focused on a seven-part work that inhabited the entire city of Naples entitled "Seven Seasons of the Spirit."
Tosatti is also a journalist. He was editor of the weekly magazine "La Differenza" and has collaborated with many Italian newspapers as a columnist. He is a columnist for Artribune and writes for Opera Viva. He writes essays on art and politics.
In 2011 he curated RELOAD, a prototype of urban cultural intervention on the temporary reuse of unproductive spaces and he is founder of the project "La costruzione di una cosmologia", (www.unacosmologia.com).
He has also exhibited at the Hessel Museum of CCS BARD (New York – 2014), Lower Manhattan Cultural Council (New York – 2011), American Academy in Rome (Rome – 2013), Museo Villa Croce (Genoa – 2012) Andrew Freedman Home (New York – 2012), Tenuta dello Scompiglio (Lucca – 2012), Palazzo delle Esposizioni (Rome – 2008), Chelsea Art Museum (New York – 2009), BJCEM (2014), Centrale Montemartini – Musei Capitolini (Rome – 2007), Museo Wilfredo Lam (Havana – 2015), Casa Testori (Milan – 2014), MAAM (Rome – permanent), Castel Sant'Elmo (Naples – permanent).