IL MUSEO CHE VERRÀ -CALL FOR PROPOSAL
9 February-00:00/31 March-00:00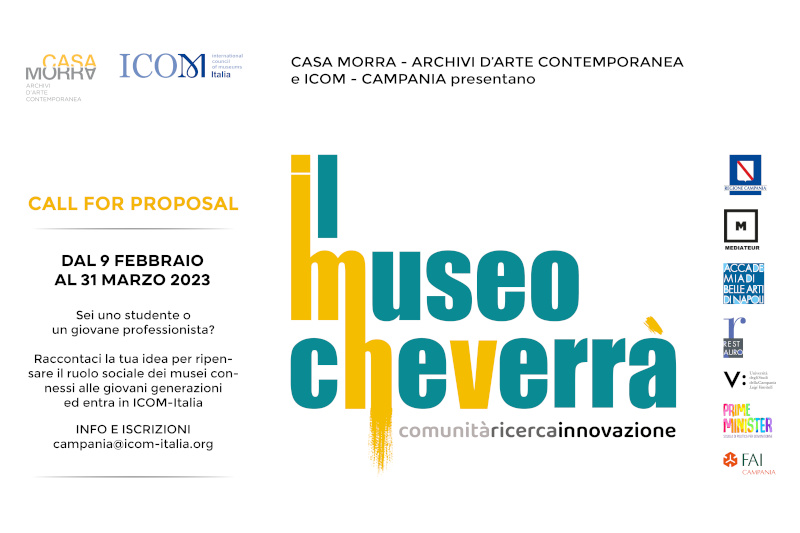 CASA MORRA – ARCHIVI D'ARTE CONTEMPORANEA
and ICOM-CAMPANIA
present
IL MUSEO CHE VERRÀ
community | research | innovation
II EDITION
CALL FOR PROPOSAL
FROM 9 FEBRUARY TO 17 MARCH 2023
Are you a student or a young professionals?
Tell us your idea to rethink the social role of museums connected to the younger generations and join ICOM Italia.
WHEN
From 9 February to 17 March 2023
ORGANIZED BY
Fondazione Morra and ICOM-Campania
IN COLLABORATION WITH
Regione Campania
Luigi Vanvitelli University of Campania
Academy of Fine Arts of Naples
Prime Ministers | School of politics for young women
Mediator | Museuminforms
FAI Campania
PARTICIPATION REQUIREMENTS
Young museum professionals under 35 and students regularly enrolled for the 2023 academic year in a degree course/academy of fine arts/PhD/specialization school/master related to the museum sector (Museology, Museography, Museum technology, Cultural Heritage, History of art, architectural restoration, archeology, communication and management of cultural heritage, conservation and diagnostics of cultural heritage, etc.) residing in Campania.
INFO AND REGISTRATION
campania@icom-italia.org
The best 50 proposals selected will be able to give shape to their idea of a museum in a social relationship with their community, developing a prospectus hypothesis of social innovation.
Works that will see museums as important references for local communities will be privileged, museums conceived and experienced not only as guardians of artistic treasures and witnesses of memories, but active subjects capable of influencing the improvement of the well-being of the community.
DOWNLOAD THE COMPLETE CALL HERE.
FREE SUBSCRIPTION
DEADLINE
03.17.2023
Info and contacts:
MORRA FOUNDATION
casamorra@fondazionemorra.org
CAMPANIA REGIONAL COORDINATION OF ICOM ITALIA
campania@icom-italia.org