INDEPENDENT FILM SHOW 15th Edition
25 June 2015-21:00/27 June 2015-21:00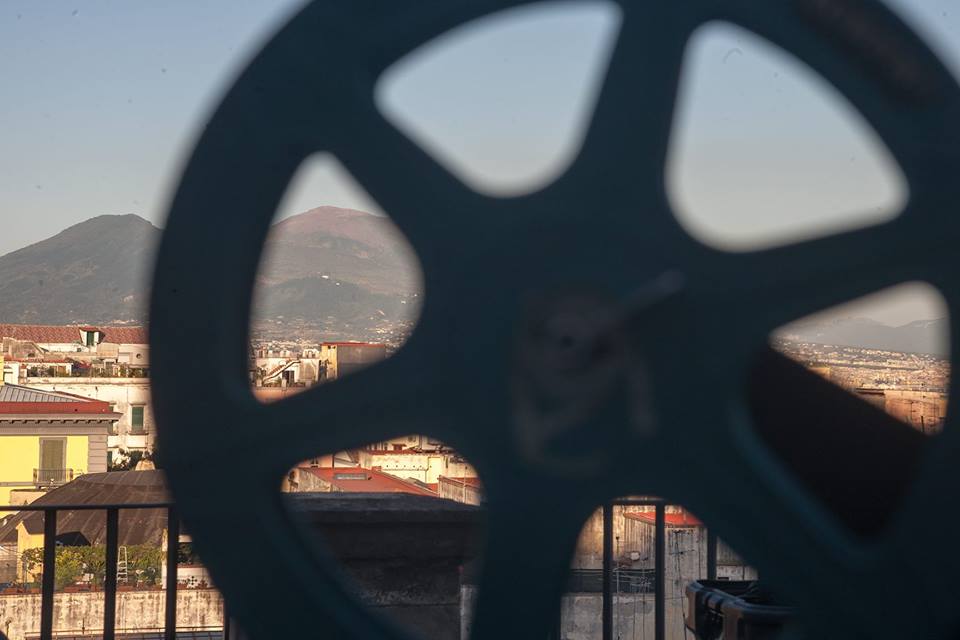 June 25th – June 27th, 2015
STARTING PROJECTIONS AT h. 9:00 p.m.
Belvedere del Museo Hermann Nitsch
Vico Lungo Pontecorvo 29/d, Napoli
INDEPENDENT FILM SHOW 15th edition, an international show dedicated to independent experimental cinema, coordinated by Raffaella Morra, takes place on June Thursday 25th, Friday 26th and Saturday 27th 2015 programming the screening of three films/video programs and four live expanded cinema performances at the Museo Nitsch Belvedere.
 PROGRAMS and LIVE EXPANDED CINEMA PERFORMANCES
Thursday 25th June at 9:00pm
THE BLEEPING LIGHT: explorative sensorium in experimental film & video selected by Sally Golding
The Bleeping Light represents an array of contemporary film, video, live audiovisual and sound artists who delve into cracked phenomenal and psychological perceptions, synaesthetic slippage and hacked technologies to produce works which inhabit a space between waveform and frame.
Appropriated for single channel presentation many of these works exist in an environment, which challenges the flat confines of the screen, and have their origins and inspirations in sound art and performance. From this perspective springs a narrowing of apparatus and bodily intervention – a disavowal for projection-beam-screen-emulsion/pixel-frame/scan line – and an affirmation of electrical-chemical nervous systems. This is cinema which speaks directly to the viewer's synapses, and which seeks to reorganise these 'printed signals' into energy-sound-light-colour-form.
Included are audiovisual works by sound artists who explore the role of a 'seeing ear', and sonic explorations by filmmakers who by the act of performance and intervention derive a sonorous space. These experimental film works locate a 'liveness' in close quarters with sound art in performance and arrive at trance like state of neural reflux.
Sally Golding
Thursday 25th June at 10:30pm
Live Expanded Cinema Set by Sally Golding
Sally Golding is a multimedia artist combining film projection, lighting and sonic composition to create expanded cinema performances and participatory installations. Golding's audiovisual performance work focuses on the experience of the audience, pushing the boundaries of visual and auditory perception through the breakdown of the cinematic system into flicker, waveforms and colour fields; while her installations have harnessed the presence of the audience themselves by incorporating their reflected image into projections within immersive spaces.
Golding's performances are overdriven audiovisual transmissions of light, form, colour and sound. Using hacked devices such as sewing machine motors and laboratory strobe lights, Golding generates throbbing, hallucinogenic visual distortions, which are also outputted as sonic signals. Cacophonic in form and content, performances transcend chaos and enter a hypnotic zone.
Friday 26th June at 9:00pm
Visual Insights selected by Raffaella Morra
Visual Insights is pervaded by an emphasis to the filmic composition. A particular fondness for 'light moving in time', achieved through many technical possibilities (etching and painting directly on film, or solarize and chemical treatments, or the three-colour separation in print), highlights a particular exploration of filmic apparatus that encourages personal visual constructions, retrieving a perceptual innocence not subordinate from rationality. A sequence of different stimuli educates the insight through an innovative movement to transform the optic and expand our ability to visualize the world.
Friday 26th June at 10:30pm
Live Expanded Cinema
Zzurfreiheit by Lionel Palun, Julien Bibard, Jean-Philippe Saulou
Iconoclastic trio, which originates by light beams of the 16mm projector and video, Zzurfreiheit is working to make you travel through the unsuspected virtues of bright and acoustic feedbacks. Developing a poetic of moment and immediacy, these three stakeholders generate conflicts of perceptions, with severe contemplative consequences for your brain. The main visual material – points, lines, plants and landscapes – created on 16mm film by Julien Bibard, is reinterpreted in feedback by digital video and audio treatments by Lionel Palun. Mechanical sounds of 16mm projector serve meanwhile as raw materials for the delicate and impulsive sound alterations by Jean-Philippe Saulou. Finally, this hypnotic and autophage trip, through a landscape of the unstable space-time coordinates, will perhaps make you forget, for those who has still doubt, that cinema is only occurring on a screen.
Saturday 27th June at 9:00pm
Live Expanded Cinema
Scoreline by Greg Pope
Scoreline is a solo film-sound performance.
Idea: The film projector as an instrument with the potential for visual and sonic broadcasting, an exploration of cinematic apparatus, ignoring traditional strategies to create a dynamic live event.
Outcome : Texture and noise. A choreography of creation through destruction, amongst other things…
Saturday 27th June at 10:00pm
Film doubled forever changes selected by Greg Pope
Projectors invade the auditorium to reveal six amazing double screen works – two seminal classics and four from the British new analogue wave…. Interaction, juxtaposition, synchronization and repetition drive these films. The action here is not just happening on the filmstrips – it also belongs in the moment of projecting.
Greg Pope
Saturday 27th June at 11:00pm
Live Expanded Cinema
SKELETON by Greg Pope & SULT (Jacob Felix Heule, Guro Skumsnes Moe, Håvard Skaset)
SKELETON is a 40 minute live performance piece by sound trio SULT and live cinema artist Greg Pope.
A darkened room – our cinema cave – our shelter and religion. Ghosts dancing in the flame, images are cast and wood splits. Sound and light waves vibrate and refract. The skeleton is animated; a shadow play, acoustic and amplified instruments, synthesized sound and the magic lantern. An investigation in four movements.