La Digestion – musica ascoltata raramente II Edizione
31 March 2018-18:00/23:00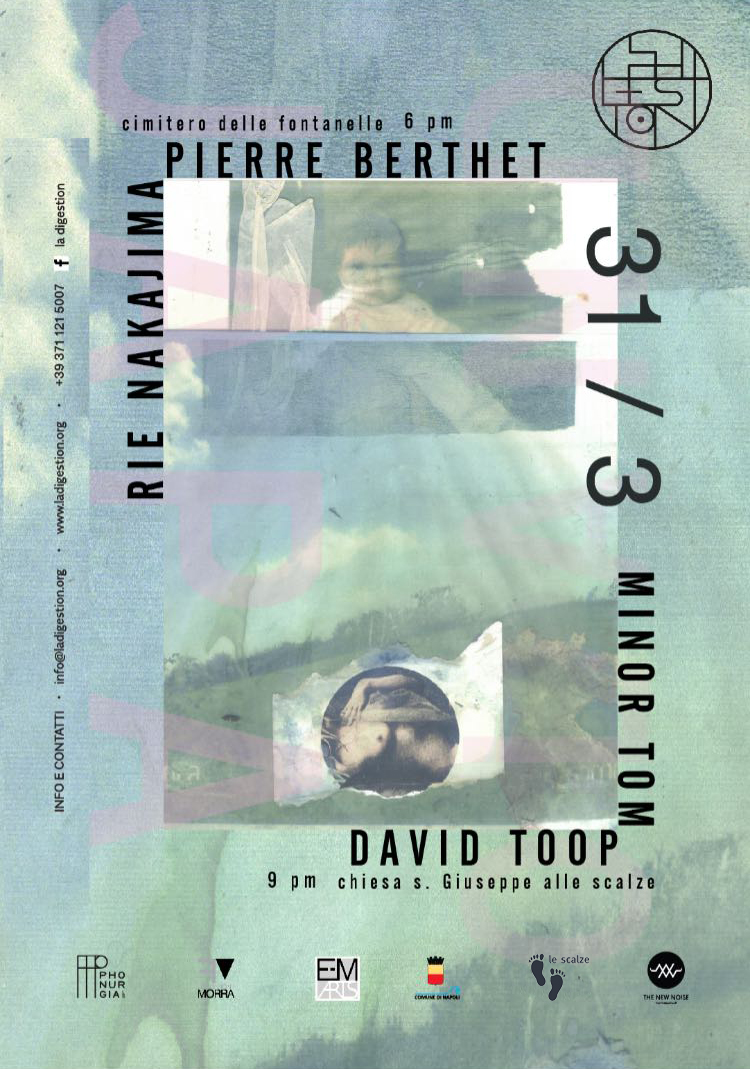 March 31st, 2018
h. 6:00 p.m.
Cimitero delle Fontanelle
Via Fontanelle, 80 – Napoli
Installation/performance by Rie Nakajima & Pierre Berthet [JP/BE]
h. 9:00 p.m.
Chiesa di San Giuseppe delle Scalze
Salita Pontecorvo, 65 – Napoli
Minor Tom (MichałLibera, Hilary Jeffery, Gianpaolo Peres) [PL/UK/IT] play Ted Hughes' Snow
David Toop [UK]
Continue the journey through the most evocative places of the city of Naples for the fourth appointment of La Digestion – musica ascoltata raramente, festival dedicated to the innovative languages ​​of contemporary sound art, and realized by the synergy between the Phonurgia association, the Morra Foundation and the EM Arts cultural association.
The day of March 31 will feature a double musical event that will animate, in the afternoon, the magical Cimitero delle Fontanelle, in the Sanità district, and in the evening the beautiful Church of San Giuseppe delle Scalze, in Montesanto, with the unmissable concert of David Toop, member of the legendary Flying Lizards, milestone of the most creative and eclectic European new wave, and now a refined experimenter and sound theorist.
The "thread" of this imaginary and real journey will be the "sound objects". Mysterious and organic objects used by Rye Nakajima and Pierre Berthet that, between the tunnels and bones of the Cimitero delle Fontanelle, will play Dead Plants / Living Objects, sound installation and performance in which, in between vibrations and evocations, inorganic matter comes to life through the sound. In the evening will be the everyday objects to enliven the Chiesa delle Scalze, transforming, in the expert hands of David Toop, into original and polysemic electroacoustic sound sources. The English master, already partner of Brian Eno and collaborator of the biggest names of improvisation, from Derek Bailey to Evan Parker, from Hugh Davies to John Zorn, has developed, during his forty years of career, a poetic and deep musical language, made of found objects, small instruments, field recordings and transverse flute, to transform listening into an event of inner discovery. Finally, objects of a memory not too distant but full of nostalgia, those of rural Calabria, will be evoked by the words of the English poet Ted Hughes, translated in music by the trio Minor Tom. The poetry "Snow", inspired by the songs of the swordfishermen documented by the ethnomusicologist Alan Lomax in 1954, becomes the material for the composition of a "live" radio drama, thanks to the work of Polish musician Michał Libera accompanied by trombonist Hilary Jeffery and by vocalist Gianpaolo Peres.
Three variations of sound poetry, three unique moments between musicality, language and gesture, able to creep in there where listening meets with the thought, opening up new meanings and intense experiences.
It is the will of the festival to inscribe the performative moment in a more complete education and reflection activity, that leaves lasting traces on the city's territory. To this end on March 30th the artist David Toop will be protagonist of a live radio conversation (open to the audience) and in the afternoon will lead a workshop dedicated to listening entitled "Listening is Intimacy" at Casa Morra. The workshop, whose cost is 10 euros, is open to musicians of any instrument and level. For information and reservations: info.phonurgia@gmail.com
The event is organized thanks to the moral patronage of the City of Naples, which has granted the use of the Fontanelle Cemetery, and thanks to the collaboration with the Associazione Le Scalze, which for years has been carrying out the activities of the Church of San Giuseppe delle Scalze in Montesanto.
David Toop [UK]
David Toop (born 1949, Enfield) has been developing a practice that crosses boundaries of sound, listening, music and materials since 1970. This practice encompasses improvised music performance, writing, electronic sound, field recording, exhibition curating, sound artinstallations and opera. It includes seven acclaimed books, including Rap Attack (1984), Ocean of Sound (1995), Sinister Resonance (2010) and IntotheMaelstrom (2016), the latter a Guardian music book of the year, shortlisted for the Penderyn Music Book Prize.
Briefly a member of David Cunningham's pop project The Flying Lizards in 1979, he has released thirteen solo albums, from New and Rediscovered Musical Instruments on Brian Eno's Obscure label (1975) and Sound Body on David Sylvian's Samadhisound label (2006) to Entities Inertias Faint Beingson Lawrence English's ROOM40 (2016). His 1978 Amazonas recordings of Yanomami shamanism and ritual were released on Sub Rosa as Lost Shadows (2016).
In the early 1970s he performed with sound poet Bob Cobbing, butoh dancer Mitsutaka Ishii, artist Marie Yates, poet/performer Carlyle Reedy and drummer Paul Burwell, along with key figures in improvisation, including Derek Bailey, Evan Parker, Georgie Born, Hugh Davies, John Stevens, Lol Coxhill, Frank Perry and John Zorn.In recent years he has returned to collaborative performance, working with many artists and musicians including Rie Nakajima, Akio Suzuki, Aki Onda, Max Eastley, Tania Chen, John Butcher, Ken Ikeda, Elaine Mitchener, Henry Grimes, Sharon Gal, Camille Norment, Sidsel Endresen, Alasdair Roberts, Thurston Moore, Extended Organ (with Paul Mc Carthy and Tom Recchion) and a revived Alterations, the iconoclastic improvising quartet with Steve Beresford, Peter Cusack and Terry Day first formed in 1977. He has also made many collaborative records, including Buried Dreams and Doll Creature with Max Eastley, Breath Taking with Akio Suzuki, Skin Tones with Ken Ikeda and co-productions (with Steve Beresford) for Frank Chickens, the 49 Americans and Ivor Cutler.
Major sound art exhibitions he has curated include Sonic Boom at the Hayward Gallery, London (2000) and Playing John Cage at the Arnolfini Gallery, Bristol (2005-6). In 2008, a DVD of the Belgian film – I Never Promised You a Rose Garden: A Portrait of David Toop Through His Records Collection – was released by Sub Rosa, and in 2017 his autobiography – Flutter Echo: Living Within Sound – was published by Du Books in Japan. His most recent record release is Dirty Songs Play Dirty Songs, released on Audika in October 2017.
He is currently Professor of Audio Culture and Improvisation at London College of Communication.
https://davidtoopblog.com/
Hilary Jeffery, trombone
Gianpaolo Peres, voice
Michal Libera, concept, reading
The piece is a musical setting for Ted Hughes' "Snow". It is based on a single swordfisherman's call of Vincenzo Puntillo recorded in 1954 by Alan Lomax in Scila (Calabria). I too don't fully understand the connection.
Michal Libera is a music curator and dramatist working on sound settings for more or less literary stories. Hilary Jeffery and Gianpaolo Peres started working together on Minor Tom in January 2016 in the wake of David Bowie's departure. Their music plumbs the depths of blues and treads the lesser known path of dhrupad in a futuristic synthetic setting. Together with Michal Libera they have developed a new performance "Snow" for the occasion of  La Digestion Festival in Chiesa delle Scalze on 31 March 2018, which will be their stage debut. Further performances as well as a release on Silent Records are planned for the near future.
Pierre Berthet & Rye Nakajima [BE/JP]
Artists that move on the border between music, installation and performance; their work will be organically implanted in the fascinating setting of the Fontanelle Cemetery, in a game of resonance, vibrations and evocations. Their project with the evocative title "Plantesmortes set objects vivants" is an attempt to relate to the soul of things by listening to their sound. Their work has been presented in festivals, museums and art places all over the world.
http://pierre.berthet.be