La Digestion – musica ascoltata raramente II Edizione
16 June 2018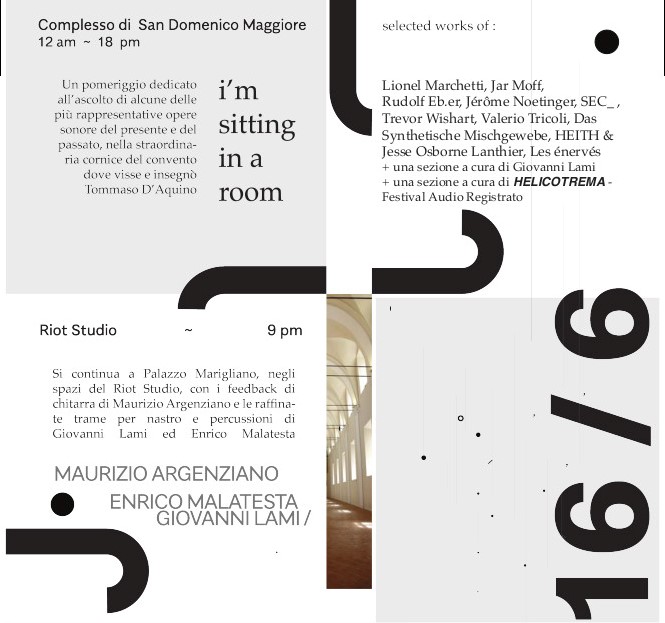 16th June 2018
START 12:00 p.m.
Riot Studio
Via San Biagio Dei Librai 39, Napoli
12:00 p.m. -18:00 p.m.
I'm sitting in a room – program of audio screenings
@ Complesso di San Domenico Maggiore
free entrance
19:30 p.m.
Maurizio Argenziano [IT]
NS: Giovanni Lami & Enrico Malatesta [IT]
@ Riot Studio
ticket: 5,00 euro
The final event of "La Digestion – musica ascoltata raramente", the sound art festival organized by Phonurgia, Fondazione Morra and E-M Arts, is aimed at listening and rediscovering some of the most representative sonic works of the present and the past, in the extraordinary setting of the convent where Tommaso D'Aquino lived and taught. The event aims to promote a series of listening sessions of significant works of concrete and acousmatic music, trying to promote even in Italy a practice already widely used in Europe, that of the so-called "cinema for the ears". An experience of collective and dedicated listening, not linked to the performative moment of music, but aimed at a revaluation of listening as a fundamental moment of the cultural and sensorial formation of the individual. The listening program will include works by composers such as Lionel Marchetti, Jar Moff, Rudolf Eb.er, Jerome Noetinger & SEC_, Trevor Wishart, Valerio Tricoli, DSM, Heith & Jesse Osborne Lanthier, Les Enerves, plus a section organized by the traveling festival of acusmatic listeners Helicotrema, with whom La Digestion has just inaugurated a collaboration.
In the evening, then, the concerts of Giovanni Lami and Enrico Malatesta from Emilia and of the Neapolitan guitarist Maurizio Argenziano, in the beautiful setting of the Riot Studio at Palazzo Marigliano, place dedicated to contemporary sound and visual languages.
The immersive performance "New Surface" by Giovanni Lami and Enrico Malatesta, made of microsounds with a slow and metamorphic poetics, will take place in the garden of the Riot from 19.30 to 22.30; during the performance the audience will be free to move between the outdoor and indoor spaces, organically integrating with the soundscape built by the two musicians. Following, the disruptive solo of one of the most original and influential Neapolitan guitarists will transform the scene into a metaphysical battlefield, where the electric curtain will give life to sensitive architecture and remind us that sound, like electricity, is something intangible yet extremely concrete.