Shozo Shimamoto – Time Rack
13 June 2018-09:30/6 August 2018-18:30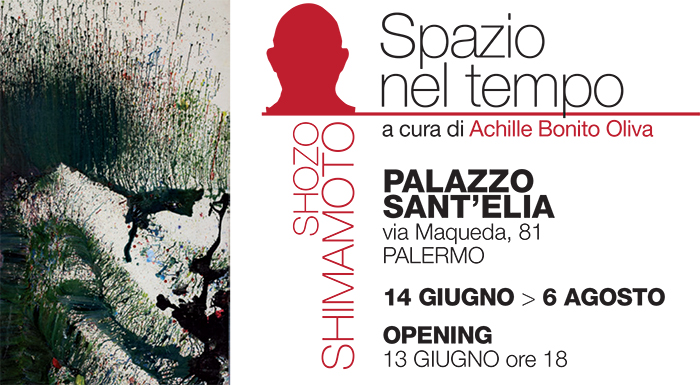 June 13th – August 6th, 2018
OPENING JUNE 13th h. 6:00 p.m.
Fondazione Sant'Elia
Via Maqueda 81, Palermo
Curated by Achille Bonito Oliva
"A colour without matter does not exist. When we are about to create, we do not throw away the brush; there is no hope of emancipating colours. Without the paintbrush the colourants will come to life for the first time. Any tool may be used to good effect in place of a paint brush: one's bare hands or the paint spatula would be a start. To these we might add the objects that members of the Gutai group use, such as watering cans, umbrellas, vibrators, abaci, skates, and toys, not to mention feet, guns, or anything else. And amid all these, the paintbrush may even reappear, because there is certainly room for something from the past in innovative work like this."
Shozo Shimamoto | 'Gutai' Bulletin n.6, Ōsaka, 1957
In the mid-fifties, the Japanese artist Shozo Shimamoto [Osaka, 22nd January 1928 – 25th January 2013], began his adventure in the small city of Ashiya, producing a creative work in public; it was a garden where he and other artists carried out works of art consisting of performances where the work came into being before the eyes of the audience, with all the interference of a live event. Distancing themselves from the surrealist tradition and the influence of Duchamp, the Gutai group powerfully established themselves in terms of a new form of creativity centred around impulse.
Achille Bonito Oliva's wide-ranging retrospective dedicated to the Japanese artist opens in Palermo at 6 pm on June 13th and runs until 6th August at the Fondazione Sant'Elia. The 'SHOZO SHIMAMOTO/TIME RACK' exhibition is a project by the Morra Foundation with the technical, logistic, and organisational support of the Shozo Shimamoto Association and the cooperation of the Fondazione Sant'Elia. A colour catalogue containing articles of particular historical and critical significance accompanies the exhibition, which offers an in-depth study of Shimamoto's artistic career from his first innovative experiments in the 40s and 50s up to the performances of his last years. During the 1950s, Shimamoto spent his life in Japan – in the East – but he spent the first part of the twenty-first century mainly in the West, where he did his most important performances. The dialectic between these two periods points to an extraordinary, important, and single artistic process. During the 50s, Shimamoto began working as a painter, and, in his search for a new way of seeing and doing painting, he also began working on actions that would gradually transform into happenings. His work throughout his last years in Italy took quite the opposite direction: he used large-scale stage construction as an integral part of his performance, as reflected in the production of works that are the result of a public representative moment. 'The aim is to expand the aesthetic space of the action as far as possible, encompassing both earth and sky. (…) Ultimately, Shimamoto is a nomadic samurai of art able to hit the mark thanks to the intelligent chance of a creative process seeking to pierce the inertia of the world and energise the community of men', writes Achille Bonito Oliva.
The works on show at the Fondazione Sant'Elia, from Shimamoto's early output with the Gutai group to the beautiful explosions of colour of the Campania period, are of great historical importance. The exhibition also brings his works on paper from the 1950s to the Italian public for the very first time. This retrospective dedicated to the works of Shozo Shimamoto is one of the high points of the many events organised as part of the Palermo Italian Capital of Culture 2018 programme.