Mille Nanni – 1st July
1 July 2022-18:30/23:00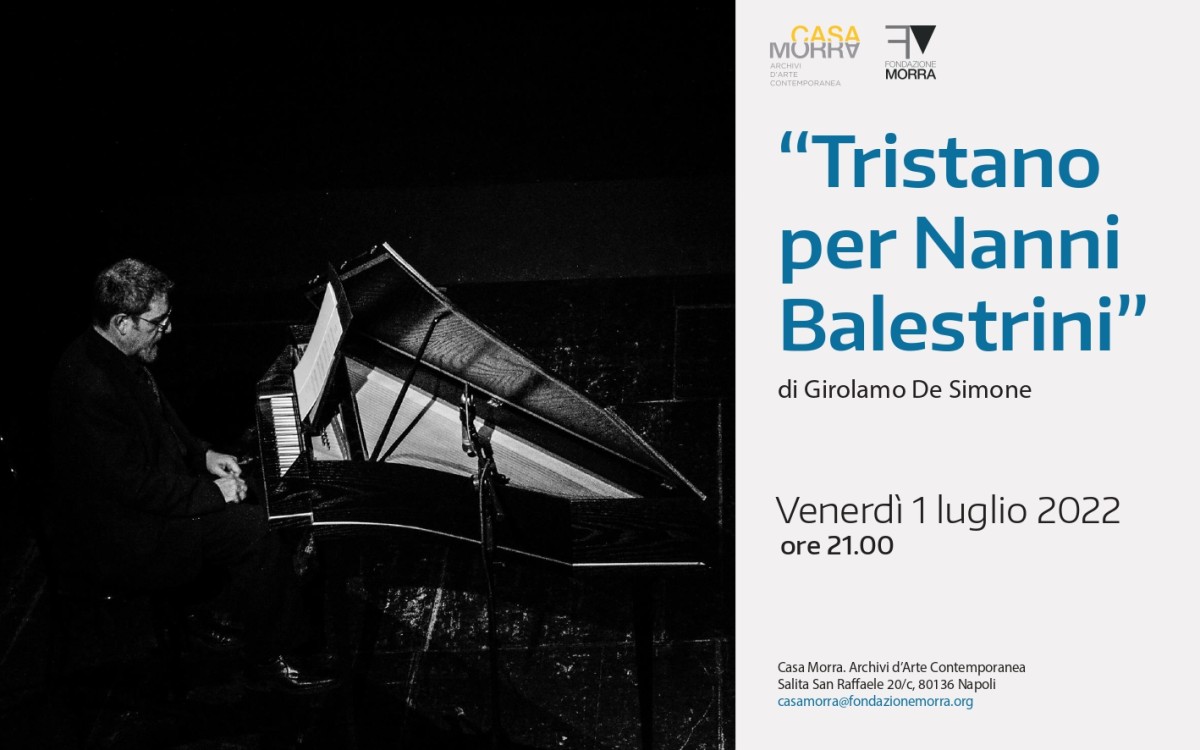 1-3 july 2022 – Tribute to Nanni Balestrini
OPENING 1st JULY 6.30 p.m.
1st july – 30th october 2022
Casa Morra. Archivi d'Arte Contemporanea
Salita San Raffaele 20/c, Naples
A project by Andrea Cortellessa and Giuseppe Morra
Curated by Maria Teresa Carbone, Andrea Cortellessa and Ada Tosatti
6.30 p.m.
Inauguration Mille Nanni, a documentary exhibition curated by Giuseppe Morra. Speeches by Achille Bonito Oliva, Andrea Cortellessa, Gino Di Maggio.
Film Il Suono di un'Isola by Uliano Paolozzi Balestrini, produced by Almendra Music.
7.30 p.m.
Gian Maria Annovi and Vittorio Pellegrineschi introduce Tristanoil.
8.30 p.m.
Readings by Gian Maria Annovi, Alessandra Carnaroli, Carmen Gallo, Marco Giovenale & Michele Zaffarano, and Aldo Nove. Followed by the performance Tristano per Nanni, music and piano by Girolamo De Simone.
"Tristano per Nanni Balestrini"
Performance by Girolamo De Simone
Tristano is Nanni Balestrini's first novel. It was written for Gruppo '63 and later published, in one of its various forms, by Feltrinelli. It is, in fact, a mutant or rather a permutant, work as the different chapters are organized into juxtaposable nuclei – sentences that can be combined in a multiplicity of ways, almost in the hope that the narrative movement will no longer be "a transformation following a linear order of development, but a succession of presences".
The book is entitled Tristan, and the author reminds us of the reason for this choice (the word "reason" is loaded with a meaning assumed in perspective; I feel it has the meaning put forward by Deleuze and Guattari in A Thousand Plateaus): a love story, where "love is turned upside down in relation to the way one encounters it in Wagner's Tristan: not perdition, destiny, destruction, and slavery, but freedom, choice. Not intrigue, not drama…" [sleeve notes to Tristan, Milan 1966].
And yet, in a – today not so easy – reading of the novel (complementing John Cage's writings, many contained in Silence, Wesleyan University Press, 1961), the presence of movement is particularly evident since anything linear is shattered in almost in every sentence, with lexical, content-related, allusive virtuosity… Thus, a "drama" as movement is still alive here and simply brings us face to face with a change of perspective: it is not a matter of Wagner's "perdition" or "destiny", but of the vague circulation of personal meaning that the reader assigns to the pages ("reversible", in musical jargon, in any number of ways), and which, in its variations, leads to the historicized affirmation of the loss of the subject. A subject that becomes multiple and therefore indistinct, distributed such that it does not yet make the meaning evaporate but requires a possibly transversal one between the lines of discourse (one of those possible). A perhaps personal truth, confided by the author to each reader in the virtuosic secret of a word that needs organizational forcing to transform it into an almost filmic sequence…
This is the thinking that underlies the idea of this performance, Tristan for Nanni Balestrini: I look to Wagner's music, especially Tristan und Isolde, but also to the mysterious Elegy, marked Schmachtend, or soulful, languishing, in progress, and presented again in linear form and, immediately afterwards without a break, in reverse, with obvious additions of my own in terms of touch and sound. Thus, I present my variously contrived piano versions of Tristan, employing Fluxus digression (with the correlation between the sound/note and its duration, i.e., establishing the fall of each sound according to the spatial distance from the one preceding it), but also "minimal" multiplication… transferring Nanni Balestrini's writing into music.
Some sentences from the novel are also read out during the piano performance: I reconstructed some threads of meaning for… themes/motifs, proceeding in precisely the opposite way to what happens in the music. The result is a captivating and alternating journey, halfway between the "sound of the word" (possible and rediscovered meaning) and the "sound of the instrument" (a meaning that is proposed and then shattered), dense with a new drama, which intends – perhaps – to acknowledge the current state of BEWILDERMENT, which now binds and unites us all.
Girolamo De Simone