Peter Cramer e Jack Waters – Spaghetti Wrestling
28 May 2016-21:00/23:00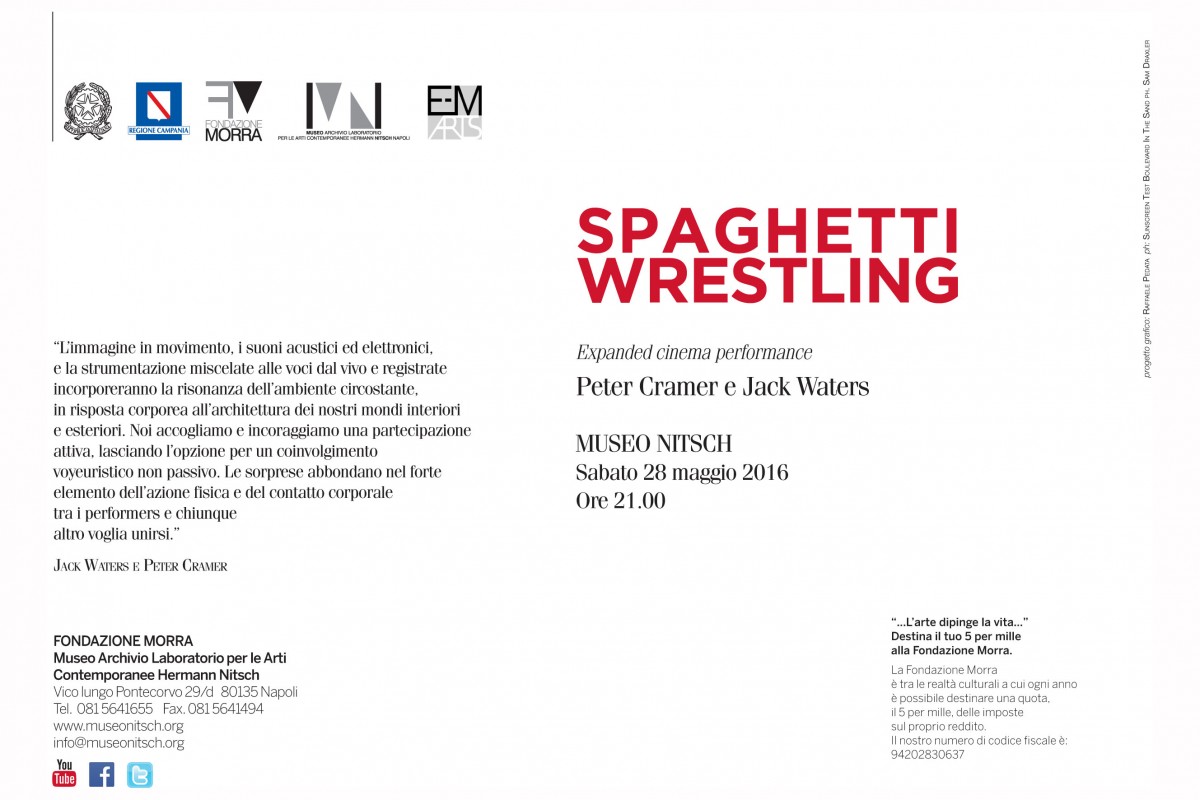 May 28th, 2016
STARTING PROJECTIONS h. 9:00 p.m.
Museo Hermann Nitsch
Vico Lungo Pontecorvo 29/d, Napoli
Expanded cinema performance
A site-specific redaction of Satyricum II, the 2007 performance/Installation at New York City's notorious gay night club The Cock. Uncredited photos of this bacchanal appear in Slava Mogutin's book NYC Go-Go. The original iteration was created by the Inbred Hybrid Collective with the oversight of the group's members Waters and Cramer.
In keeping with the original spirit of the first manifestation this will be an immersive interactive, atmospheric live action led by Cramer and Waters with Geoffrey Hendricks, Sur Rodney (Sur) and friends.
"Moving image, electronic and acoustic sounds, and instrumentation merge with live and recorded vocals will incorporate the resonance of the surrounding environment in bodily responses to the architecture of our interior and exterior worlds. We welcome and encourage active participation leaving the option for non passive voyeuristic engagement. Surprises abound in the strong element of physical action and body contact between the performers and whoever else wishes to join."
Jack Waters and Peter Cramer
Jack Waters and Peter Cramer Performers, film-makers, choreographers and activists for the recognition of minority rights, creators in 1996 of The Greenthumb Garden Le Petit Versailles community garden in New York's East Village and of the non-profit organization Allied Productions, Inc., as well as from 1983 to 1990 of the ABC No Rio arts center, Peter Cramer and Jack Waters experiment with and combine multiple forms of art, to involve and develop a process of creation as the essence of experiences rather than the product as an end result.
Residents of the Lower East Side since 1981, Peter Cramer and Jack Waters have made films and performances, taught youth and children by engaging themselves and other artists, and coordinated meetings, screenings and events, developing neighborhood activism and collective cooperation. Through music, art, and performance they create alternative forms of collaboration to turn rubble into creation and stimulate cultural change to alter society.
Peter Cramer and Jack Waters in the early 1980s created POOL (Performance On One Leg), a dance/performance collective active in house music nightclubs such as the well-known Pyramid Club, exploring contact and other improvisational behaviors combined with theatrical forms, ritual, activism, and group dynamics; exemplifying the marathon Seven Days of Creation, (with Carl George and Brad Taylor, members of Colab), seven days, 24 hours of performances with different artists atABC No Rio, building-residence-laboratory of art, sociality and cultural education.
They currently collaborate with the Inbred Hybrid Collective, whose intent is to stimulate an awareness of the external factors that affect human existence and through provocative artistic interventions invite the public to reflect on the influence that this immersion has had on them.
Together and individually they have shown film works at the Whitney Museum of American Art, The New Museum, Anthology Film Archives, London Film Makers Cooperative, Center for Contemporary Culture Barcelona (CCCB), and MIX NYC.
Their films are distributed by the New York Film Makers Cooperative, among others.
Events include: 2015's Sun Screen Boulevard In The Sand is a performance/walk on Fire Island organized by Visual AIDS in partnership with Fire Island Artist Residency (FIAR) and New York Performance Artists Collective (NYPAC)
https://www.visualaids.org/events/detail/jack-waters-peter-cramer-artist-lecture-series-fire-island-artist-residency
https://www.visualaids.org/events/detail/fire-island-performance-jack-waters-peter-cramer
In 2014 the group show Ephemera as Evidence at La MaMa's The Club, and in 2013 NOT OVER: 25 Years of Visual AIDS at La Galleria, and Not only this, but 'New Language Beckons Us' at Fales Library and Special Collections, New York University.
In Europe, we can mention: in 2008 Triple Threat at FRISE in Hamburg, Germany; in 2006 and 2013 the residency at the Emily Harvey Foundation in Venice for the project Pestilence, a primordial, post-apocalyptic work that fuses together the technologies of science and art, exploring culture from its origins as a single-celled life form to the terminal end of society in the digital age of information overload.
http://alliedproductions.org/pestilence-workshops-and-showings/
In 2015, the film Jason and Shirley, co-written and co-produced by Stephen Winter and Jack Waters, in which he appears as the lead, was screened to critical and audience acclaim at Anthology Film Archives, MoMa, BAM (Brooklyn Academy of Music) CineFest, and BFI Flare London.
http://www.jasonandshirleyfilm.com/