PSYCHOPLUM! a multimedia opera by DANIELE DEL MONACO
11 November 2018-21:00/23:00
€15,00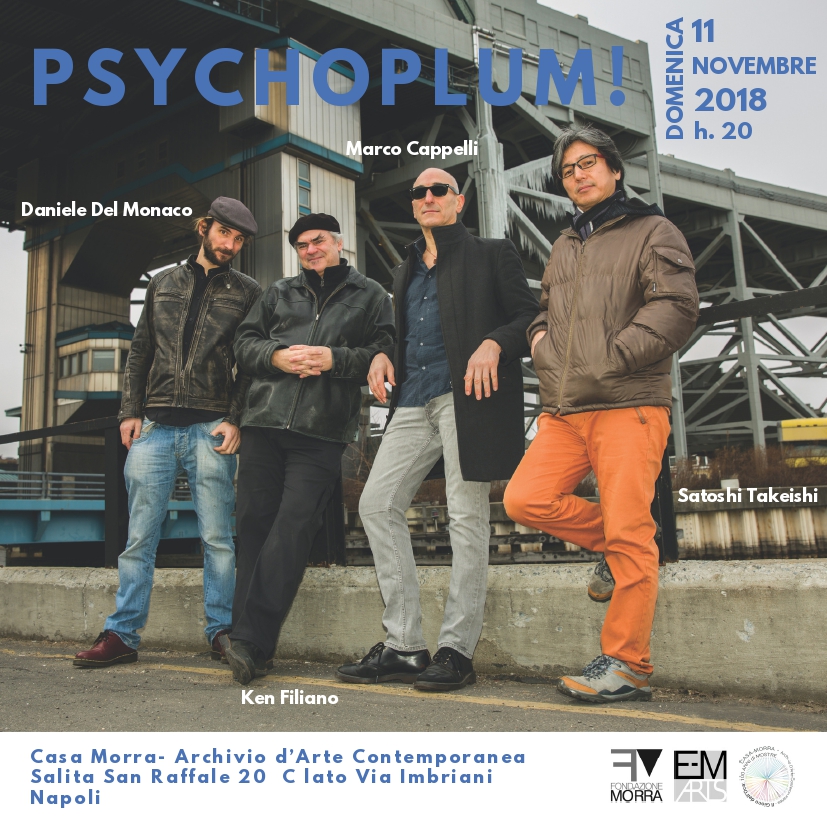 November 11th 2018
START: 9:00 p.m.
Casa Morra – Archivio d'Arte Contemporanea
Salita San Raffaele 20/c, Napoli
Psychoplum! is a live multimedia performance written by the italian composer Daniele Del Monaco and produced in 2012 by the italian experimental collective LCP. The performance starts out from an original script for an electro-acoustic trio with a live video interaction. The 2018 version was totally revisited and arranged for a quartet featuring Marco Cappelli Acoustic Trio and Daniele Del Monaco at the keyboards. Most of the experimental sounds and complex musical forms of the past version turned into songs. The performance tells a story through music and projected images. The Celebraloids species is involved in exploring other planets via the Tellyhand, which travelling aboard a Psychoplum, in a kind of intergalactic Odyssey, captures images from the various worlds explored and delivers them in the King's presence. From Tellyhand's innocent and "pure" perspective, we can discover different universes full of ironic references to our own world. The video material was created through a mixed technique, using both traditional animation processes and typical video-art techniques.
The Marco Cappelli Acoustic Trio (with Ken Filiano, bass and Satoshi Takeishi, percussion) explores the "chamber music" sound of Marco's classical prepared guitar in combination with Ken's powerful acoustic bass playing and Satoshi's very special set of percussion. Formed back in 2009 by three of most active improvisers in the New York avantgarde music scene, gained a reputation through many appearences in New York's venues as well through two fortunate European tours in 2011 and 2013. The Acoustic Trio repertoire is mostly based on the music that Marco Cappelli writes inspired by the characters of noir writers.
Daniele Del Monaco
Composer, keyboard player and sailor based in Venice, born in 1977. He is author of chamber music, symphonic music, operas, music for theatre, electronics, electro-acoustic, multimedia operas, music for films, song, interactive installations. He's also an interpreter, improviser, teacher, music producer, band-leader and organizer. In 2007 he started the activity of indipendent producer.The most representative works are: Guernica, 2007; Simurgh, 2007 (with Flavio Albanese); Prove di fuga dalla terra, 2008; Psicosusina Turboaccelerata 2013; Caligola, 2014; The Zone, 2014 (with Blixa Bargeld and Theodosii Spassov). For most of them he wrote also the libretto.
Marco Cappelli
Marco has lead since the middle 90ies an extraordinary artistic path, becoming familiar with rigorous written music as well with free improvisation languages: nowadays Marco Cappelli works as contemporary music interpreter, as side musician for other artists' projects, as well as composer and band leader and with his original music. The diversity of Marco's performances is due to a fascinating array of collaborations: Anthony Coleman, Michel Godard, Butch Morris, Franco Piersanti, Jim Pugliese, Enrico Rava, Marc Ribot, Adam Rudolph, Elliott Sharp, Giovanni Sollima, Markus Stockhausen, Cristina Zavalloni, Raiz… and many more
Ken Filiano
Ken performs throughout the world, playing and recording with leading artists in jazz, spontaneous improvisation, classical, world/ethnic, and interdisciplinary performance, fusing the rich traditions of the double bass with his own seemingly limitless inventiveness. His lengthy discography includes his widely-praised solo CD, subvenire; for this and numerous other recordings, critics have called Ken a "creative virtuoso" a "master of technique" "a paradigm of that type of artist …who can play anything in any context and make it work, simply because he puts the music first and leaves peripheral considerations behind".
Satoshi Takeishi
Drummer, percussionist, and arranger is a native of Mito, Japan. He studied music at Berklee College of Music in Boston, Massachusetts. While at Berklee he developed an interest in the music of South America and went to live in Colombia. He spent four years there and forged many musical and personal relationships. In 1986 he returned to Miami, U.S. where he began working as an arranger/producer as well as a performer. His interest expanded to the rhythms and melodies of the Middle East where he studied and performed with Armenian-American oud master Joe Zeytoonian. Since moving to New York in 1991 he has performed and recorded in vast variety of genre, from world music, jazz, contemporary classical music to experimental electronic music.