SMASHING THE MYTH – Performing art from Croatia
23 November 2018-16:00/21:00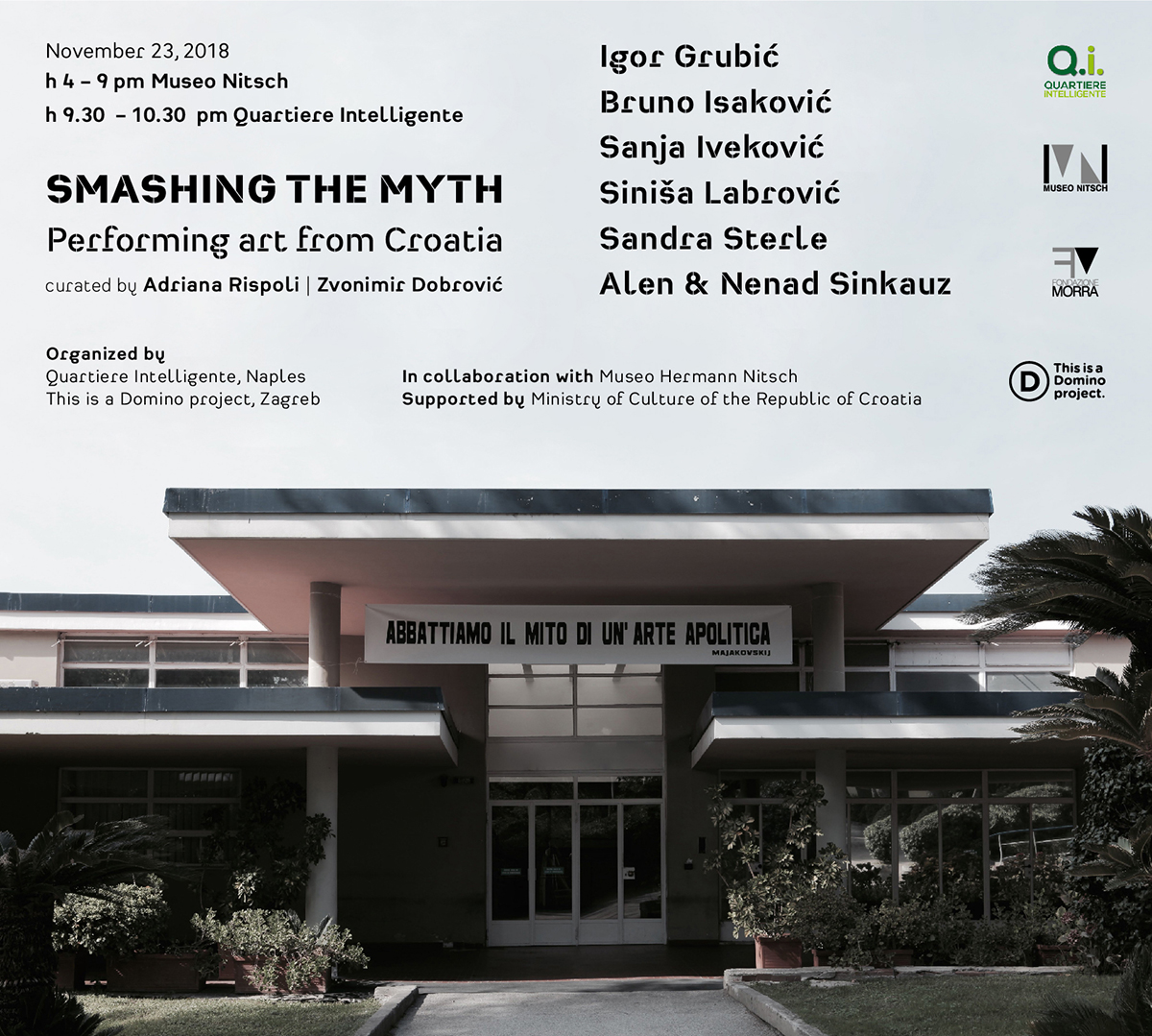 November 23rd 2018
OPENING from 4:00 p.m. to 11:oo p.m.
Museo Hermann Nitsch 
Scala Filangieri
Quartiere Intelligente 
Curated by Adriana Rispoli and Zvonimir Dobrović.
Event organized by Quartiere Intelligente and Domino Project in partnership with Museo Hermann Nitsch
With the support of Ministero della Cultura della Repubblica di Croazia.
We thank for the collaboration DeA Capital for the Ex Olivetti Consortium of Pozzuoli, Ciro Esposito e Alessandra Gigante.
SMASH! this is the fil rouge of the exhibited works and the intentions of its organizers. With a positive meaning, Smashing the Myth celebrates destruction as a semantic act for the construction of new realities, for overcoming limits and categorizations, and for the breaking down of physical and identity boundaries. Performance as a preferred artistic expression contains the characteristics of dissolution of language and of osmosis between different forms of art and, on this occasion, it is presented trough its innumerable methods: from intervention in urban space to the direct involvement of the body, from symbolic action to audio visual synaesthetics, finding in the first experiments of video performance in Eastern Europe a sort of generational baptism. Smashing the myth presents a cross-section of Croatian art today somehow iconoclastic and provocative that gives back a strong and combative image of a generation of artists who, on the one hand proudly affirms their roots, on the other hand rightfully claims an idea of ​​art free from the dark economy and from the dominance of capital. Constantly questioning the value and the power of art in society, it is also evident in their artistic research the direct comparison with the history of art in a wide sense: from the Russian utopia of the early twentieth century to the bitter irony on the contemporary art market today, passing through the breakdown of barriers between art and life.
ARTISTS: Igor Grubić, Bruno Isaković, Sanja Iveković, Siniša Labrović, Alen Sinkauz – Nenad Sinkauz, Sandra Sterle.
PROGRAM
MUSEO HERMANN NITSCH
Vico Lungo Pontecorvo 29/d, Napoli
From h. 4:00 p.m. to 9:00 p.m.
Igor Grubić | Smash the Myth
Bruno Isaković | Fade Into
Sanja Iveković | Inter nos
Dalle 19.00 alle 21.00
Siniša Labrović | Artist Index
Igor Grubić: Smash the Myth
Photo and banner from the public intervention at Ex Olivetti Factory
MUSEO HERMANN NITSCH
Whatever could be the chosen medium or the modality of intervention up to including the personal style of life, Igor Grubic consistently applies a political vision to his way of living and therefore to make art. Smash the Myth is in some way a tautology with which Grubic declares, paraphrasing the radical ideology of the Russian poet of the revolution Vladimir Mayakovsky, that the NON-POLITICAL art does not exist because any artistic expression, or even a simple thought, can only be a political gesture and must reflect the responsibility that artist has toward society. The choice to expose yourself to an audience – and to choose to which kind of audience to be exposed, including that of the mere art market – is itself a political act. The Smash the Myth series consists of micro-interventions in urban spaces where Grubic, in a temporary and sometimes illegal way, affixes a banner to iconic places in various cities. Started in the mid-90s with the project Micro-museum of Revolutionary Heritage, the series has touched several cities such as Berlin at the Soviet War Memorial in Treptower Park and Dresden in front of the Academy of Fine Arts, and now arrives in Naples in the mythical Olivetti factory. Founded in 1955 on a project by the rationalist architect Luigi Cosenza, the former Olivetti Factory is a symbol of the humanistic vision of an enlightened industrialist whose business mission was directly linked to the well-being of its workers. With a socialist setting ante litteram for Italy, Adriano Olivetti, in Pozzuoli as in the other Italian locations of his factories, had wanted for his employees a place in symbiosis with nature and equipped with all the necessary services deeply convinced that work is a social redemption tool. Within this small eden for workers, Grubic has chosen to affix his "motto" on what had once been the library place par excellence for the enrichment of the spirit.
Igor Grubić (Zagreb Croatia 1969) is known for his political and moral activism and for his operations in public spaces, often born in a mysterious atmosphere of anonymity, which aim to generate new meanings such as the 366 series Liberation Rituals (2008) or Black Peristyle (1998). Active since the 90s his work includes performance, photography and video and since 2000 he starts working as a film producer.
His works have been exhibited in numerous exhibitions and international institutions including Manifesta 4 (Frankfurt); Tirana Biennial 2; 11.Istanbul Biennial; 4.Fotofestival (Mannheim); Manifesta 9 (Genk); Gwangju Biennale 20th Anniversary Special Project; 'East Side Stories' Palais de Tokyo (Paris); Thessaloniki biennale 5- Ident-alter-ity; 'The Value of Freedom', Belvedere 21 (Vienna); 'Zero Tolerance', Moma PS1 (NY). In Italy, among others, he participated in Present Future at Artissima in 2001 and at Il Piedistallo vuoto and Gradi di Libertà exhibitions respectively at the Museo Civico Archeologico and at Mambo in Bologna in 2014 and 2015. He took part at the video program Q.I. VEDO at Quartiere Intelligente in 2016 with the film Monument.
He will represent Croatia at the next 58th Venice Biennale.
Bruno Isaković: Fade Into
MUSEO HERMANN NITSCH
Fade Into is a durational performance series responding to permanent collections and exhibitions in museums and galleries. Artist selects an artwork and through durational performance builds a live installation around its specific political and artistic relevance. During five hours of this performance a whole range of readings of the chosen artwork and their connotations become a canvas on which the performer projects his voice and body. The building elements of this intervention are charged with textual references questioning the specific artwork's medium, context, content and history and its different particularities. By reading these textual references aloud to the museum visitors, artist fills the space with intangible perspectives as well as corporeal aspects which are attached to the selected work of art and its context. Physical contours and boundaries between corporeal and intangible are gradually blurred as the performer's body fades into a color that dominates the space. This happens through slow, meticulous and repetitive movements with which the artists paints his whole body over a period of a couple of hours before the movements subside and we are left with the sculptural stillness of the performer. Embodiment of all hinted and expressed meanings emerges as a live installationthat offers a paradigm shift to museum visitors in relation to a particular space and work in the musem.
This work has been performed in Reina Sofia in Madrid, Museum of Modern Art Bologna, Zagreb Contemporary Art Museum and Glucksmann Gallery in Dublin always using a different artwork as the focal point.
Bruno Isaković is a Zagreb based performer and choreographer living. He graduated with a degree in contemporary dance from Amsterdam School of the Arts in 2009. From 2011 to 2015 he was a member of Contemporary Dance Studio, the oldest Croatian contemporary dance company. He is also the Founder and Artistic director of Sounded Bodies Festival in Zagreb dedicated to exploration of relationships between voice and movement, sound and body. Isaković regularly teaches workshops and dance classes. (Bilgi University of Performing Arts – Istanbul, Contemporary dance department at The Academy of Dramatic Art – Zagreb, TSEKH Summer School – Moscow, etc.) He has received various scholarships, as well as Jury Award and Best Solo Dance at Solo Dance International Festival in Budapest and Croatian national award 2016 as a best choreographer for his show Denuded.
Sanja Iveković: Inter nos (1978)
Video, 60 minutes, black and white, sound
Courtesy MSU, Zagreb
MUSEO HERMANN NITSCH
One of the early works of Sanja Iveković, and the first one in which she included video-camera recording of the performans, called Inter nos emphasizes the technically established interaction with audience. This participative work consists of two rooms connected by two closed TV circuits without an audio link and an entrance space where a direct transmission takes place for the audience. "During the entire action I am shut in a room, thus being invisible to the audience. Visitors enter the second room one at a time. A private dialogue develops between us, as I interfere with the visitor's screen image, which provokes his or her individual reaction. Concurrently, the audience receives only the participant's image." (Sanja Iveković)
This form of relationship between artist and audience, angle of viewing as well as an interaction between object and observer played great roll in her works.
Sanja Iveković (b. 1949, Zagreb) has been reworking the construction of media images to reveal and subvert the constellations of power they conceal and use them for her own purposes since her first appearance in the context of "New Art Practice" in Yugoslavia in the early 1970s. Iveković is primarily concerned with the exploration of images relating to women. The artist has extended her feminist image and media critique to an analysis of the institutional conditions and rituals of the art world. Her performances from this period actively involve the audience as a real presence and absence. Iveković was among the first artists in Yugoslavia to combine performance and video art. In the 1990s her work became more politically orientated and she also initiated important projects as a political activist. Iveković has shown in numerous international exhibitions, among them the three most recent Documentas in Kassel, Tate London and MOMA.
Siniša Labrović: Artist Index
MUSEO HERMANN NITSCH
This performance comes at the right moment as it leans upon the ongoing discussion about the systems of art market(ing), or if we allow ourselves a bit of spice, the myths of art markets. This discussionhas been persistently present for a long time but only since recently has it been possible for work to be auctioned, shredded to everyone's surprise and immediately revalued to be worth double. That is the surprising, even creative, element of the arts market – we knew it had the power to absorb, but no one expected this level of suction strength. Therefore, it seems that to have a gallerist, to be offered, namely to have one's work offered at one of the important art fairs is a condition for survival and success in the contemporary art scene. The performance celebrates those who have made it, those who have a name, those who are indexed. Simultaneously, this performance weeps for those who stayed behind and who form the sea of no-names. Sorrow for the ones left behind mixes well with grains of envy of the others.
Siniša Labrović is multimedia artist from Sinj, a small town in Croatia. He has been creating work since 2000 and his emergence in Croatian arts landscape has been explosive, to say the least. His work has been engaging the imagination of the audience, media andt hewhole artisticcommunity in Croatia since the very start. Siniša's work can be described as political, raw, direct, humorous and brilliant in its simplicity – but most of all it has always been daring. His performances dealt with and tackled pedophilia, corruption, abuse of political power or mythologie of nationalism, as well as genuinly philosophical questions of purpose, (in)significance of human experiences or social responsability. But whatever the subject of the work may have been, it was made stronger and appealing by anunpretentious commons se that communicated and resonated with the public even beyond what contemporary performance art formats often manage to do. In 2005 he attracted the attention of world media (Reuters, BBC, Ansa, New York Post, The Guardian, The New York Times, NBC, ABC) with his work "Flock.org" in which sheep were the actual contestants in a reality show. His works are in the collections of Museum of Contemporary Art Zagreb, Fine Arts Gallery Split, Museum of Modern Art Dubrovnik and numerous private collections. In 2009 he exhibited at the 11th Istanbul Biennial and in 2012 he represented Croatia on 13th VeniceArchitectureBiennale, titled CommonGround, together with Pula Group, Hrvoslava Brkušić, Igor Bezinović and Boris Cvjetanović.
SCALA FILANGIERI | QUARTIERE INTELLIGENTE
Scala Montesanto 3, Napoli
From h. 9:15 p.m. to 9:30 p.m.
Sandra Sterle | Visiting Reality
The project Visiting Reality first started in Belgrade in 2012. It continued in Paris in the same year. The concept starts from the idea that the national identity is the myth that constructs the contemporary world to such an extent that people actually start to believe that that's what they are. We all are aware that history is more complex and the pure fact that we identify with certain people just because of borders that surround the piece of land can also be taken as a simplifying joke. The fact is that during her life as an artist she expected to expand and envision the complexity of the self and the contemporary world. Instead, the artist happens to be surrounded by a concept of decay from within the social and political environment that she lives in. This performance in a way compares the national mythology of two countries by using national symbols constructed from the cheap touristic souvenirs, that often even end up being quite similar. By smashing them on stage and creating sort of dust from these objects, forming an abstract reality of sorts, one is finally able to start "reading" beyond the "material" as it comes closer to complexity that our lives are made of. The performance of course utilizes the idea of destruction as a manner to create, instead of the more traditional principle of construction, putting these two forces under examination.
Sandra Sterle is an artist from Split who works with film, installation, interventions, photographyand performance. She is professor of performance art and video at the Arts Academy in Split, Croatia. She graduated from the Sculpture Department of the Academy of Visual Art in Zagreb and continuedher studies at Department of Film and Video at Kunstakademie inDusseldorf, 1995-96 ( with prof. Nan Hoover). Her works were exhibited and performed in numerous international art institutions like: Museum of Contemporary Art, Zagreb; Kunsthalle Fridericanum, Kassel; Museum Ludwig, Aachen; Museum voorModerne Kunst,Arnhem; Gate Foundation, Amsterdam; W139 Gallery, Amsterdam;Museo de Arte& Disegno Contemporaneo, Costa Rica; MuseoNational Centro de Arte Reina Sofia, Madrid; Instytut SztukiWyspa,Gdansk; Berlin Academy, Berlin; Museet for Samtidskunst, Roskilde;Fundacio Antoni Tapies, Barcelona; Location 1 Gallery New York;Artist Space, New York; etc. Her works are part of several public archives and collections of MMSU, Rijeka, Art Gallery, Split and private collections.
QUARTIERE INTELLIGENTE
Scala Montesanto 3, Napoli
From h.9:30 p.m. to 10:30 p.m.
Alen Sinkauz e Nenad Sinkauz
Video by Ivan Marusic Klif
Audio-visual performance
The performing style of Alen and Nenad Sinkauz draws the audience immediately into their skilled improvisational technique that is a well developed process of instantly creating unexpected compositions. The sound and visual elements of their concerts are further defined by the very architecture and acoustic characteristics of the space in which they play as these condition the outcome of each performance. Due to a complex processing of main sources of sound like guitars, bass, different objects, microphones and pick-ups, in addition to "field recording", the amplifier system as well as the resonance quality of the space both become a significant part of the complete sound image. This performance is a synergy, in every sense of this word, between all elements that are brought together not only on stage but everywhere in the space. The music material that is being created by this continuous build up and upgrade of sounds generates the familiarity of industrial, techno and noise, but is at the same time wrapped in an abstract atmosphere which over time takes on unassuming and always different forms. This performance plays with our expectations and trust as it allows us to follow the sounds that we may find recognizable but also lets us discover the unexpected on our own before picking us up again and taking us deeper into the very structure of sound.
Alen Sinkauz and Nenad Sinkauz are originally from Pula in Istria and have graduated and post-graduated studies in musical philology and ethnomusicology in Padova, Italy. As composers and performers over the last 20 years they took part in various musical, theatre, contemporary dance, multidisciplinary, radiophonic, sound art and film projects. Their artistic work, especially when playing live, is mostly oriented towards exploring unconventional musical forms, improvised and creative music.
They composed the score for the highly acclaimed feature film Zvizdan/The High Sun directed by Dalibor Matanić (The jury prize "Un certain regard" at Cannes Film Festival, 2015) and for the Croatian-Norvegian film Goran directed by Nevio Marasović (Golden Arena award for the best soundtrack at Pula Film Festival, 2017). In the past two years they have been responsible for soundtracks to half a dozen Croatian and international films including composing music for short animated movies "Technement" by BrankoFarac and "Kako se kaliočelik / How steel was tempered" by Igor Grubić.
In 2002 Sinkauz brothers founded a band East Rodeo which involves an international group of jazz and rock musicians bringing together avant-rock, electronic, noise and improvised music and they released three albums featuring internationally acclaimed musicians such as Marc Ribot, Greg Cohen and Warren Ellis. In 2010 Sinkauz brothers started the international festival of experimental and improvised music in Pula, called Audioart which takes place annually.
They played and presented their works at countless festivals, galleries, clubs and different venues across the USA, Europe and Japan.