Teatro delle Bambole – PFERD PERSON _ The irreplaceable frenzy of the verb "Study on the eternity of the body"
22 March 2019-08:00/17:00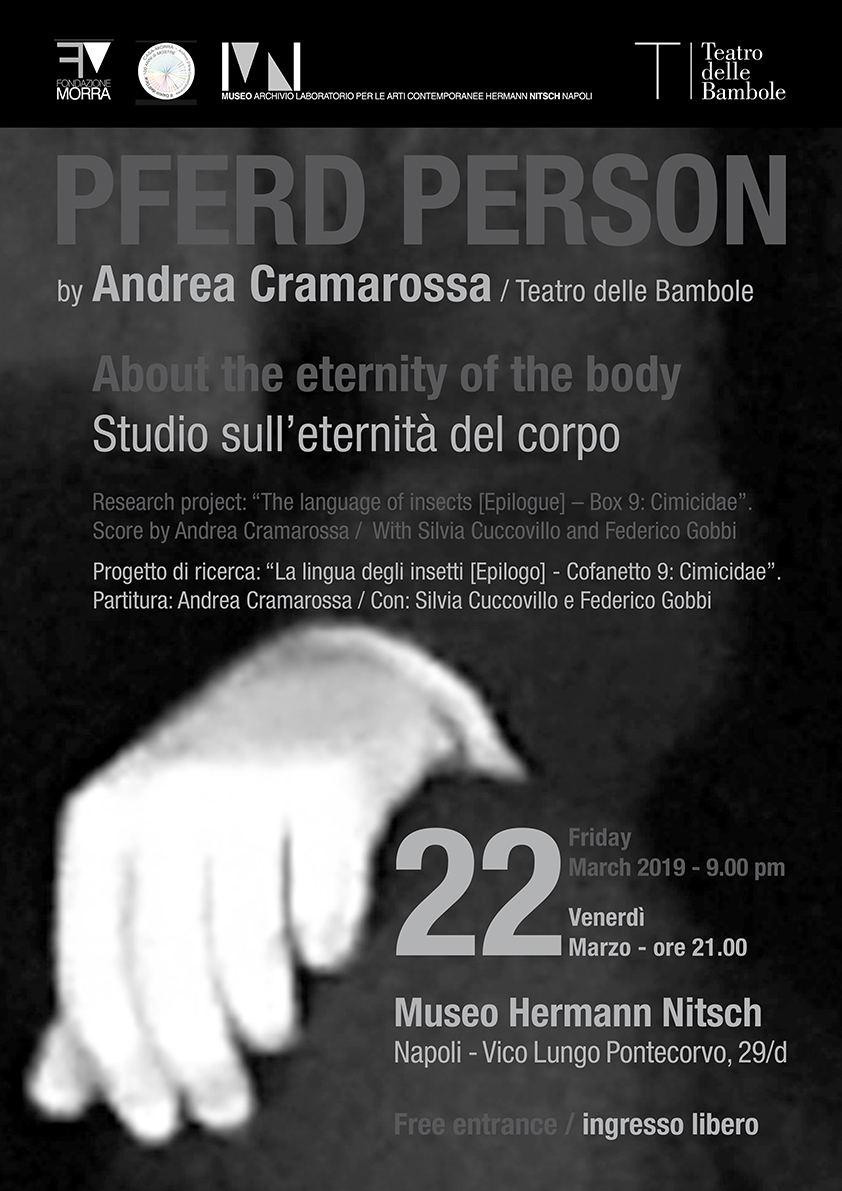 March 22nd 2019
START: 9:00 p.m.
Museo Hermann Nitsch
Vico Lungo Pontecorvo 29/d, Napoli
Research project: "The language of insects [Epilogue] – Box 9: Cimicidae".
Score by Andrea Cramarossa
With Silvia Cuccovillo and Federico Gobbi
Mother's Home: Teatro delle Bambole
Our race is made to govern the world. Our race is the only possible race of the human race to which the faculty of free will has been given. Let's go, quickly, towards the dictatorship of this verb.
The idea of ​​staging "Pferd Person" starts from the awareness of his loneliness and the state of outcast. Two actors on stage, a man and a woman, will face the panic that springs from the vision of emptiness. Nothingness reigns in the material and immaterial substance that builds society and the two want to take their place in the Olympus of power, in the immanent which is the mirror of a totalizing non-difference in the perception of things.
Teatro delle Bambole in Naples with the epilogue of the five-year project "The language of insects" (2012-2017).
Teatro delle Bambole inspired to work on the sound of Gisela Rhomert (Method of Lichtenberger® Institut für angewandte Stimmphysiologie) and the Orgien-Mysterien-Theater of the Austrian artist Hermann Nitsch, one of the leaders of Aktionismus Wiener.
The founder and creator is the actor and director Andrea Cramarossa that after five years of intense personal studies in particular voice search, the sound and voice applied to the singing and talked (on the relationship between sound and the body, voice and person, music and character), theorizes on an experimental approach dramatic art through the use and knowledge of the sound.